.
This issue of MetaboNews is supported by:
Advertising
Would you like to advertise your metabolomics hardware, software, products, and services to over 2,800 MetaboNews readers worldwide? We offer a variety of advertising options. Please consult the MetaboNews advertising brochure for details.

Free Subscriptions:

Our subscriber list is managed using Mailman, the GNU Mailing List Manager. To subscribe or unsubscribe, please visit http://www.mailman.srv.ualberta.ca/mailman/listinfo/metabonews.
Newsletter Archive: Current and back issues of MetaboNews can be viewed from the newsletter archive (http://www.metabonews.ca/archive.html).
Content Suggestions/Feedback:
We always appreciate your feedback on how we can make this newsletter better (metabolomics.innovation@gmail.com).
---
| | |
| --- | --- |
| | Metabolomics Society News |
CONFERENCE CORNER


2016 Metabolomics Society Conference, Dublin
June 27
–

June 30, 2016
ABSTRACT SUBMISSION DEADLINE has been extended! There is still time to submit an abstract for the Conference, until Tuesday, April 5 at 6 pm Central European Time. The Early Bird Registration fee has also been extended to April 5.

The annual Conference of the international Metabolomics Society will be held in the friendly city of Dublin, and will showcase the latest advances in metabolomics technology and novel biological insights that are emerging from metabolomics science. The conference will feature six diverse workshops including two workshops from the EMN and sessions that explore the following major themes:
Metabolomics in Health and Disease

Environment, Plant and Model Organisms

Advancing the Field

Metabolomics in Nutrition and Food Research

Young Scientist Sessions
There is an exciting list of plenary and keynote speakers with expertise ranging across the full spectrum of metabolomics development and applications.

The EMN has a series of events planned for the conference with more details at http://metabolomics2016.org/program/early-career-member-network-reception

Register at www.metabolomics2016.org and book your accommodation at http://metabolomics2016.org/venue/hotel-information to secure a room at conference special rates.

Student and Early Career members of the Society are eligible for travel awards. See http://metabolomics2016.org/submission/awards for application details.

Videos from previous conferences and webinars:
If you can't wait until June for another dose of cutting-edge metabolomics, or you want a sneak peak of what to expect at an international conference of the Metabolomics Society, a range of videos are available online to view at any time at http://metabolomicssociety.org/resources/videos. These videos include keynotes and workshops from previous conferences, in addition to EMN Webinars from last year. Some content is limited to members only, which includes everyone that has registered for the Dublin 2016 conference!



2016 HONORARY FELLOWS ANNOUNCED


An Honorary Fellowship is a significant lifetime award granted by the Board of Directors of the Metabolomics Society to recognize exceptional members of the community who have either made outstanding contributions to the Metabolomics Society over a sustained period of time, and/or made a pioneering and sustained contribution to the science of metabolomics at an international level. With up to two lifetime fellowships awarded each year, the Board is pleased to recognize the following individuals as the lifetime Honorary Fellows of the Metabolomics Society for 2016:

Professor Roy Goodacre: In recognition of his pioneering work in establishing the Metabolomics Society (Director 2005-2015) and establishment of the journal Metabolomics (2005) as the premier journal in the field. His sustained record of academic contributions and service as a goodwill ambassador for the area of metabolomics has materially advanced the role of metabolomics in the scientific community.

Professor Matej Orešič: in recognition of his groundbreaking development of metabolomics data processing tools and powerful analytical methods that have enabled systems-level investigations of processes that lead to obesity and diabetes, with a specific focus on type 1 diabetes.

We congratulate both of these esteemed scientists and look forward to their continued contributions in the years to come.

M

EMBERS

CORNER

Membership News for 2016
Please remember that when you register for the 2016 Metabolomics Society Conference, Dublin as a non-Member, you will automatically become a member of the Society for the rest of the calendar year. Please follow the instructions provided after you register as a non-member.

Publications News
The Society's Request For Proposals (RFP) for establishing a new Official Journal of the Metabolomics Society is receiving a very favorable response from reputable publishers and the Publications Committee of the Board will soon be reviewing these proposals. We look forward to some exciting news soon.

Early-career Members Network (EMN)
The EMN is dedicated to and run by early-career scientists who are members of the Metabolomics Society and are from academia, government, or industry. The network aims to provide a forum for metabolomics researchers at the start of their professional career.

The EMN is present at Metabolomics2016 in Dublin (Ireland)
The early-career members network (EMN) committee is working hard to prepare its events during the Metabolomics2016 conference in Dublin, Ireland, from June 27 - June 30. We hope to see many early-career metabolomics researchers at the conference and during our events. We will host a social mixer prior to the conference on June 26 from 6 pm – 8 pm in a pub not too far from the conference location. We will also hold a more formal event after the poster session on Tuesday afternoon, where we will discuss your and our future ideas on the role and function of the EMN with the entire EMN community. Finally, the EMN will chair the early-career session during the conference. When in Dublin, keep an eye out for our conference stand where you can find more information and a nice and useful EMN gadget.

We would appreciate it if you indicate your presence during the conference registration so we know roughly how many of you to expect. This will allow us to prepare nice events for you! If you have any ideas or suggestions for the EMN committee, feel free to send a message to info.emn@metabolomicssociety.org.

EMN webinar series
The EMN organized and hosted another webinar in March, this time with Dr Reza Salek from the EMBL-EBI on the tools and infrastructure that has been developed over the last years to store and share metabolomics data from different analytical platforms. The webinar generated a good Q&A session at the end and active participation was encouraged by polling questions during the webinar. Stay tuned for more EMN webinars in the coming months!

Please feel free to contact us via
info.emn@metabolomicssociety.org if you have any suggestions or comments regarding our planned activities this year. If you think you have a great idea for a new activity we should organise then please do share with us; the EMN can only be a success with your support and ideas!!
TASK GROUPS CORNER


Model Organism Metabolomes Task Group
The MOM task group has published its first paper, "The Time Is Right to Focus on Model Organism Metabolomes", which proposes a grand challenge for metabolomics studies of model organisms: to identify and map all metabolites onto metabolic pathways, to develop quantitative metabolic models for model organisms, and to relate organism metabolic pathways within the context of evolutionary metabolomics. This paper is freely available at http://www.mdpi.com/2218-1989/6/1/8

International Affiliates Task Group Meeting in Dublin
The Metabolomics Society has last year established a new task group, uniting all the international Affiliates. Affiliates are national a regional Metabolomics Societies or Foundations, which meet with each other to exchange ideas how to best organize themselves and to offer services to their members, as well as to lobby for funding. The Task Group will be meeting during the Metabolomics Society meeting in Dublin (date will be confirmed). The meeting is also open to individuals or groups that have an intention to set up a national or regional organisation, but haven't yet affiliated themselves with the Society, or are in the process of setting up a legal entity.

If you are interested in joining the meeting or knowing more about the task group you can contact Merlijn van Rijswijk, Chairman of the International Affiliates Task Group (vanrijswijk@metabolomicscentre.nl) or Ute Roessner of the Metabolomics Society Board of Directors (u.roessner@unimelb.edu.au).


INTERNATIONAL AFFILIATES CORNER


Australian & New Zealand Metabolomics Network (ANZMN)
Visit
http://www.anzmn.org
ANZMN members were hard at work at the 2016 Agilent Young Scientist Forum (
http://www.agilent.com/en-us/promotions/ysf-2015-ap?cid=13045
) held at the Florey Institute of Neuroscience and Mental Health (University of Melbourne) in March. ANZMN president Oliver Jones, past president Ute Roessner, and committee members Dave De Souza, Damien Callahan, Devin Benheim, Dedreia Tull, Zofia Felton, and Dan Dias were among the mentors listening to the next generation of Australian life scientists discuss their work. Metabolomics and proteomics featured highly and the standard of presentations was outstanding. The ANZMN congratulates all those who took part and thank Agilent Technologies and the University of Melbourne for organising it.
Korea Metabolomics Society (KoMetS)

Visit
http://komets.or.kr/english05.html

The 2016 annual symposium and general meeting has been scheduled. The symposium will be held in Konkuk university campus, Seoul from Apr. 7-8. The program consists of 6 sessions, Drug discovery & pharmacology, Food, nutrition & environment, Microbial metabolomics, Human diseases, Emerging technology, and Plant metabolomics. Prof. Akihiko Kondo (Kobe Univ., Japan), and Prof. Eiichiro Fukusaki (Osaka Univ., Japan), Prof. Dong-Yup Lee (Nat. Univ. of Singapore, Singapore), and Dr. Geum-Sook Hwang (Korea Basic Science Institute., Korea) will be invited as keynote lecturers.
Netherlands Metabolomics Centre (NMC)
Visit
www.metabolomicscentre.nl/

The rising of ambient-ionization mass spectrometry for metabolomics and lipidomics applications
Feature article contributed by Bindesh Shrestha1 and Giuseppe Astarita1,2


1 Waters Corporation, Milford, MA 01757, USA
2 Department of Biochemistry and Molecular & Cellular Biology, Georgetown University, Washington, DC 20007, USA


Ambient ionization mass spectrometry (AIMS) consists of a developing group of mass spectrometry (MS) ionization techniques. With minimal sample preparation, these techniques perform direct-sampling analyses at atmospheric pressure (ambient conditions). Sampling and ion-generation take place in concert, typically facilitating high analytical throughput. Since the introduction of desorption electrospray ionization (DESI) in 2004, at least 25 different AIMS ion sources have been introduced, each with a unique combined approach to either sampling or ionization. Recent advances in AIMS technology have been discussed in detail.
1-3
In terms of the number of peer-reviewed publications, DESI has led the pack among these AIMS techniques. A simple citation search of "desorption electrospray ionization" returns more than 1100 peer-reviewed articles (Web of Science, Thomson Reuters, New York, NY, accessed January 4, 2016). Articles published each year from 2004 to 2015 are shown in
Figure 1
(top) with typical citations per article (bottom). Some popular peer-reviewed journals that are publishing DESI-related articles are tabulated in Table 1.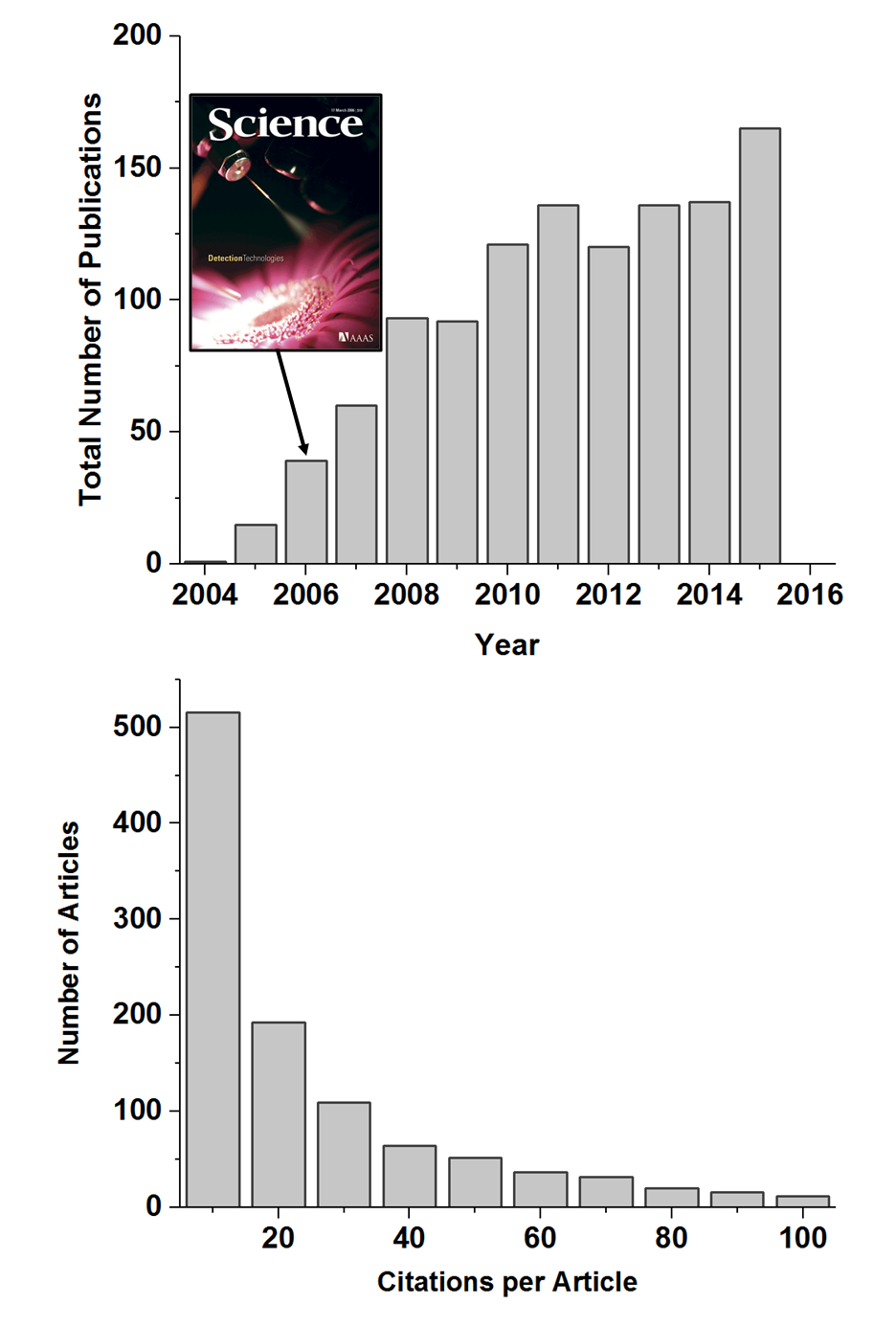 Figure 1.
Number of articles published per year, from 2004 to 2015, on the topic "desorption electrospray ionization" (upper graph) and a trend of citation received per article (lower graph). Based on Web of Science database (Thomson Reuters, New York, NY).
Journal Name

Impact Factorα
Number of Publications

Analytical Chemistry

5.636

203

Analyst

4.107

84

Journal of the American
Society for Mass Spectrometry

2.945

79

Rapid Communications in Mass
Spectrometry

2.253

76

Analytical and Bioanalytical
Chemistry

3.436

57

Journal of Mass Spectrometry

2.379

52

International Journal of Mass
Spectrometry

1.972

32

Analytica Chimica Acta

4.513

21

Analytical Methods

1.821

20

Proceedings of the National
Academy of Sciences

9.674

19

α
Based on Journal Impact Factor (2014) from Thompson Reuters, New York, NY.


Table 1.
Top peer-reviewed journals with papers on the topic of "desorption electrospray ionization".
AIMS techniques have been employed to detect metabolites and lipids directly from biofluids, mammalian tissue sections, microbial colonies, cell cultures, etc.
4-6
AIMS offers straightforward metabolomics and lipidomics workflows, doing so with almost no reagent use and without time-consuming sample extraction and other preparation steps. Samples are analyzed outside the high-vacuum conditions of a mass spectrometer, making AIMS conducive to the survival of live specimens and thus creating the possibility of in vivo analysis. Often only a sample-staging step, such as the sectioning of tissue on microscope slides, is required. In small subsets of AIMS, such as rapid evaporative ionization mass spectrometry (REIMS),
7
sample staging is less critical or unnecessary. In REIMS, for example, analytes can be extracted directly from the surface of a sample, a tumor lesion from a rodent, for example, or the skin of a fruit. Via long flexible tubing, the samples are then transported to a mass spectrometer for detection. Such an application demonstrates the ability of AIMS to generate, in real time, molecular fingerprints that can be used to discriminate among phenotypes.
In situ detection of lipids and metabolites from tissue is also possible using other, conventional methods such as matrix-assisted laser desorption/ionization (MALDI). However, typical MALDI instrumentation requires the application of organic molecules as a matrix and the introduction of the sample into a vacuum. Like MALDI, AIMS techniques are constrained by their incapacity to separate isobaric species and by ion suppression effects. To circumnavigate this limitation, AIMS has been used in combination with ion mobility separation, as a post-ionization separation tool prior to MS detection, improving the specificity of analyte identification and the signal-to-noise ratio.
8-10
Figure 2
shows the power of ion mobility separation for discriminating classes of biomolecules during molecular analysis of mouse brain tissue using one of the AIMS techniques, laser ablation electrospray ionization (LAESI).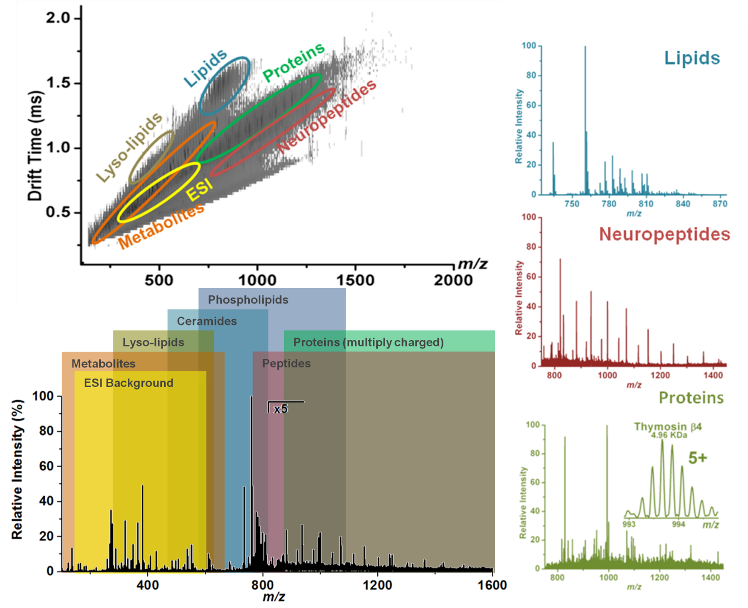 Figure 2.
The utility of ion mobility separation in combination with ambient ionization mass spectrometry (AIMS). Without ion mobility separation, many ions from different groups of biomolecules can be difficult to separate. Mass spectra discriminating just a group of molecules, such as lipids, can be easily produced by selecting a defined
m/z
and drift time range (Adapted from Shrestha
et. al.
, Analytical Chemistry 2014).
11
Molecular MS imaging is among the most remarkable applications of AIMS. Briefly, in a typical MS-imaging experiment, a focused laser beam or stream of charged droplets scans along a sample section of surface tissue, obtaining a mass spectrum at each defined pair of x and y coordinates. The intensities of detected ions in those mass spectra can be plotted, to obtain maps of corresponding metabolites and lipids in those tissue sections. In terms of spatial resolution, DESI is capable of resolving features in the tens of micrometers.
Figure 3
depicts an example of DESI image produced from a coronal section of a mouse brain.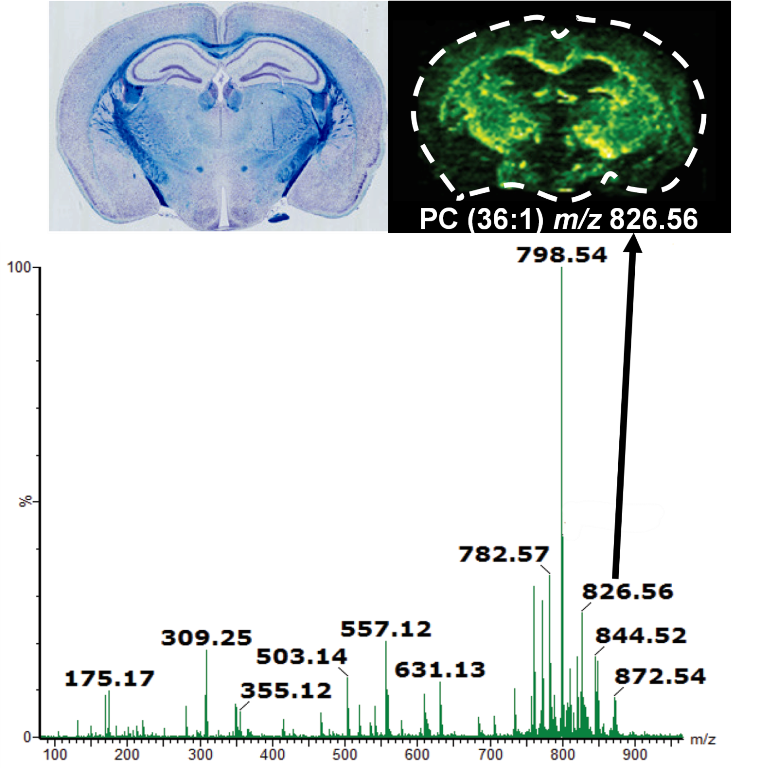 Figure 3.
Molecular image of phospholipids in a coronal section of mouse brain obtained using DESI is presented alongside an optical image of a concurrent section. A typical positive mass spectrum of brain tissue using DESI is also shown (Adapted from Waters Technical note# 720005297en).
Until recently, the majority of the AIMS-related applications reported in the literature used home-built AIMS systems. These home-built ion sources were typically coupled to the inlet of a commercial mass spectrometer, usually in lieu of an electrospray ion source. Several of the AIMS methods have been commercialized, notable among them DESI, by Prosolia, LAESI, by Protea, and direct analysis in real time (DART), by IonSense. Usually those ion sources are retro-fitted onto commercial mass spectrometers manufactured by Agilent, Bruker, Thermo, Waters, JEOL, and others. In most cases, these bolted-on ion sources require additional external software for instrument control and data analysis workflow. Waters, however, has licensed the DESI technology from Prosolia and also has acquired all assets relating to REIMS technology from MediMass. Currently, both DESI and REIMS are readily available as integrated options in both the Waters SYNAPT and Xevo family of instruments. This commercial solution, allowing for seamless instrument control and data analysis, will encourage additional researchers to adopt AIMS for their applications.

References

Nemes, P., Vertes, A. TrAC Trends in Analytical Chemistry 2012, 34, 22.
Monge, M. E., Harris, G. A., Dwivedi, P., Fernández, F. M. Chemical Reviews 2013, 113, 2269.
Huang, M.-Z., Yuan, C.-H., Cheng, S.-C., Cho, Y.-T., Shiea, J. Annual review of analytical chemistry 2010, 3, 43.
Wiseman, J. M., Ifa, D. R., Song, Q., Cooks, R. G. Angewandte Chemie International Edition 2006, 45, 7188.
Shrestha, B., Nemes, P., Nazarian, J., Hathout, Y., Hoffman, E. P., Vertes, A. Analyst 2010, 135, 751.
Jackson, A. U., Tata, A., Wu, C., Perry, R. H., Haas, G., West, L., Cooks, R. G. Analyst 2009, 134, 867.
Schäfer, K. C., Dénes, J., Albrecht, K., Szaniszló, T., Balog, J., Skoumal, R., Katona, M., Tóth, M., Balogh, L., Takáts, Z. Angewandte Chemie International Edition 2009, 48, 8240.
Paglia, G., Kliman, M., Claude, E., Geromanos, S., Astarita, G. Analytical and bioanalytical chemistry 2015, 1.
Stopka, S. A., Shrestha, B., Maréchal, É., Falconet, D., Vertes, A. Analyst 2014, 139, 5946.
Inutan, E., Trimpin, S. Journal of the American Society for Mass Spectrometry 2010, 21, 1260.
Shrestha, B., Vertes, A. Analytical Chemistry 2014, 86, 4308.

Please note:
If you know of any metabolomics research programs, software, databases, statistical methods, meetings, workshops, or training sessions that we should feature in future issues of this newsletter, please email Ian Forsythe at metabolomics.innovation@gmail.com.
PBM: Overall, funding opportunities for metabolomics have expanded rapidly over the past several years as reflected by the NIH Common Fund. Although Canada still lacks a national program for metabolomics, funding opportunities do exist, yet are fragmented among different agencies (CFI, Genome Canada, CIHR, NSERC) with separate investments made to infrastructure, personnel training and research programs. However, recent multidisciplinary initiatives related to microbiome, nutrition, epidemiology and exposure biology have increased awareness of the pivotal role metabolomics plays in cutting-edge discovery-based scientific research, such as the recent CIHR-funded developmental origins of health and disease (DOHaD) competition.