The Golm Metabolome Database (GMD)


Jan Hummel, Kenny Billiau, Alexander Erban, Dirk Walther, Joachim Kopka
Max Planck Institute for Molecular Plant Physiology, Potsdam-Golm, Germany
{hummel|erban|walther|kopka}@mpimp-golm.mpg.de
The Golm Metabolome Database (
http://gmd.mpimp-golm.mpg.de
; Kopka et al., 2005, Schauer et al., 2005, Hummel et al., 2007) has been developed and is hosted by the Max Planck Institute for Molecular Plant Physiology (Golm, Germany), a pioneer in applying metabolomic studies to plant research. The GMD harbors information on reference compounds and compounds detected in biological samples, respective mass spectra and retention index information for compound annotation in complex mixtures (Schauer et al., 2005), and metabolite level measurements derived primarily from plant material and probed with gas chromatography/mass spectrometry (GC/MS) technology. It currently comprises information on 1,167 reference substances, 1,676 metabolites, 2,588 electron impact ionization mass spectra associated with known compounds and 3,145 spectra for which the compound is not yet identified.
The GMD—a resource for compound annotation by matching to GC/MS reference spectra and retention indices
The GMD can be queried for particular metabolites, reference compounds and respective chemical derivatives searching with text, sum formula, molecular weight, functional chemical groups, KEGG identifiers, and other properties. All compounds contained in the GMD are displayed with a broad array of chemical and physical property information and links to external data resources (
Figure 1
). Most notably, the GMD permits mass spectra-based queries (
Figure 2
) thereby facilitating the annotation process of user-obtained GC/MS spectra.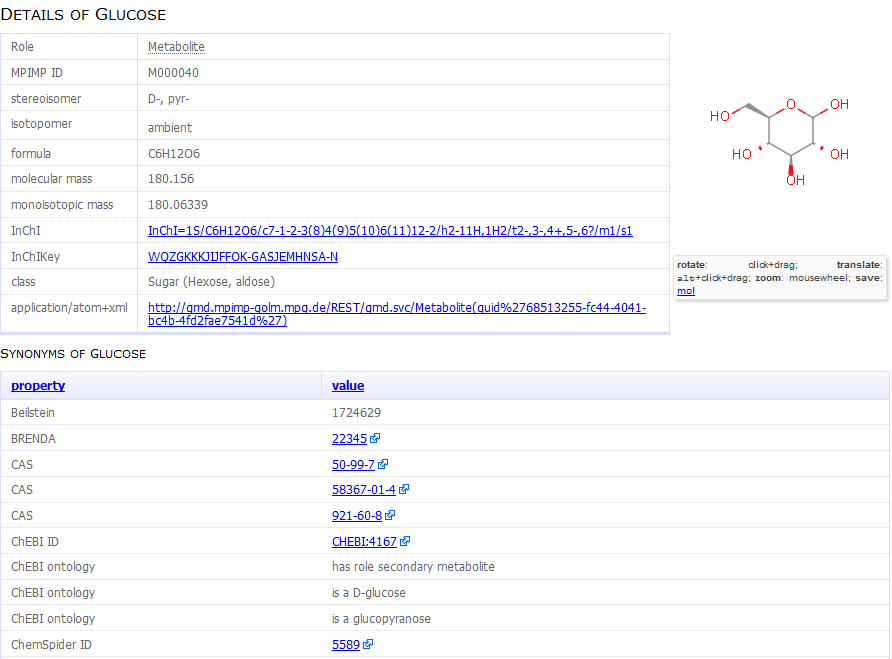 Figure 1.
Example of a metabolite report card (excerpt) providing detailed chemical information on particular compounds contained in the GMD.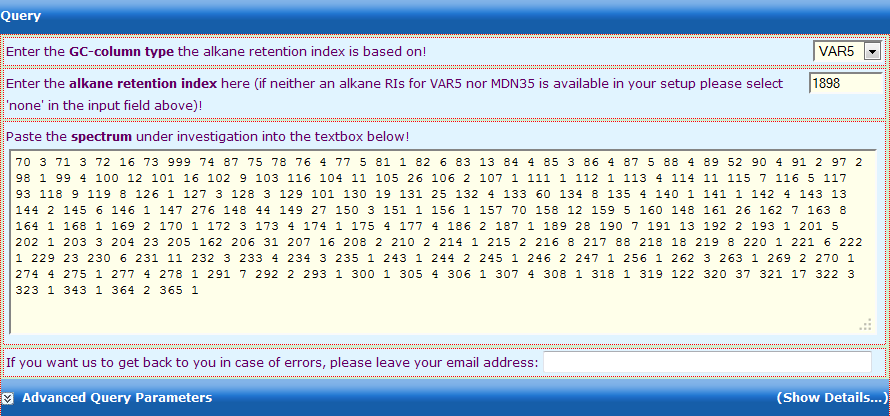 Figure 2.
Input form for querying the GMD with a mass spectrum. The query can be performed with or without RI constraints. Two standard RI-systems are supported (Strehmel et al., 2008).
Applying several scoring methods for spectra comparison, matching compounds with similar mass spectra will be ranked and returned in tabular format (
Figure 3
). Graphical support facilitates the manual evaluation of the automated identification result and the selection of the best matching compound.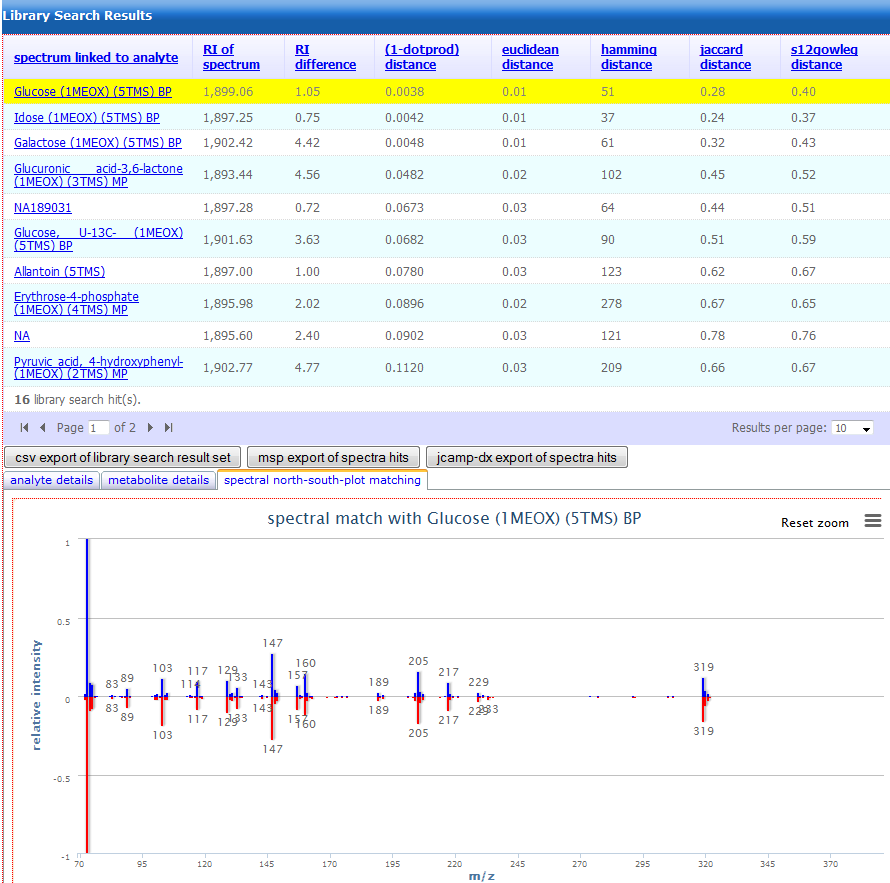 Figure 3.
Example of a result page obtained from a mass spectrum query. Compounds with similar spectra compared to the user-submitted query are tabulated along with various sortable match-scores and a graphical display of the selected mass spectral hit.
Automated characterization of mass spectra—annotating "unknown" metabolites

Based on the comprehensive compound and associated spectra information content of the GMD, a automated, machine-learning-based annotation of "unknown" spectra has been implemented (Hummel et al., 2010, Hummel et al., 2013). Employing decision trees trained in a rigorous cross-validation setting, mass spectra can be annotated for the presence or absence of a number of 21 different functional groups (
Figure 4
) that frequently occur in known metabolites, e.g., amino-, alcohol-, or carboxylic acid-moieties. Thereby, even spectra for which no matching reference compound or respective metabolite spectrum can be found in the database, a basic classification of the "unknown" compound can be generated allowing, for example, to identify the likely candidate compounds for subsequent identification steps.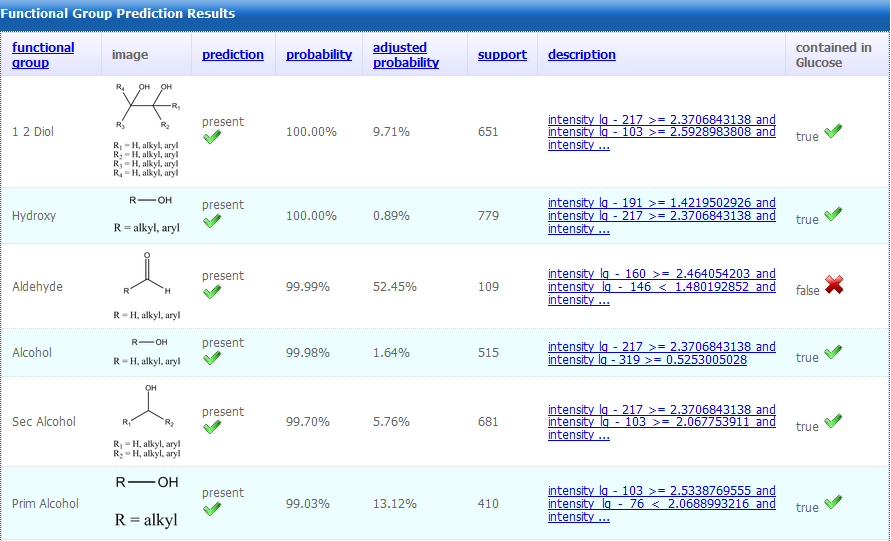 Figure 4.
Mass spectra are annotated for the presence or absence of 21 different characteristic functional groups providing assistance in the annotation of compound spectra of unknown identity. Prediction scores and classification rules are provided (Hummel et al., 2010).
From compound-centric to cross-experiment data views
Recently, the development focus of the GMD has shifted from providing compound and spectra-centric towards integrated views of compound sets associated with a particular experimental series, and beyond this experiment-centric view, offering means for the comparative analysis of metabolite profiles across different experiments. Currently, 14 experiments have already been incorporated into the GMD. Various graphics-supported analytical displays facilitate the analysis of compound profiles across different experiments and within single experimental datasets (
Figure 5
). Compound profiles can also be queried with hypothetical compound level constellations, such as, queries that require metabolite A to be present, metabolite B absent, and metabolite C at twice the level of compound A. In the long term this functionality aims at permitting "experiment" queries which answer questions, such as, under which other conditions do metabolites exhibit similar levels as in a user's experiment. With the rapidly growing number of experimental datasets, this facility is expected to quickly gain appeal.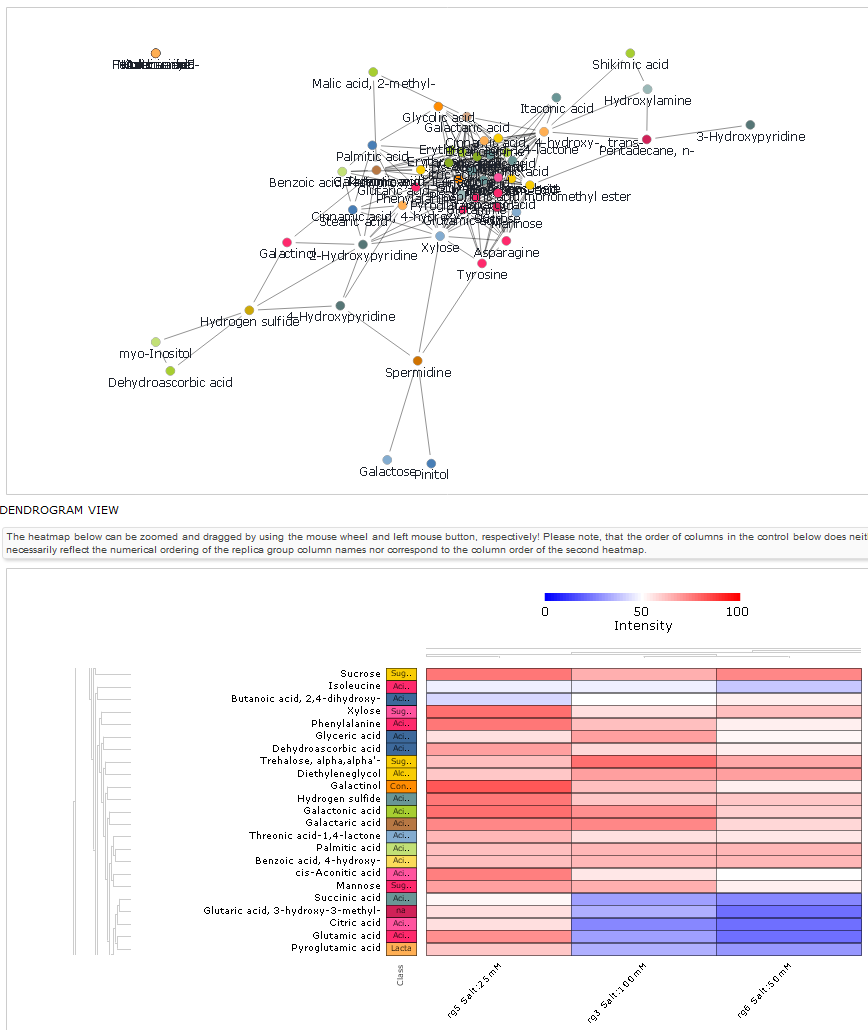 Figure 5.
The GMD permits analyses of metabolite level information across all samples associated with a particular experiment. Similar metabolite profiles are identified via correlation methods and displayed graphically as network graphs (upper panel) and employing hierarchical clustering methods producing heat map views of the metabolite level data (lower panel).
Inferface to external software systems via web services
The GMD offers a wide array of software interface functionalities allowing the integration of GMD-functionality, e.g., automated classification of mass spectra, into third-party software solutions.
Terms of Use
Access to the online contents and services of the GMD is granted to all users without any limitations pursuant to the regulations stipulated in the GMD website. Commercial licenses for off-line use are available upon request.
References
Hummel, J., Selbig, J., Walther, D. and Kopka, J. (2007) The Golm Metabolome Database: a database for GC-MS based metabolite profiling. In Nielsen, J. and Jewett, M.C. (eds), Metabolomics. Springer-Verlag, Berlin, Heidelberg, New York, 75-96.
Hummel, J., Strehmel, N., Bölling, C., Schmidt, S., Walther, D., Kopka, J. (2013) Mass spectral search and analysis using the Golm Metabolome Database. In Weckwerth, W., and Kahl, G. (eds) The Handbook of Plant Metabolomics. Wiley-VCH Verlag, Weinheim, 321-343.
Hummel, J., Strehmel, N., Selbig, J., Walther, D., Kopka, J. (2010) Decision tree supported substructure prediction of metabolites from GC-MS profiles. Metabolomics, 6, 322-333.
Kopka, J., Schauer, N., Krueger, S., Birkemeyer, C., Usadel, B., Bergmuller, E., Dormann, P., Weckwerth, W., Gibon, Y., Stitt, M., Willmitzer, L., Fernie, A.R. and Steinhauser, D. (2005) GMD@CSB.DB: The Golm Metabolome Database, Bioinformatics, 21, 1635-1638.
Schauer, N., Steinhauser, D., Strelkov, S., Schomburg, D., Allison, G., Moritz, T., Lundgren, K., Roessner-Tunali, U., Forbes, M.G., Willmitzer, L., Fernie, A.R., Kopka, J. (2005) GC-MS libraries for the rapid identification of metabolites in complex biological samples, FEBS Letters, 579, 1332-1337.
Strehmel, N., Hummel, J., Erban, A., Strassburg, K., Kopka, J. (2008) Retention index thresholds for compound matching in GC-MS metabolite profiling, Journal of Chromatography B, 871, 182-190.

Acknowledgements
The development of the GMD was supported by grants from the Deutsche Forschungsgemeinschaft (DFG) and the EU (FP-7) as part of the COSMOS initiative
http://www.cosmos-fp7.eu/
.
Please note:
If you know of any metabolomics research programs, software, databases, statistical methods, meetings, workshops, or training sessions that we should feature in future issues of this newsletter, please email Ian Forsythe at metabolomics.innovation@gmail.com.
MetaboInterviews features interviews with prominent researchers in the field of metabolomics. The aim of these interviews is to shed light on metabolomics researchers around the world and give them an opportunity to share their metabolomics story. In this issue, we feature an interview with Therese Koal
.



Head of Research and Development at BIOCRATES Life Sciences AG, Innsbruck, Austria





Biography



Therese Koal is responsible for mass spectrometry (MS)-based kit design, product and reagent development including evaluation of future metabolomic kit products and target markets. Product-related business development, IP, and medical device know-how (CE, IVD mark) also belong to Dr. Koal's scope of activities. Before she joined BIOCRATES in 2006, she worked at the Medical School of Hannover (Prof. Volkhard Kaever, Institute of Pharmacology, Germany), where she developed one of the first MS/MS-based clinical routine platform for Therapeutic Drug Monitoring (TDM) of immunosuppressive and antiretroviral drugs in Germany. Dr. Koal earned her doctorate (2000-2002) in analytical chemistry from the University of Leipzig, Germany, in the research group of Prof. Werner Engewald, where she also completed a post-graduate study in toxicology (2000-2003).

TK: The question is if metabolomics can help solve important scientific and disease-related questions, and if this can be