of Human Metabolome Technologies.
nmrML: A vendor-neutral open exchange format for NMR-based metabolomics


Feature article contributed by Daniel Schober, Michael Wilson, Daniel Jacob, Annick Moing, Catherine Deborde, Kenneth Haug, Philippe Rocca-Serra, John Easton, Tim Ebbels, Jie Hao, Christian Ludwig, Antonio Rosato, David Wishart, Christoph Steinbeck, Reza Salek, Steffen Neumann, and the COSMOS standards developers


Metabolomics is a growing field and the number of organisms being studied is constantly increasing as is the number of metabolites being discovered. With this growth comes a steady increase in the amount of metabolomics data and the need to ensure that we capture this information in persistent open formats and databases.
The
COSMOS
project (COordination Of Standards In MetabOlomicS,
http://www.cosmos-fp7.eu/
) has been created to improve the adoption of open standards for metabolomics data, annotation with agreed metadata, and support by open source data management and capturing tools. COSMOS delivers an ecosystem of formats, tools, and resources such as MetaboLights (
http://www.ebi.ac.uk/metabolights/
), a database for capturing information obtained in metabolomics experiments.
Here we introduce recent developments in
nmrML
(
www.nmrml.org
), a vendor-neutral open exchange and storage format to describe NMR-based metabolomics data (
Figure 1
). Currently, the most widely used open source data exchange format for NMR data is
JCAMP-DX
(Joint Committee on Atomic and Molecular Physical Data [
1
]). While many tools exist that make use of JCAMP-DX, the specification has several issues, mostly related to the fact that its specification is not very rigorous, which leads to difficulties to validate a data file and interoperability problems between software implementations. These issues motivated the creation of the nmrML specification.
To ensure the needs of the metabolomics community are met by the format, we relied on detailed suggestions about the
minimum information (MI) metadata
to be captured for an NMR experiment, developed by the Metabolomics Standards Initiative (MSI) working groups [
2
]. The MSI herein put forth recommendations to report instrument descriptions and configurations, instrument-specific sample preparation, and data acquisition parameters [
3
].
Click on the thumbnail below to view a larger version of the image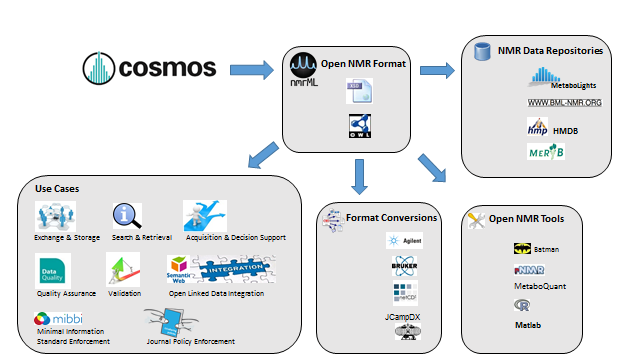 Figure 1.
Illustration of NMR data management facilitation by means of nmrML.
We were also heavily inspired by the
mzML
[
4
] specification that has been widely adopted in mass spectrometry. The format consists of an
XML schema
that defines the structure of an nmrML file and a supporting controlled vocabulary (
nmrCV
). This separation keeps the XML structure simple and avoids frequent changes of the schema when the terminology needs to accommodate new technologies and parameters. This also allows for the reuse of nmrCV in other formats and tools. The development of nmrML takes place on Github (
https://github.com/nmrML/nmrml
), where the specification documents, more detailed descriptions of our use cases, examples files, and parser libraries can be found. The current nmrML release is available at
http://nmrml.org
for public consultation and feedback.
Several implementations in reusable software libraries are available, e.g., for Java and Python, to convert from Bruker or Agilent/Varian to the nmrML format on the command line or through a web application (
Figure 2
).
Click on the thumbnail below to see a larger version of the image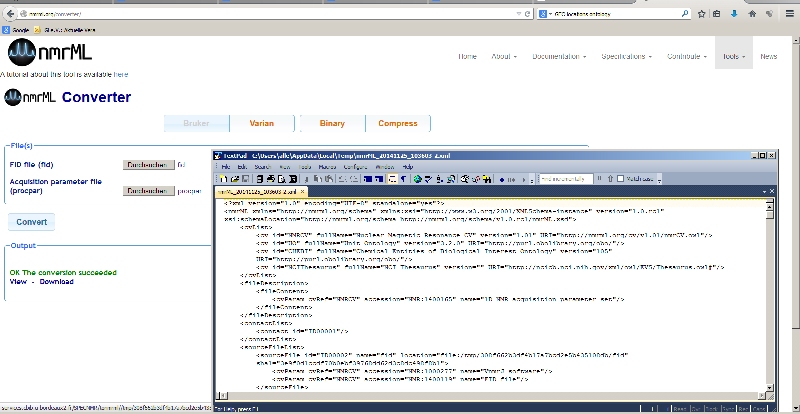 Figure 2.
The Java-based nmrML converter allows uploaded Bruker or Varian raw data NMR files (FID and parameter files) to be converted into a valid nmrML file (inset).
A semantic
validation web service
allows nmrML files to be checked for schema conformance and annotation compliance, thus contributing to quality assurance, by assessing data completeness against established MI checklists, e.g., the minimal information for a metabolomics NMR experiment [
3
].
We provide
parser libraries
for nmrML in R and Matlab, which can be used by open NMR processing and analysis software. The nmrRIO R package for example aims at providing a common interface to several R-based NMR packages such as BATMAN [
5
] and rNMR [
6
]. The Matlab nmrML parser reads nmrML parameters and decodes FID and spectrum array data, which can then be visualized.
nmrML is an important step forward in the openness, reusability, and reproducibility of metabolomics NMR experiments. Creating nmrML, we have focused on the needs of the metabolomics community, and worked with partners and users throughout the creation process to ensure that we are meeting their specific requirements and use cases. We are already working with several partners who have adopted formats such as
MetaboLights
(
http://www.ebi.ac.uk/metabolights/
) and
HMDB
(
http://hmdb.ca/
), and we have seeded the beginning of an ecosystem of tools and software around nmrML. Help us to grow the nmrML community by using the tools and contributing your work or suggestions at
http://nmrml.org
.
References
Davies A.N. and Lampen P. (1993) JCAMP-DX for NMR. Appl. Spec., 47, 1093-1099. http://www.jcamp-dx.org/
Sansone S.A., Fan T., Goodacre R. et al. (2007) The metabolomics standards initiative. Nat. Biotechnol., 25, 846–848.
Rubtsov D.V., Jenkins H., Ludwig C., Easton J., Viant M.R., Günther U., Griffin J.L., Hardy N. (2007) Proposed reporting requirements for the description of NMR-based metabolomics experiments. Metabolomics 3, 223–229.

Martens L., Chambers M., Sturm M. et al. (2011) mzML—a community standard for mass spectrometry data. Mol. Cell Proteomics, 10, R110000133. [PMID: 20716697]
Hao J. et al. (2012) BATMAN--an R package for the automated quantification of metabolites from nuclear magnetic resonance spectra using a Bayesian model. Bioinformatics, 28(15), 2088-90. [PMID: 22635605]
Lewis I. A., Schommer S.C., Markley J.L. (2009) rNMR: open source software for identifying and quantifying metabolites in NMR spectra. Magn Reson Chem, 47 Suppl 1, S123-126. doi:10.1002/mrc.2526. [PMID: 19821464]


Please note:
If you know of any metabolomics research programs, software, databases, statistical methods, meetings, workshops, or training sessions that we should feature in future issues of this newsletter, please email Ian Forsythe at metabolomics.innovation@gmail.com.
MetaboInterviews features interviews with prominent researchers in the field of metabolomics. The aim of these interviews is to shed light on metabolomics researchers around the world and give them an opportunity to share their metabolomics story. In this issue, we feature an interview with Alex Buko
.

Vice President, Business and Product Development, Human Metabolome Technologies, Boston, USA





Biography



I received my Bachelor's degree in 1975 from University of Virginia in Geochemistry and a PhD in 1980 from University of Virginia in Chemistry developing mass spectrometric sequencing of proteins. From 1980 to 1984, I completed a post-doctoral fellowship at the FDA Bureau of Biologics and Biophysics, studying sequencing of inflammatory cytokines and natriuretic factors in blood. I worked at Abbott Laboratories in Chicago from 1984 to 2002, and led a large lab analyzing small molecules, metabolites, and proteins. I worked on measuring metabolites using MALDI-TOF and experimented with capillary electrophoresis mass spectrometry (CE-MS) for proteins and small molecules, using MALDI-FTMS and LC-MS/MS.

I moved to Biogen Idec from 2002 to 2012 and led a large lab analyzing small molecules, proteins, and antibodies. I built proteomic and metabolic platforms at both Abbott and Biogen Idec. Over the course of my career, I have worked on disease and drug response biomarkers in several therapeutic areas and believe in a systems biology approach using innovative data mining tools with algorithm generation.

Currently I am VP of Business and Product Development at Human Metabolome Technologies. Our company has been delivering quantitative and non-quantitative CE-MS metabolic profiles for many years mainly in Japan. Metabolomics and metabolite profiling have experienced significant growth in the US and Europe over the past several years covering many areas of science. Since HMT has developed an extensive metabolite database over the past 10 years, serving many areas from agriculture to pharmaceuticals, the time has come to bring HMT metabolomics to a growing US market.