.
This issue of MetaboNews is supported by:
Advertising
Would you like to advertise your metabolomics hardware, software, products, and services to over 2,800 MetaboNews readers worldwide? We offer a variety of advertising options. Please consult the MetaboNews advertising brochure for details.

Free Subscriptions:

Our subscriber list is managed using Mailman, the GNU Mailing List Manager. To subscribe or unsubscribe, please visit http://www.mailman.srv.ualberta.ca/mailman/listinfo/metabonews.
Newsletter Archive: Current and back issues of MetaboNews can be viewed from the newsletter archive (http://www.metabonews.ca/archive.html).
Content Suggestions/Feedback:
We always appreciate your feedback on how we can make this newsletter better (metabolomics.innovation@gmail.com).
---
| | |
| --- | --- |
| | Metabolomics Society News |

CONFERENCE CORNER


2016 Metabolomics Society Conference, Dublin
Location: Dublin, Ireland
June 27
–

June 30, 2016
Registration is now open for the Metabolomics Society's Annual Meeting in 2016 in Dublin. Register now to receive early-bird prices.
Accommodation at the conference hotels may also be reserved through the conference website. June is a popular time in Dublin, so book now to secure your room at the best rate.
Abstract submission will open soon. For detailed information about the venue, program, plenary speakers and social events, see www.metabolomics2016.org.

Please make your room reservations through the conference website as soon as possible so that we can avoid difficulties with keeping rooms for the conference.

Conference Confusion
Dear Metabolomics Society Members,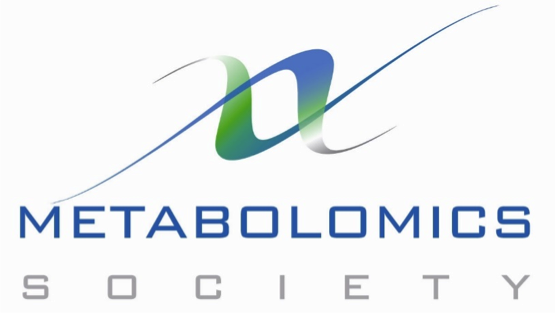 WE hate to sound like a broken record, but there are several metabolomics-themed meetings being planned for 2016, so we hope that you will be able to identify the Official Metabolomics Society annual meeting which is in Dublin (June 27 – June 30, 2016).
In case there is any confusion about the origin of a conference or meeting, official Metabolomics Society meetings ALWAYS will have links to the Metabolomics Society web page, display the Society logo, and be clearly branded from the Society and A-S-K Associates; no other companies promote our meetings. We are concerned because some of the companies that are putting on these meetings seem to be deliberately causing branding confusion, and we have heard from members who have been extremely dissatisfied with these other meetings. If you have questions or concerns about any meeting, please contact us.

Call for Expressions of Interest (EOI) to Chair the 2018 Metabolomics Conference
The Metabolomics Society is calling for interested members in the American region (North, Central or South America) to express their interest in hosting the 2018 annual Metabolomics Society meeting (http://metabolomics2018.org/).

Please send notice of your interest using the EOI form by 1st March 2016. You should name individuals who will be key to forming a Local Organizing Committee (LOC) and outline the scientific plan for the conference. The LOC will report to the Metabolomics Society Board, assist A-S-K staff* and the Board in selection of a suitable venue, and organize the conference. The tasks of the LOC are to ensure regional and national support for the conference, to assist the Society in administrative planning, and most importantly, to chair and manage the scientific aspects of the conference. The LOC is also responsible for selecting, and administering, an International Organizing Committee, which in turn is responsible for determining the scientific content of the meeting. Please complete the application form outlining your ideas to maximize the scientific quality and outreach of the conference. For further enquires please contact the Society via A-S-K Associates (metabolomics@askusa.com).
*A-S-K Associates is the Society's administrative firm.

Support for local conferences
The Society continues to support national and regional conferences conducted by our affiliated organisations, and provides support for smaller meetings hosted by Society members.
In 2016 the Metabolomics Society will support:
- ANZMET conference, Melbourne, Australia: March 30th – April 1st 2016. http://www.anzmet.org
- Microscale Separations and Bioanalysis, Niagara-on-the-Lake, Canada: April 3-7, 2016. http://www.msb2016.org/

For more information about support for local meetings see (http://metabolomicssociety.org/events/event-funding).



M

EMBERS

CORNER


Early-career Members Network (EMN)
The EMN is dedicated to and run by early-career scientists who are members of the Metabolomics Society and are from academia, government, or industry. The network aims to provide a forum for metabolomics researchers at the start of their professional career.

EMN Workshops at the 12th Annual International Conference
The EMN will host two workshop sessions tailored for the needs of the early-career members. Both sessions are taking shape nicely and we aim to have a full program ready soon, so stay tuned for more information on both workshops.

Please feel free to contact us via info.emn@metabolomicssociety.org if you have any suggestions or comments regarding our planned activities this year (i.e., online webinars and workshops). If you think you have a great idea for a new activity we should organise then please do share with us; the EMN can only be a success with your support and ideas!!

Membership News for 2016
Exclusive Members-only Metabolomics Society Video Content Is Now Available!
The Society is pleased to announce a new service for members of the Metabolomics Society. Exciting video content is available immediately, for members only! The most recent addition is the plenary lectures from Metabolomics 2015 in San Francisco. So, if you missed the meeting in San Francisco, make sure your membership is paid up and you can access the videos. Please follow the link.

For those of you who have not yet renewed your membership of the Metabolomics Society for 2016, the early bird discount has now ended. However, renewing your membership still allows you to claim a special members only price at Metabolomics 2016 in Dublin as well as a host of other membership benefits which are listed here. To join the society or to renew your membership, visit here. For any questions regarding membership, please contact us at membership@metabolomicssociety.org.
TASK GROUPS CORNER

Industry Engagement Task Group

The second issue of the IETG newsletter has been sent to our commercial partners, so if you did not receive a copy, please contact Sherie Howell at showell@askusa.com. Sponsorship opportunities for the 2016 Metabolomics Society conference are still available, so please contact Sherie for the latest news.

We are also looking for individuals who would like to join the IETG as a commercial/industrial representative, so if you are engaged in metabolomics and would like to have your voice heard on the IETG, please contact the Chair of the IETG, Dan Bearden. Please visit our information portal.

Metabolite Identification Task Group
The Metabolite Identification task group is supporting a scientific session on metabolite identification at the Dublin 2016 conference. We are requesting all researchers in this area to submit high quality abstracts for oral presentations. We look forward to reading your exciting research.



INTERNATIONAL AFFILIATES CORNER
Australian & New Zealand Metabolomics Network (ANZMN)
Visit
http://www.anzmn.org
The ANZMN would like to draw your attention to a possible chance to get some lecturing experience for those postdocs and early career researchers keen on an academic career. Charles Sturt University in Wagga Wagga (pronounced Wogga, Wogga - or often just Wogga) in New South Wales have a ten-month maternity leave replacement within the Chemistry discipline. The appointee will coordinate and/or teach in a range of subjects, including first year Chemistry, second year Analytical Chemistry and Scientific Communication. Whilst it is largely teaching based they are hoping to attract someone with a research track record in separation science (which metabolomics people usually have) so that they could also contribute/participate in research. They have quite a few high-end mass specs such as LC-qTOF, GC-qTOF, GC-QQQMS, LC-QQQMS, so it would be a good opportunity for the right person to access this equipment. If you want to read more please see
https://www.dropbox.com/s/te40fa5md4k8c1v/Charles-Sturt-University_Associate-Lecturer_Lecturer-Chemistry.pdf?dl=0
for the details. Interested parties can e-mail Dr Danielle Ryan on
dryan@csu.edu.au
if they have any questions.
Réseau Français de Métabolomique et Fluxomique (RFMF)
Visit
http://www.rfmf.fr/

RFMF is pleased to announce the
10th conference
of the
Francophone Metabolomics and Fluxomics Society (RFMF)
, to be held in Montpellier between the 30
th
of May and the 2
nd
of June 2016.
Every year since 2005, this conference gathers scientists who are interested in metabolomics and fluxomics, and more generally in the study of metabolism.
This year, the main scientific themes are:
Ecotoxicology, environmental metabolomics and microbiology
Health: clinical applications, therapeutic monitoring, biomarker determination
Agricultural resources and food science
This conference is also a good opportunity to get updated about the recent evolutions in analytical methods/hardware and bioinformatics tools in metabolomics and fluxomics.
The meeting will include:
Plenary lectures by renowned international invited speakers:

Prof. Arthur Edison (University of Georgia, USA)
Prof. Elizabeth Hill (University of Sussex, UK)
Dr. Kris Moreel (University of Gent, Belgium)
Dr. Patrick Kiefer (ETH Zurich, Switzerland)

Oral presentations
Flash communications associated with poster sessions
Thematic workshops and round-tables
The registration and submission interfaces will open on February 1
st
2016. The deadline for abstracts to be considered for oral presentations is April 1
st
2016. More information can be obtained on the website of the RFMF conference:
http://10-js-rfmf.sciencesconf.org/
We look forward to welcoming you in Montpellier for this new edition of the RFMF conference.
Best regards,
The RFMF executive board and the organizing committee of the 10th RFMF conference
Local Organizing Committee
Frédérique Courant, Elena Gomez, Helene Fenet, and Benilde Bonnefille (
UMR Hydrosciences
), Christelle Reynes (
Institut de Génomique Fonctionnelle
), Emilie Farcy (
UMR Marbec
), Jean-Charles Martin (
UMR NORT
, plateformes BiomeT, and
CRIBIOM
), Laetitia Shintu (
Institut des sciences moléculaires de Marseille
), Raphael Lugan and Véronique Vidal (
UMR Qualisud
and Cédric Bertrand
CRIOBE USR 3278
)
Local Scientific Committee
Claire Vigor (
IBMM
), Eric Rivals (
LIRMM
), Sophie Lebre (
IMAG
), Catherine Defoort and Gaelle Favé (
UMR NORT
, plateformes BiomeT, and
CRIBIOM
), Mehdi Yemloul (
iSm2
), Valérie Tomao (
SQPOV
), and Isabelle Bonnard (
CRIOBE USR 3278
)
And at the National Level by
Catherine Deborde (UBF&PMB-MetaboHUB Bordeaux) and Marie-Lou Lombard (SFR BIE Bordeaux) who strongly and continuously bring their valuable help and advice.
And by the Executive Board of the RFMF
Floriant Bellvert (
Plateforme MetaToul-MetaboHUB
), Julien Boccard (
Ecole de Pharmacie Genève-Lausanne
), Alain Bouchereau (
IGEP
), Frédérique Courant (
UMR Hydrosciences
), Pascal de Tullio (
CIRM
), Patrick Giraudeau (
CEISAM
), Yann Guitton (
Laboratoire d'Etude des Résidus et Contaminants dans les Aliments
), Anne-Emmanuelle Hay (
UMR Ecologie Microbienne 5557
, CESN), Fabien Jourdan (
UMR Toxalim
,
MetaboHUB
) Jean-Charles Martin (
UMR NORT
, plateformes BiomeT, and
CRIBIOM
), and Etienne Thevenot (
CEA LIST
,
MetaboHUB
).
ECMDB: The Escherichia Coli Metabolome Database
Feature article contributed by Tanvir Sajed and
Ana Marcu, Bioinformaticians, The Metabolomics Innovation Centre, Edmonton, Alberta, Canada

ECMDB is a comprehensively curated OMICS database describing
Escherichia coli
biochemistry and metabolism, available at
http://ecmdb.ca
. It encompasses different kinds of biochemical information for
E. coli
, including annotation of metabolites, proteins, reactions, and pathways. The website provides some essential
E. coli
cell statistics, such as length of cell and concentrations of various compounds in the cell. The server is built with Ruby on Rails, using the latest MVC software engineering standards. The design follows a recognized structure and organized documentation, thereby allowing developers to understand and change code easily for maintenance or further development. Elasticsearch, a cutting-edge search technology, is used for all search engines including pathway search, metabolite search and reaction search. It also implements Redis-based caching, allowing pages to be saved and loaded rapidly when a user goes to a previously visited page. The data is being retrieved from the ECMDB internal database and is also connected to a centralized database system that acts as storage for computationally-mined biochemical annotations. ECMDB metabolite annotations are downloadable as JSON and SDF formats from the
downloads section
on the website. Protein sequences are downloadable in FASTA format. At present, the database holds 3760 metabolites, and 2133 enzymes and transporters (
Figure 1
).
Figure 1.
A snapshot of the Metabolite Browse page, which lists metabolites in ECMDB along with links to pathways and structures.
Metabolites can be searched using the Elasticsearch engine by names and IDs. Once a metabolite is selected, detailed annotations are shown (
Figure 2
). Structure details are represented as InChI, SDF, SMILES, etc. A structure search may also be performed by providing or directly drawing a structure in the MarvinSketch viewer (
Figure 3
). The list of enzymes a metabolite interacts with and the reactions or pathways in which it is involved are also given as part of the search results. An attempt was made to provide the most comprehensive pathways of
E. coli
made by any database. Currently it holds a total of 1673 pathways, including signaling and operon pathways. The extent of pathways in ECMDB goes beyond KEGG and EcoCyc.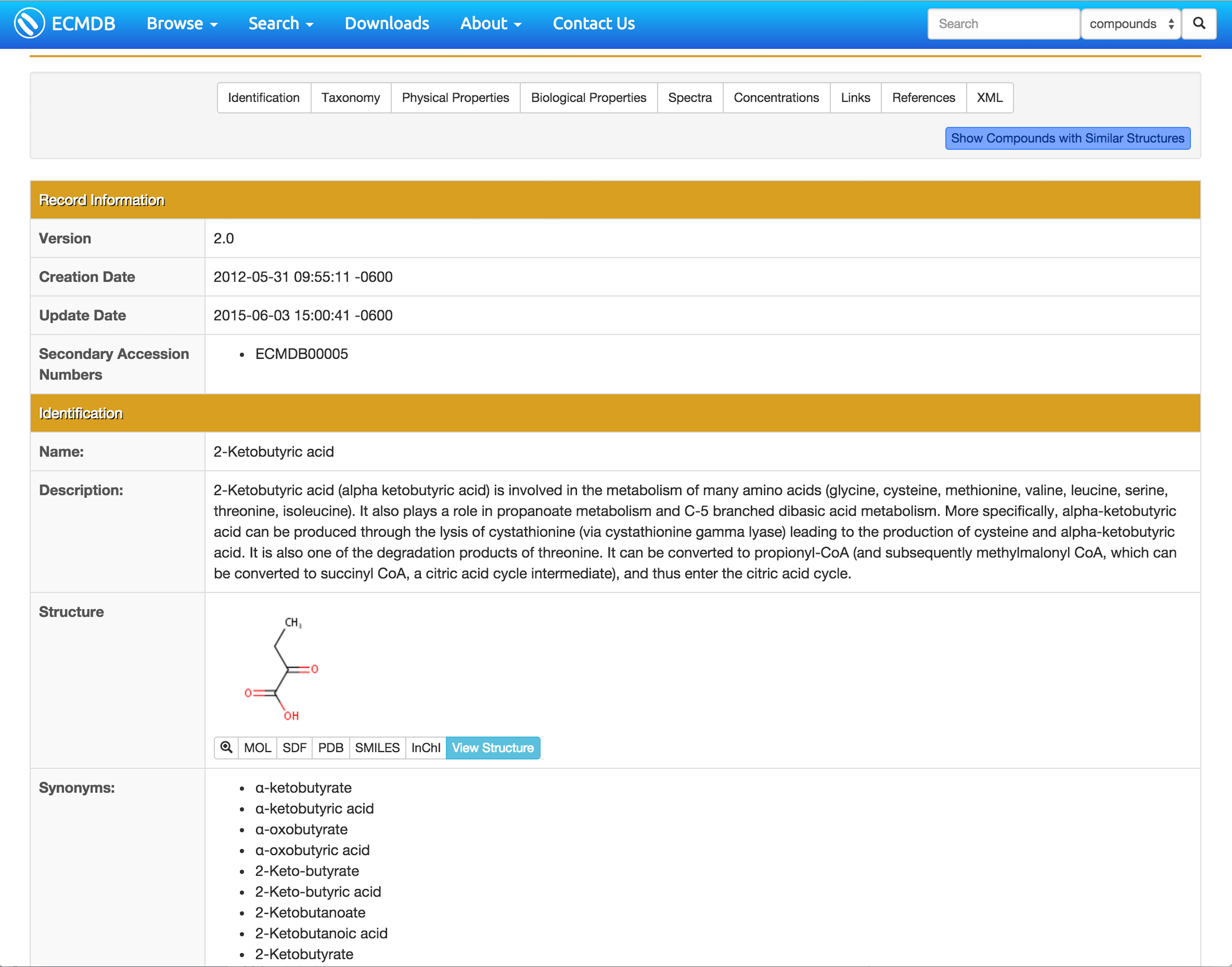 Figure 2.
Detailed annotation of ECMDB00005 (2-Ketobutyric acid) showing creation date, update date, secondary accession numbers, description, a structure viewable as molfile, SDF, PDB, SMILES, or 3D, and synonyms. The tab at the top of the page provides shortcut jump bars to specific sections such as 'Taxonomy', 'Spectra', and 'Links'. The Search bar is also visible on the top right corner. Searches can be done on the basis of names, synonyms, or ECMDB identifiers.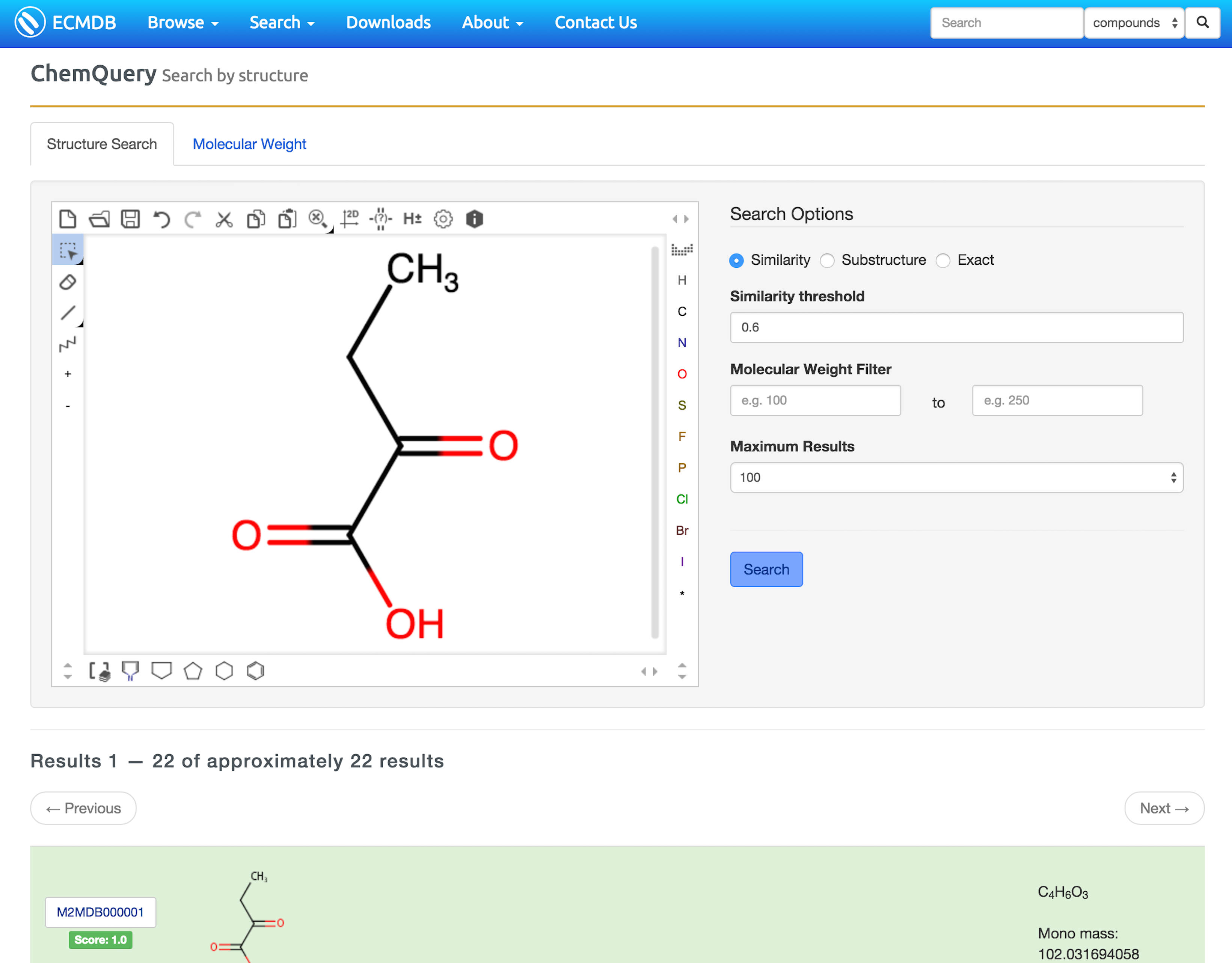 Figure 3.
The snapshot shows a chemical structure search with the structure of 2-Ketobutyric acid. The tool matches the structure against all the structures in ECMDB and gives possible matches sorted by similarity. The user can choose similarity, substructure, or exact matches from the software, or use a molecular weight filter.
ECMDB presently also includes about 2133 annotated
E. coli
proteins that are also externally linked to UniProt and Kegg. These proteins are integrated with reactions along with metabolites, to form 5067 listed reactions. An additional 3079 reactions are imported directly from
SMPDB
. Reactions are integrated in pathways which cover most of the known
E. coli
metabolism.
Pathways were researched and created using the PathWhiz tool, a platform integrated with SMPDB (
Figure 4
). Pathways include not only metabolic reactions, but also transport reactions (across inner/outer membranes) and reactions that contain protein compound interactions. These pathways are stored in SMPDB and synced to ECMDB, allowing a user to view the pathways in ECMDB directly, or in the PathWhiz editor by the given link. PathWhiz is a drawing tool that supports complex diagrams and pathway annotation, while at the same time providing a very user-friendly interface either for experimenting with pathway reactions or creating complex diagrams for academic use. High resolution pictures as JPG or vector images of pathways are downloadable (
Figure 5
). Users can also sign up for this software and create their own pathways.
The main goal of ECMDB 2.0 was to collect a comprehensive set of pathways with reactions from sources such as KEGG and EcoCyc, along with additional data in published literature, and easily integrate these pathways with metabolite information for
E. coli
. About 90% of metabolites are currently linked to at least one metabolic pathway. ECMDB is a very useful tool for metabolic researchers who wish to enhance their knowledge of
E. coli
metabolism, or gather preliminary information for their own studies.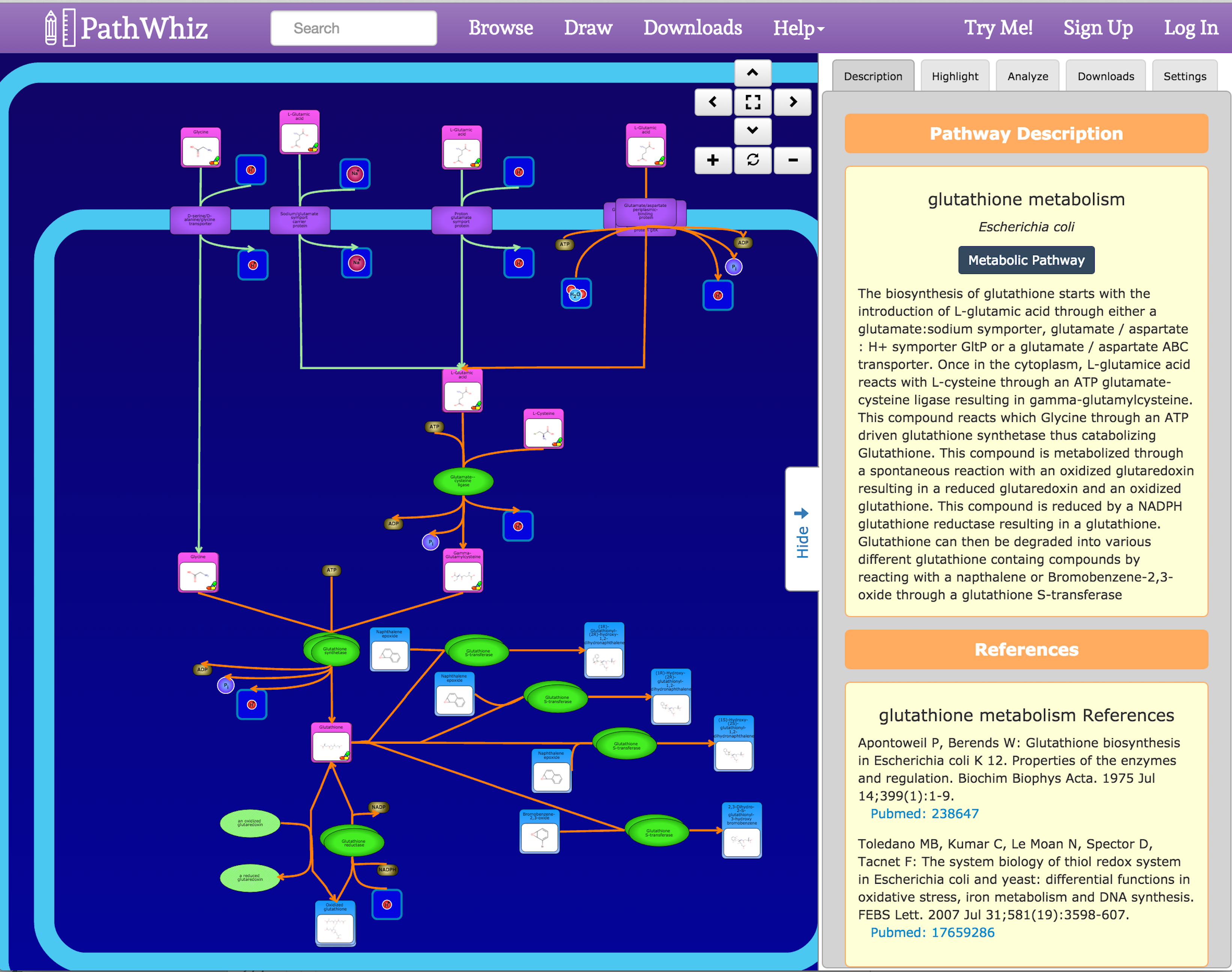 Figure 4.
A snapshot of the PathWhiz tool. It was used to create most of the pathways linked in ECMDB. This pathway explains glutathione metabolism in
E. coli
with a detailed description and references. Users can make the image larger, highlight particular compounds, proteins or reactions, and click on sections for more detail (
http://smpdb.ca/pathwhiz
).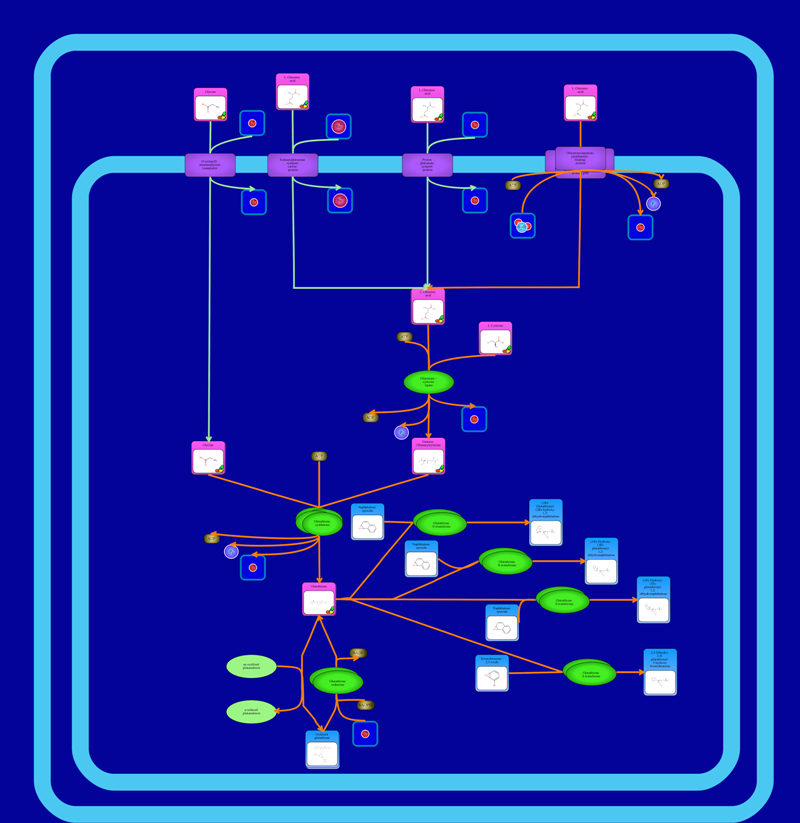 Figure 5.
A PNG image of glutathione metabolism in
E. coli
, downloaded from the PathWhiz tool.
Please let the ECMDB authors know what you would like to see in future versions of ECMDB. Your feedback and suggestions are very helpful and help to improve ECMDB's overall quality and usefulness. Please email your feedback and suggestions to the ECMDB
authors
.
The ECMDB project is supported by:
David Wishart, Departments of Computing Science and Biological Sciences, University of Alberta
The Metabolomics Innovation Centre, a Genome Canada-funded core facility serving the scientific community and industry with world-class expertise and cutting-edge technologies in metabolomics.

Citing ECMDB
ECMDB
is offered to the public as a freely available resource. Use and redistribution of the data, in whole or in part, for commercial purposes requires explicit permission of the authors and explicit acknowledgment of the source material (ECMDB) and the original publication (see below). The ECMDB authors ask that users who download significant portions of the database cite the ECMDB paper in any resulting publications.
Sajed, T., Marcu, A., Ramirez, M., Pon, A., Guo, A., Knox, C., Wilson, M., Grant, J., Djoumbou, Y. and Wishart, D. (2016). ECMDB 2.0: A richer resource for understanding the biochemistry of E. coli. Nucleic Acids Res, 44(D1), pp.D495-D501. [PMID: 26481353]

Please note:
If you know of any metabolomics research programs, software, databases, statistical methods, meetings, workshops, or training sessions that we should feature in future issues of this newsletter, please email Ian Forsythe at metabolomics.innovation@gmail.com.