.



MS2LDA: unsupervised substructure discovery in metabolomics data


Feature article contributed by Justin J.J. van der Hooft, Joe Wandy, and Simon Rogers, Glasgow Polyomics/Computing Science, University of Glasgow, UK
Modern mass spectrometers are capable of producing fragmentation data for more than 1500 metabolites in just one sample. Detailed manual analysis of fragment (MS/MS) spectra for large metabolomics experiments is no longer feasible. To fully harness the power of untargeted metabolomics, novel software methods are needed to guide molecular data analysis and interpretation. Inspired by text-mining approaches, we recently introduced MS2LDA to discover, in an unsupervised manner, the substructures present in metabolomics data. Through MS2LDA, users can speed up their analysis by interrogating their data at the level of metabolite families as well as individual molecules.
Unsupervised methods have had great success in the analysis of large collections of documents. One popular algorithm, Latent Dirichlet Allocation (LDA), detects regular co-occurrence of words and uses these patterns to define topics. Each document is broken down into combinations of one or more topics. For example, in
Figure 1
, the red words in Document 1 are common in texts about football; so, we could mark that group of words as indicating a 'football-related' topic. The beauty of LDA is that grouping documents that share a topic requires only the shared presence of a small number of relevant words (where relevance is learnt by the algorithm). In contrast, standard clustering models require similarity across the entire document resulting in clusters that are too specific. With LDA, documents can be placed in multiple groups (one for each topic they include). For example, someone interested in business liquidation would be able to easily extract both documents in
Figure 1
, even though their similarity is limited to a small subset of their words.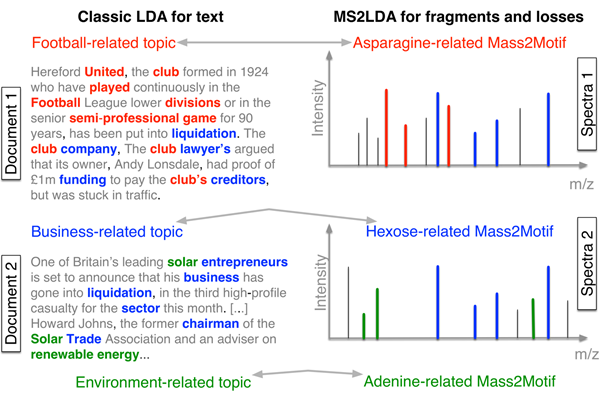 Figure 1.
From text mining to metabolomics data: pattern mining by topic modelling. Words correspond to mass fragments and neutral losses, whereas documents correspond to fragmentation spectra of metabolites. Figure adapted from Figure 1 in Van der Hooft
et al.
, PNAS, 2016.
If we replace documents with metabolites and words with metabolite fragments (and neutral losses), we can apply the same methodology to find fragmental topics indicative of molecular substructures. These substructures can be structurally characterized using expert knowledge and spectral matching, allowing the user to easily extract all molecules in a dataset that include a specific substructure. Applied to metabolomics data of beer extracts, we discovered many of such topics—we call them Mass2Motifs—representing a wide range of biochemically relevant substructures such as sugars (sweetness), amino acids (nutritional), and hydroxycinnamic acids (anti-oxidants); see Figures
2
and
3
.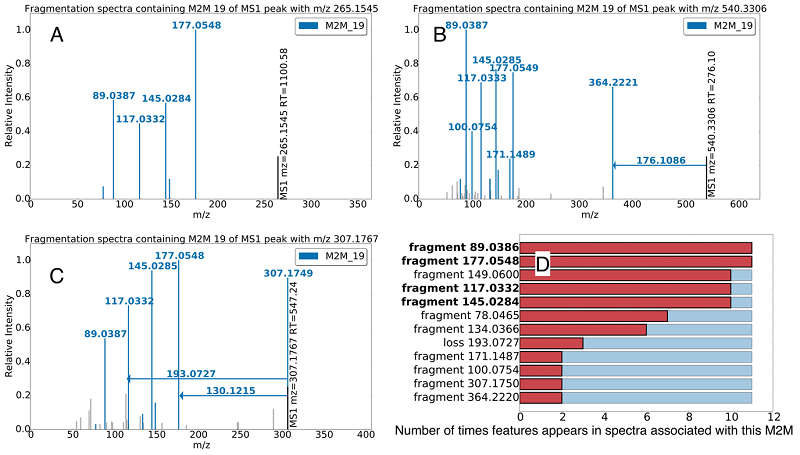 Figure 2.
Recurring fragmentation pattern discovered by MS2LDA that was characterized as ferulic acid (a hydroxycinnamic acid). Panels A to C show three spectra where the mass fragments and neutral losses grouped in the ferulic acid Mass2Motif are highlighted in blue. Panel D shows a histogram counting the occurrence of the fragments and losses in the 11 spectra that are member of the ferulic acid structural family. Figure adapted from Figure 2 in Van der Hooft
et al.
, PNAS, 2016.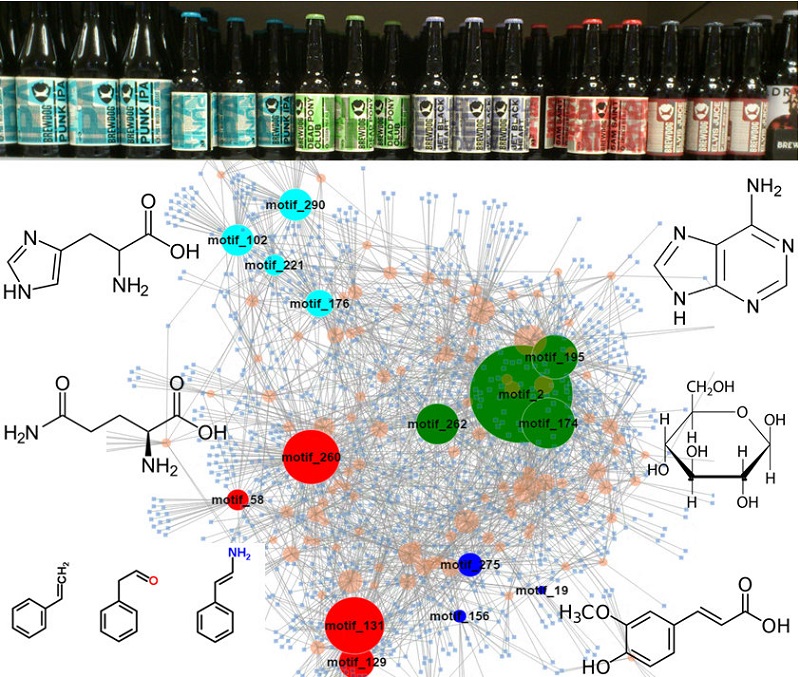 Figure 3.
Network representation of decomposed fragmentation data of beer extract and examples of biochemically relevant substructures found in beer samples. Larger circles represent Mass2Motifs found in the beer extract, whereas small blue circles represent metabolites, which are linked to one or more Mass2Motifs in the network.
By recognizing the building blocks in metabolomics data, we can lessen one of the major challenges in metabolomics research: structural identification of the diverse collection of metabolites present in biological extracts. Through automated classification of metabolites based on their Mass2Motifs, many previously unknown metabolites can at least be assigned to biochemically relevant structural families. As more substructures are characterized and stored as fragmental Mass2Motifs, more metabolites can be assigned to structural families. As with multiple topics within a document, it is natural to think of metabolites as containing multiple substructures, since for many metabolites, metabolite building blocks are used to create multiple end-products. For example, adenosine consists of a nucleotide and a glycoside unit and these substructures were both discovered in beer extracts by MS2LDA. Thus, users can start to 'build' metabolites from their basic building blocks, as detected by mass spectrometry.
To visualize the presence of metabolite families and their relations to metabolites, a network graph can be created from MS2LDA (see
Figure 3
, for data derived from beer extracts). Each circle represents a Mass2Motif and its size is proportional to the number of metabolites in which it is found. Examples of 'large circles' are the loss of CHOOH, indicative for a free carboxylic acid group, present in amino acids and small organic acids that are indeed commonly present in beer. Some metabolites are connected to multiple Mass2Motifs, indicating that they consist of multiple substructures. The biochemical grouping of metabolites can be further exploited by combining fold change information from comparative metabolomics to identify differentially expressed Mass2Motifs. This is analogous to transcriptomics where gene ontology grouping is used to group transcripts and thereby enhance the differential expression analysis.
We expect that our tool will be useful in areas such as pharmaco-metabolomics and environmental metabolomics, where researchers are looking for drug or toxin related structures, often containing characteristic substructures. For example, our tool could recognize drug metabolites present within a complex molecular profile of urine. Another area where it can speed up analysis of molecular profiling is natural products discovery, where scientists look to find novel bioactive substructures that are needed to develop drugs.
Are you interested in using MS2LDA for your own research? Do you have any feedback or suggestions? Please feel free to email the
MS2LDA authors
.
Citing MS2LDA

MS2LDA codes are freely available through www.ms2lda.org. The MS2LDA authors ask that users who apply MS2LDA in significant parts of their data analysis cite MS2LDA in resulting papers.
Publication

Topic modeling for untargeted substructure exploration in metabolomics. Van der Hooft, J.J.J., Wandy, J., Barrett, M.P., Burgess, K.E.V., and Rogers, S. (2016). Proceedings of the National Academy of Sciences 113, 13738-13743. doi: 10.1073/pnas.1608041113. [PMID: 27856765]
Please note:
If you know of any metabolomics research programs, software, databases, statistical methods, meetings, workshops, or training sessions that we should feature in future issues of this newsletter, please email Ian Forsythe at metabolomics.innovation@gmail.com.





Biography



Roger W. Giese, PhD is a Professor of Chemistry and Biomedical Science, in the Department of Pharmaceutical Sciences at Northeastern University in Boston.

Dr. Giese is interested in measuring the human exposome by mass spectrometry, and in increasing analytical specificity and sensitivity in metabolomics.