a Research Spotlight article on a paper entitled "Understanding and Classifying Metabolite Space and Metabolite-Likeness."
), and is intended to keep metabolomics researchers and other professionals informed about new technologies, software, databases, events, job postings, conferences, training opportunities, interviews, publications, awards, and other newsworthy items concerning metabolomics. We hope to provide enough useful content to keep you interested and informed and appreciate your feedback on how we can make this newsletter better (
).
Understanding and Classifying Metabolite Space and Metabolite-Likeness

Feature article contributed by Julio E. Peironcely, PhD student on Computational Metabolomics and Metabolite Identification, at TNO, Leiden University and the Netherlands Metabolomics Centre, The Netherlands
Original article:
Peironcely JE, Reijmers T, Coulier L, Bender A, Hankemeier T. Understanding and classifying metabolite space and metabolite-likeness. PLoS One. 2011;6(12):e28966. Epub 2011 Dec 14.
[
PMID: 22194963
]
In metabolomics there is a recurrent bottleneck: metabolite identification. Knowing the identity, i.e., the chemical structure, of the detected compounds is essential to interpret the experimental results.
Candidate structures that match experimental data are proposed either by querying molecular databases or by using chemical structure generators. In either case, the expert can face a large list of compounds, from which to chose the correct structure. This list could be ranked according to the metabolite-likeness of the compounds.
With this work we wanted to answer two questions:
What are the common characteristics of human metabolites?
Can we predict the metabolite-likeness of a chemical structure?

This work describes the application of computational tools to predict the metabolite-likeness score of a molecule, i.e., how much it resembles a metabolite, and to acquire a global understanding of how the space of human metabolites is organized.
Datasets
Since we wanted to compare metabolites with non-metabolites, two molecular datasets were selected. Human metabolites from the HMDB were used as the metabolite set and commercially available compounds listed in ZINC database were the non-metabolite dataset.
Molecules present in both datasets were removed, as well as molecules in the HMDB that were described as drugs.
What are the common characteristics of human metabolites?
Physicochemical properties
Several physicochemical properties were calculated for the HMDB and ZINC datasets. Principal component analysis (PCA) was performed. The result of this PCA (
Figure 1
) reveals that both datasets cannot be completely separated on the basis of physicochemical properties. This lack of separation observed in the PCA, made us think that the utilization of more sophisticated methods was required.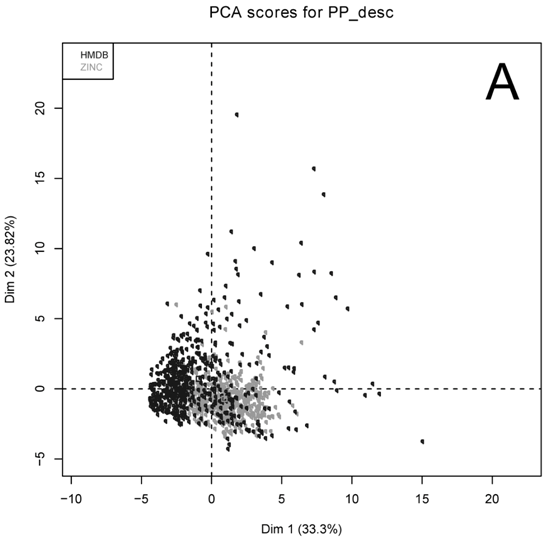 Figure 1.
Principal component analysis of the HMDB and ZINC datasets.
By looking at the properties that contributed the most to the slight separation in the PCA (
Figure 2
), we concluded that metabolites are more soluble in water, have a lower molecular weight, have less complex structures, and fewer carbon atoms than non-metabolites. Furthermore, Polar Surface Area (PSA) tends to be larger in metabolites, suggesting that they do not penetrate cell membranes as efficiently as non-metabolites.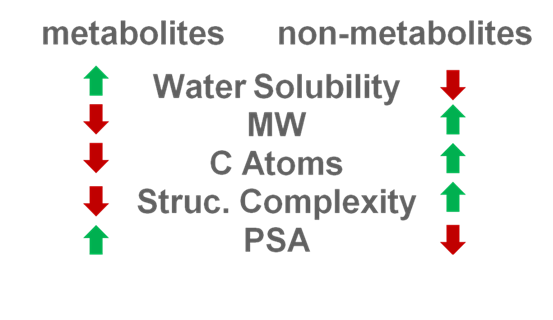 Figure 2.
Physicochemical properties contributing most to the variance in the first two principal components of the PCA.
Fingerprint Features and Frequent Fragments
Molecules from the HMDB and ZINC were described using ECFP_4 features, which can be seen as substructures, and partitioned using a Classification Tree (
Figure 3
). At each branching point of the tree, a feature is chosen when it maximizes the split between metabolites and non-metabolites.
Click on the thumbnail below to view a larger version of the image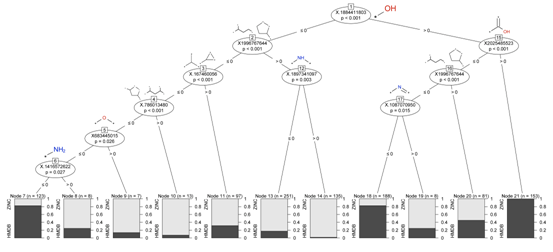 Figure 3.
Classification tree of the ECFP_4 features of the HMDB and ZINC datasets.
From this we learn that hydroxyl groups are characteristic of metabolites. Also, nitrogen-containing moieties correlate with non-metabolites. Acyclic molecules lacking hydroxyls are likely to be metabolites.
Can we predict the metabolite-likeness of a chemical structure?
Building the model
When classifying molecules
in silico
, different accuracies are obtained for each representation and algorithm used. Thus, we selected five different molecular representations (Atom Counts, Physicochemical Properties, MDL Public Keys, ECFP_4 and FCFP_4 fingerprints) and three different classification algorithms (Support Vector Machines (SVM), Random Forest (RF), Naïve Bayes Classifier (NB)). Our aim was to employ as our model of Metabolite-Likeness the combination reporting the highest accuracy in the predictions.
The process of model building is depicted in
Figure 4
. A standardization process cleans the molecules from both databases. Diversity selection is performed to reduce the impact that overrepresented families of metabolites, for instance lipids, might have in the model. This involved clustering each dataset, where the cluster centers were collected as the training set and the other compounds were used as the test set.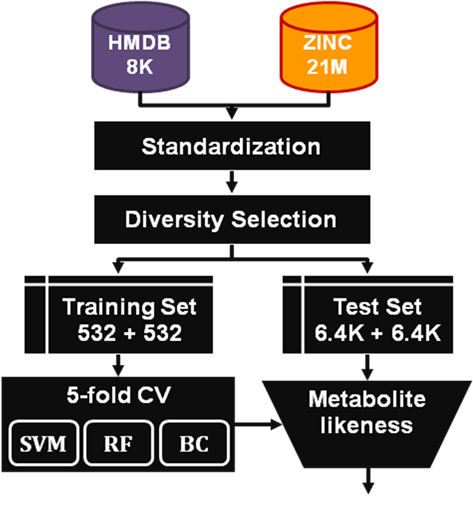 Figure 4.
Model building workflow.
Since SVM and RF classifiers require the tuning of some metaparameters, we performed a five-fold cross validation to select their optimal values. Once we had the metaparameters, fifteen models (five representations x three classifiers) were built. These models were used to classify the molecules in the test set and, as a result, the best performing model was the one built with Random Forest and MDL Public Keys. It classified correctly 99.84% of the metabolites and 88.79% of the non-metabolites.
Prospective validation of the model
A common problem of predictive models is how they perform when predicting new objects. Hence we compiled three prospective validation sets to test the quality of our best model. The first dataset contained 457 metabolites that had not yet been included in the HMDB. The second dataset represented non-metabolites and included molecules from ChEMBL, which can be seen as background dataset alternative to ZINC. The third dataset were drugs from DrugBank. These were selected to test the hypothesis that many drugs tend to mimic metabolites, or at least they are more metabolite-like than screening compounds.
The results (
Figure 5
) showed that 95.84% of the new metabolites were predicted correctly. Concerning drugs, 54.3% obtained a metabolite-likeness of 50% or higher, which was in accordance with our assumption that many drugs resemble metabolites. For the ChEMBL compounds, only 22.29% were predicted as metabolites.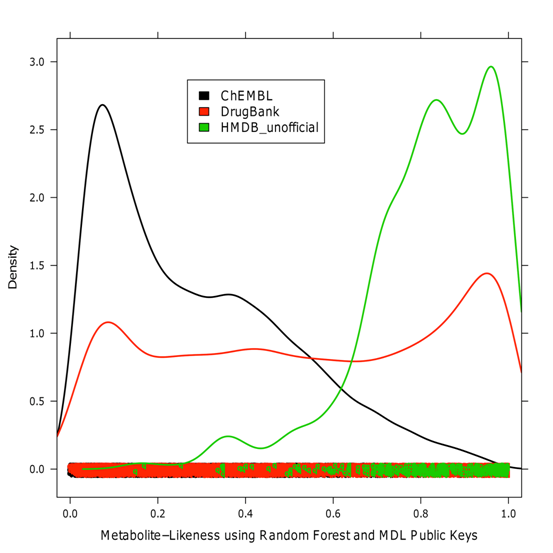 Figure 5.
Metabolite-likeness distribution of the prospective validation sets.
Molecules of the three different classes, which fall into different bins of metabolite-likeness scores, are presented in
Figure 6
. The first noticeable feature is the absence of a metabolite with a predicted metabolite-likeness smaller than 10%, underlining the homogeneity of metabolites as a class. Metabolite HMDB13193 obtained the lowest metabolite-likeness, 17%, and contains two chlorine atoms, which is not common in metabolites. Another interesting situation occurs with molecules that have a steroid scaffold, a common fragment in endogenous metabolites. Drug DB00180 (flunisolide) obtains a metabolite-likeness value of 52%. It possesses a fluorine atom, which is not frequent in metabolites, and which might have reduced its metabolite-likeness score. Conversely, ChEMBL compound CHEMBL1163241 also has the steroid scaffold but obtains a score of just 35.2% on the metabolite-likeness scale, due to having two fluorine atoms and a secondary amine, features that the classification tree revealed to be common in non-metabolites. Compounds with high-predicted metabolite-likeness are DB00131 (adenosine monophosphate), DB00125 (L-arginine), CHEMBL6422, and CHEMBL14568, which receive 84.2%, 99%, 82.8%, and 96.8%, respectively. Adenosine monophosphate includes the phosphate group, frequently found in metabolites together with two hydroxyl groups. Metabolite-like features of L-arginine, like linearity and a carboxylic group, outweigh the non-metabolite features like the nitrogen-containing functional groups. While compound CHEMBL6422 possesses carboxylic acid and hydroxyl functionalities, CHEMBL14568 is small, linear, and also exhibits a hydroxyl group, leading to a very high metabolite-likeness score.
Click on the thumbnail below to view a larger version of the image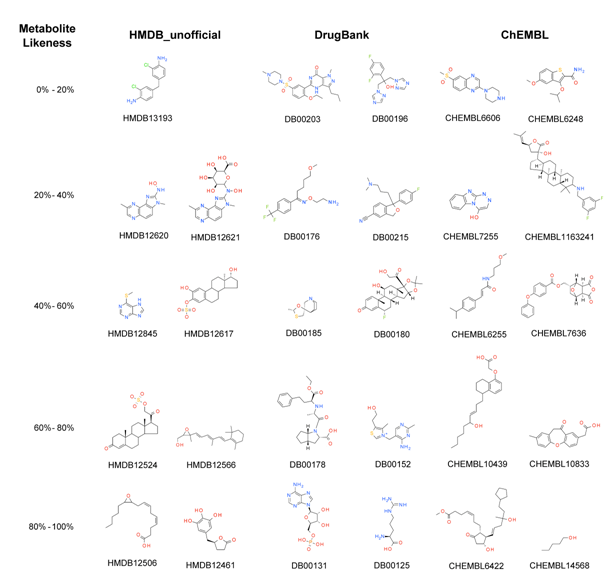 Figure 6.
Molecules of the prospective validation sets with different predicted metabolite-likeness values.
These results demonstrate that our model is successful at identifying whether a molecule is a metabolite or not. We expect metabolite-likeness prediction to help studies that involve metabolite identification in the future, when no database match is found for the unknown compound. Then the candidate structures are generated based on mass spectrometry data, e.g., elemental composition, using a structure generation tool. These output molecules would be ranked according to their metabolite-likeness.
Please note:
If you know of any metabolomics research programs, software, databases, statistical methods, meetings, workshops, or training sessions that we should feature in future issues of this newsletter, please email Ian Forsythe at metabolomics.innovation@gmail.com.