.
Two-Dimensional Liquid Chromatography


Feature article contributed by Oliver A.H. Jones and Jessica Pandohee, School of Applied Sciences, RMIT University, Melbourne, Australia


Metabolomics is, for obvious reasons, heavily reliant on advanced analytical instrumentation. Nevertheless, due to the sheer diversity of metabolites present in most biological samples and their correspondingly large range of physicochemical properties it is difficult to envisage a single analytical technique capable of analysing, let alone quantifying, an entire metabolome. Consequently, most metabolomics studies use multiple analytical techniques, each of which has advantages and disadvantages. Nuclear Magnetic Resonance spectroscopy is, for example, fast and reliable but lacks sensitively. Gas Chromatography is sensitive and reproducible but is limited to compounds that are (or can be made) volatile. Liquid Chromatography has a good range, good sensitivity, and can potentially analyse almost any compound but is often hampered by peak resolution issues. New developments in two-dimensional liquid chromatography (2DLC) could however, be about to change this.
Multidimensional liquid chromatography involves coupling two columns, with uncorrelated retention mechanisms, in series. During the analysis a sequential collection of aliquots from the first dimension are reinjected onto the second. The total peak capacity of the system is the product of peak capacities of each individual dimension and far-exceeds the peak capacity of standard LC systems, an illustration of this is shown in
Figure 1
. It is also possible to perform what is known as heart-cutting and only inject only specific fractions of interest onto the 2nd column. This latter technique is sometimes written as LC-LC to distinguish it from comprehensive 2DLC, which is usually written as LCxLC (N.B. similar terminology is often also employed in multidimensional gas chromatography). Potential users should also be aware that 2DLC comes in two flavours, offline and online; each is slightly different and brings its own benefits and challenges.
A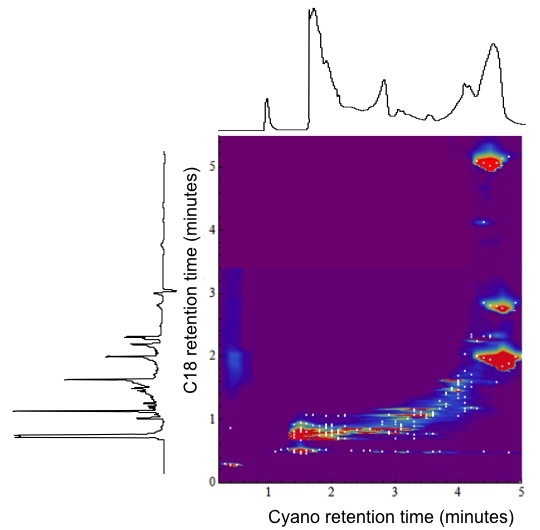 B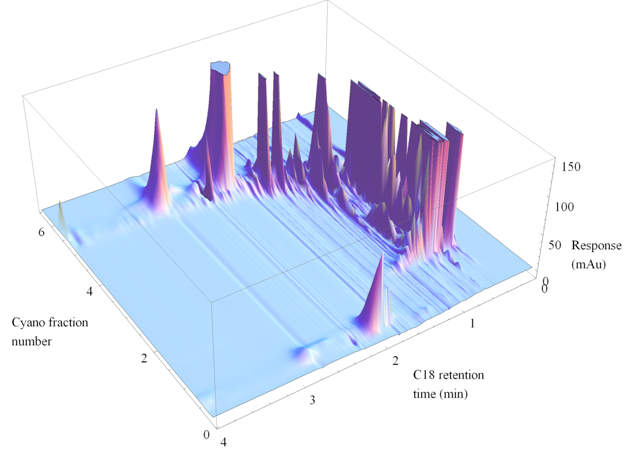 Figure 1.
Comparison of standard and comprehensive offline two-dimensional LC separation of mushroom metabolites. Data are shown as both a contour plot (panel A) and a three-dimensional chromatogram (panel B). The white dots in panel A represent detected peaks (after Pandohee
et al.
1
).
Offline 2DLC has actually been around for over thirty years but has (in common with other forms of multi-dimensional chromatography) recently seen somewhat of a resurgence. It involves the use of a fraction collector at the end of the first column to collect fixed aliquots of the eluent into chromatography vials. The column of the unit can then be changed and each of the previously collected fractions is then run as a 'new' sample. This method is relatively simple and cheap to set up since all that is required is a standard one-dimensional LC system, a fraction collector, and appropriate data processing software. However, since collecting and running multiple aliquots of multiple samples can add up to hundreds, if not thousands of individual runs, the total analysis time for the offline technique is often multiple days or weeks and is thus time and operator intensive. The use of longer columns in the 2nd dimension can also cause samples to become highly diluted so deliberate overloading of the column is sometimes necessary. Integrating the two resulting datasets can also be challenging and require specialised knowledge. The central image in
Figure 1
, for example, was generated using custom written code in
Mathematica
(Wolfram Research, Champaign, IL, USA) by Dr. Paul Stevenson of Deakin University
2
. There are also commercial third party products, such as GC Image LCxLC Edition Software (
http://www.gcimage.com/lcxlc/
), which allow more detailed analysis but at a substantially increased cost.
Online 2D HPLC is a relatively new technique currently only really offered by the Agilent 1290 Infinity (
Figure 2
), the Shimadzu Nexera-e, and Waters Acquity instruments. Such systems still make use of multiple HPLC columns but make use of a switching valve in conjunction with advanced software (to control both the valve and the solvent pumps) to move eluent from the 1st column to the 2nd automatically. Online 2DLC is easier to run and the high-pressure capability of modern instrumentation allows high flow rates and correspondingly fast analysis. Disadvantages included increased price and the fact that short second dimension columns are required in automated 2DLC as the separation of a sub-sample in the second dimension must be completed before the subsequent sub-sample from the first dimension is injected.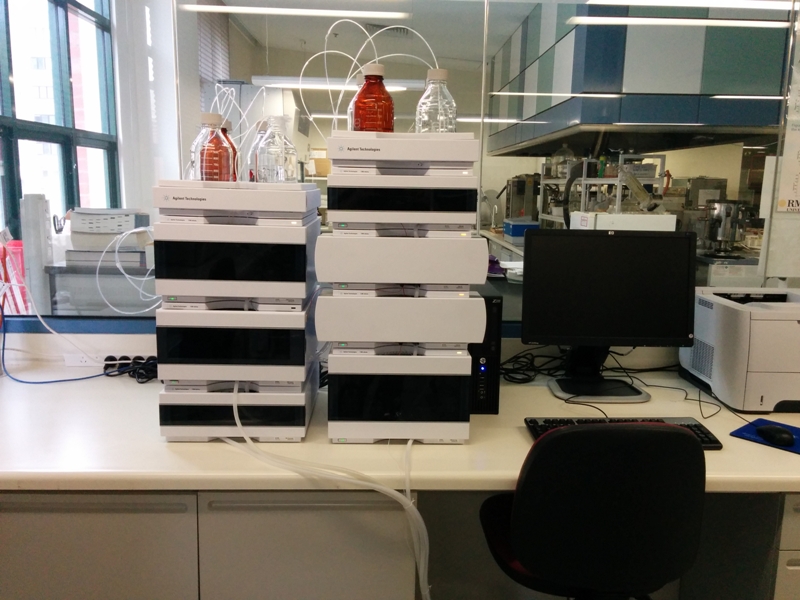 Figure 2.
Agilent 1290 2DLC system in the lead author's laboratory at RMIT University in Melbourne Australia
One of the most important factors to consider for 2DLC method development is the choice of column (dimension). To ensure high-resolution separation, the columns should be different phases. Somewhat confusingly, chromatographers often refer to the difference between phases in 2DLC in terms of the columns being orthogonal to each other. For those of us more used to speaking about orthogonality in terms of principal components it is important to note that reference to orthogonal columns does not mean that they are literally connected perpendicularly to each other but simply that the column chemistries are diverse (and unrelated). The choice of which two columns to use for a given separation is usually obtained via selectivity studies using multiple column types to generate knowledge as to which two column phases offer the most different chromatograms and thus the greatest separation for the sample type in question. A detailed knowledge of column phase chemistry can help in this endeavor and the final separation can be optimized via solvent composition, flow rate, temperature, etc., just as in standard LC.
In conclusion, although not yet widely used in metabolomics the increased separation power of 2DLC has great potential, particularly for compounds that are too sensitive for mass spectrometry but contained in matrices too complex for standard LC analysis.
References
Pandohee, J., Stevenson, P., Conlan, X., Zhou, X.-R. & Jones, O.A.H. Off-line two-dimensional liquid chromatography for metabolomics: an example using Agaricus bisporus mushrooms exposed to UV irradiation. Metabolomics In Press.
Stevenson, P. G. & Guiochon, G. Cumulative area of peaks in a multidimensional high performance liquid chromatogram. Journal of Chromatography A 1308, 79-85, (2013).

Please note:
If you know of any metabolomics research programs, software, databases, statistical methods, meetings, workshops, or training sessions that we should feature in future issues of this newsletter, please email Ian Forsythe at metabolomics.innovation@gmail.com.
MetaboInterviews features interviews with prominent researchers in the field of metabolomics. The aim of these interviews is to shed light on metabolomics researchers around the world and give them an opportunity to share their metabolomics story. In this issue, we feature an interview with Burim Ametaj
.

Professor, Department of Agricultural, Food & Nutritional Science, University of Alberta, Edmonton, Canada





Biography



Dr. Ametaj received his doctorate degree in nutritional immunology from Iowa State University and did three postdoctoral trainings at Iowa State University, Purdue University, and Cornell University before joining the University of Alberta in 2004. Dr. Ametaj's research interest is in the area of nutritional immunology. His long-term goals are to study the relationship between nutrition and immune responses, and their contribution in development of production diseases in ruminant animals and to develop new strategies to reduce the high incidence of periparturient diseases in dairy cattle. Dr. Ametaj's research areas include: 1) determining dairy cattle metabolome in four major fluids (milk, plasma, urine, and rumen fluid), 2) identifying potential biomarkers of disease in major fluid of transition dairy cows, 3) developing a new vaccine for prevention of transition cow diseases, 4) using probiotics to prevent uterine infections and improve reproductive and productive performance of dairy cows, and 5) studying the etiology and pathogenesis of transmissible spongiform encephalopathies.