Metabolite NMR Signals Show Quantification Differences When Comparing Different NMR Probes and Parameters


Paige Lacy,1 Ryan T. McKay,2 Michael Finkel,3 Alla Karnovsky,4 Scott Woehler,5 Michael J. Lewis,6 David Chang,6 and Kathleen A. Stringer3,4


1
Pulmonary Research Group, Department of Medicine and
2
Department of Chemistry, University of Alberta, Edmonton, Alberta, Canada;
3
Department of Clinical Sciences, College of Pharmacy,
4
Department of Computational Medicine and Bioinformatics, School of Medicine,
5
Department of Medicinal Chemistry and the Biochemical Nuclear Magnetic Resonance Core, College of Pharmacy, University of Michigan, Ann Arbor, MI, USA; and
6
Chenomx, Edmonton, Alberta, Canada
Metabolomic measurement of human samples is fast becoming a priority for development of novel diagnostic biomarkers of disease. Many metabolomic centres are becoming established around the world to quantify metabolites in human samples using NMR- and mass spectrometry-based approaches, and substantial funding for these is being provided by the NIH and other major granting agencies.
Human urine samples are a prime choice for metabolomic analysis because of their ease of collection and analysis. NMR-based metabolomics is one of the best approaches for the analysis of complex biological samples such as urine, as very little sample preparation is required, and it provides remarkably robust biomarker candidates for many diseases. The reproducibility and validity of NMR measurements has not been compared across different sites for a given sample population. We discovered that serious issues arose that complicated interpretation of metabolomic data, even when identical samples were analyzed.
This startling observation arose from a collaboration with Drs. Kathleen Stringer and Alla Karnovsky at the University of Michigan to determine the reproducibility of NMR measurements of split human urine samples at two different sites. Technical replicates of urine samples were assayed by 1D-
1
H-NMR at both the University of Alberta and the University of Michigan. Urine samples were obtained from healthy volunteers at the University of Michigan under a standard operating procedure for collection and processing.
Our initial goal was to verify that comparable data could be acquired at more than one NMR facility. Not surprisingly, we obtained comparable quantifications for many molecules within samples, since these derived from exactly the same sample. But what we quickly observed was that, by using even slightly different NMR parameters on the two instruments, we obtained significantly different concentrations for some metabolites within the same sample. Subsequent analysis using standard statistical techniques revealed that quantitative data across sites can be achieved, but (disturbingly) unrecognized NMR parameter differences had some dramatic and widely perturbing effects on the results. One particular parameter showing marked differences was the use of 3 mm vs. 5 mm probes, which showed varying degrees of solvent suppression (see Figures
1
and
2
). While 5 mm probes at both sites showed similar spectral results, the 3 mm probes consistently showed marked solvent suppression, with peaks sometimes disappearing near the water peak. This has an obvious impact on the identification and quantification of urinary metabolites.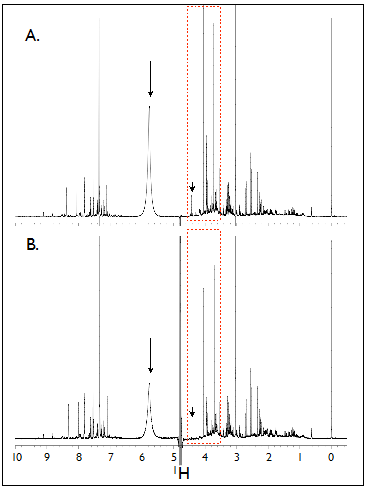 Figure 1. Comparison of 1H-NMR spectra of human urine samples using identical parameters settings without calibration.
NMR spectra collected from the same human urine sample using a 5 mm probe (A) and a 3 mm probe (B). Note the appearance of a peak in (A) which disappears in (B) (arrow in red dashed box). (Figure from Lacy P
et al
., Signal intensities derived from different NMR probes and parameters contribute to variations in quantification of metabolites,
PLoS One
. 2014 Jan 21;9(1):e85732. doi:
10.1371/journal.pone.0085732
. eCollection 2014.)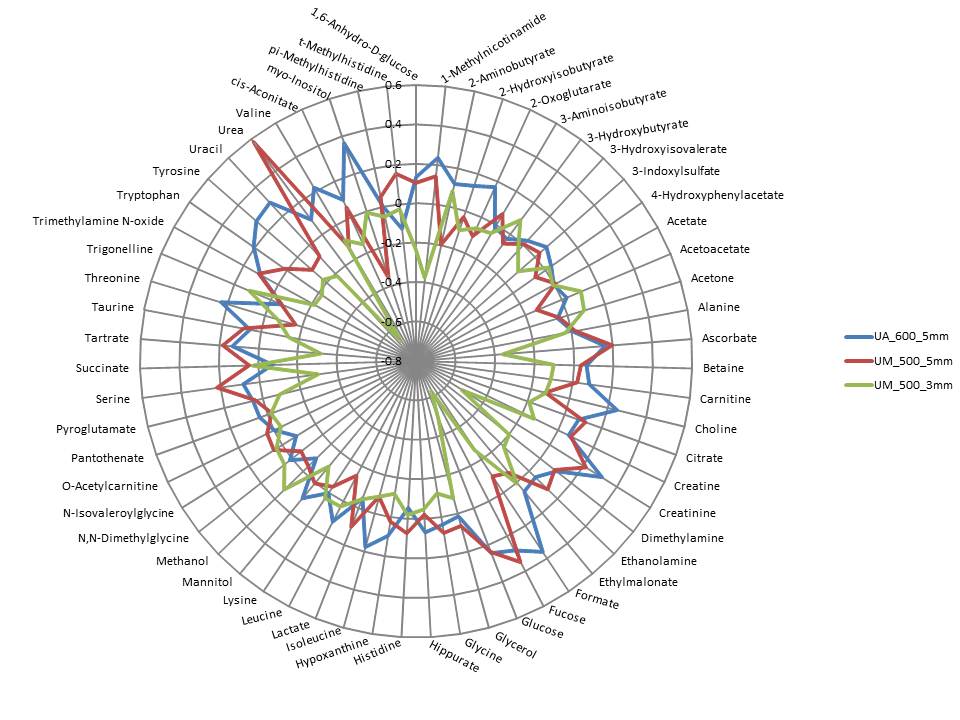 Figure 2. Comparison of 1H-NMR-measured metabolites in human urine samples using 3 and 5 mm probes.
This radial plot shows the variation in levels of metabolites using 3 and 5 mm probes at the Universities of Alberta and Michigan. The greatest variations occur when comparing the 3 mm probe data with that of 5 mm data. (Figure from Lacy P
et al
., Signal intensities derived from different NMR probes and parameters contribute to variations in quantification of metabolites,
PLoS One
. 2014 Jan 21;9(1):e85732. doi:
10.1371/journal.pone.0085732
. eCollection 2014.)
The implications of this observation are significant and problematic, as cross-center validation metabolomics studies are essential for the reliable application of metabolomics to biomarker discovery and clinical applications. This poses similar issues for single site studies using a single spectrometer for all data acquisition. It was realized that not only do NMR parameters have to be maintained, but also that the subsequent performance of the instrumentation must be consistent over time, or has to be regularly calibrated, which is not consistently done in our experience.
We presented in our paper (
Lacy et al. (2014) PLoS One, DOI: 10.1371/journal.pone.0085732, published January 21, 2014
) a confirmed validation of NMR analysis at two sites, and report the range and magnitude that common NMR parameters involved in solvent suppression had on quantitated metabolomics data. A specific example was that saturation power levels greatly influenced peak height intensities in a frequency-dependent manner for a number of metabolites, which markedly impacted the quantification of metabolites. This is to say that metabolite concentrations were increasingly inaccurate closer to the solvent signal.
Collectively, these findings highlighted the importance of and need for exceedingly consistent use of precisely calibrated NMR parameter settings within and across centers in order to generate reliable, reproducible quantified NMR metabolomics data. For any studies associated with NMR analysis of urine samples, a calibration profile should be established using standardized samples to determine the envelope of saturation effect using the probe and spectrometer for the individual studies.
Please note:
If you know of any metabolomics research programs, software, databases, statistical methods, meetings, workshops, or training sessions that we should feature in future issues of this newsletter, please email Ian Forsythe at metabolomics.innovation@gmail.com.
MetaboInterviews features interviews with prominent researchers in the field of metabolomics. The aim of these interviews is to shed light on metabolomics researchers around the world and give them an opportunity to share their metabolomics story. In this issue, we feature an interview with Tim Bölke
.



Managing Director of Metanomics Health GmbH, a BASF group company headquartered in Berlin, Germany





Biography



Tim Bölke (MD) graduated as a medical doctor from the Free University of Berlin. In parallel to finishing his thesis in endocrinology he joined the pharmaceutical industry in 1988, where he held various functions in clinical development, global marketing, regional commercial management, corporate licensing, and local/regional general management at Boehringer Mannheim/Roche, Knoll/Abbott and Boots. In 2003 he joined BASF and became head of Global Marketing Pharma Solutions within the Care Chemicals Division. Since 2009 Dr. Bölke has served as Managing Director of Metanomics Health GmbH, a BASF group company headquartered in Berlin, Germany. The company has access to the globally largest technical platform for mass spectrometry-based metabolomics. Company mission is to identify and validate biomarkers for its pharma and nutrition customers, thereby enabling the development of new, personalized medicines and targeted nutrition products. Furthermore, Metanomics Health is conducting its proprietary prospective diagnostic biomarker program with leading clinics and academic groups worldwide.

TB: Metabolomics is a complex technology requiring a unique combination of excellence in equipment, workflow processes, quality management, and scientific skill sets. The more we at Metanomics Health, other service providers, and academic research labs invest in standardization, robustness, reproducibility, and show unanimous proof of value across different applications, the easier it will be to get access to grants and industrial funding for the technology. The NIH program with funds in the range of approximately 50 million USD over the next five years is indicative of the fact that governmental agencies and authorities are also recognizing the need for standardization to lift metabolomics to the next level.