MxP® Quality Control Plasma—a metabolomics-based biomarker for holistic human plasma quality control


"Unacceptable sample quality due to failures in the pre-analytical phase and/or improper sample storage in retrospective research studies is a widely known challenge in biomedical R & D."

Prof. Dr. Kurt Zatloukal, Coordinator of a pan-European Research Infrastructure on Biobanking and Biomolecular Resources - BBMRI

Feature article contributed by Dr. Beate Kamlage, Senior Scientist, Metanomics GmbH, Tegeler Weg 33, 10589 Berlin, Germany

Any clinical research and development study depends on high-quality specimen collection to hunt for new drug targets and biomarkers. Pre-analytical processing steps of blood including choice of sample tube, prolonged storage of blood or plasma and incubation at improper temperatures can have negative effects on biomolecules. Therefore, both quality assurance (e.g., definition of stringent SOPs) and sample quality control (QC), achieved through quality control biomarkers are important concepts to ensure the validity of clinical results.
Metabolite levels in blood cover a wide range of physiological and chemical processes, and are very reactive to disturbances. Analysis of the responsiveness of the human plasma metabolome to pre-analytical variations is allowing comprehensive and sensitive read-out of sample quality. In other words, it tells researchers about the actual condition of their plasma samples. This information is especially essential for omics-based biomarker research as well as for system biology approaches and biobanking.

Figure 1. Common confounders in the pre-analytical phase of plasma are covered by
MxP® Quality Control Plasma
by delivering 3 test results.
MxP® Quality Control Plasma
is a novel, validated, metabolome-based assay by Metanomics Health GmbH, which, for the first time, provides a holistic quality check of EDTA human plasma samples by delivering three test results. These results provide comprehensive information about presence of pre-analytical confounders and where they have occurred in the process (Figure 1). This enables researchers to upgrade their quality management (QM) system from quality assurance to quality control, safe-guarding their investment in the right human plasma samples.
Example A. MxP® Quality Control Plasma detecting batch effects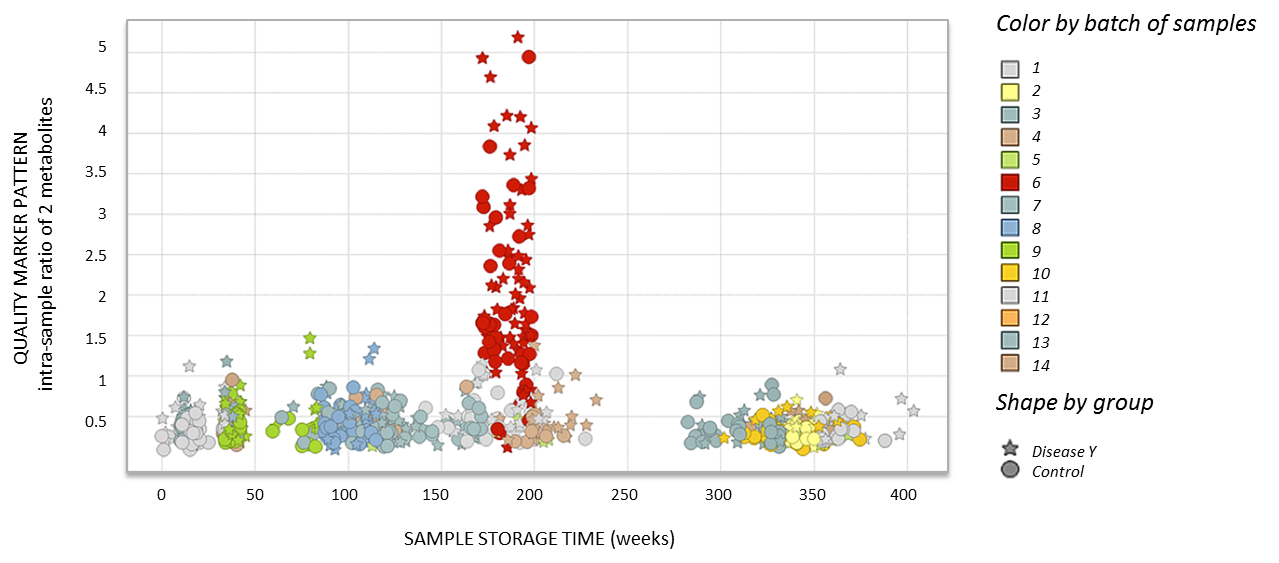 Figure 2. Metabolic quality marker pattern indicating a pre-analytical issue related to plasma processing in a batch of samples (red) from a clinical biomarker study.
The importance of quality control in addition to quality assurance for biobanking and multi-center clinical trials is concluded from the example shown in Figure 2. All samples in this study (represented by dots and stars) were taken from the same biobank, which received them from various clinical centers. We noticed a particular group of samples (marked in red) with an increase in the metabolite pattern, detected by Metanomics Health, which represents the low quality of the specimens. When specific colors were assigned to every batch of samples, it appeared that all outlying results correspond to the same batch. Every batch represents samples that have been taken out of the biobank at the same time point, thawed, split into aliquots, and shipped. The overall quality of the samples, represented by low intra-sample ratio, indicates that a very specific pre-analytical issue must have occurred in this particular batch due to non-conformant processing conditions. This can be identified only by a quality control service as SOPs (standard operating procedures) were claimed to be followed for all the samples in the study.
Example B. MxP® Quality Control Plasma improving the outcome of clinical R&D and biomarker research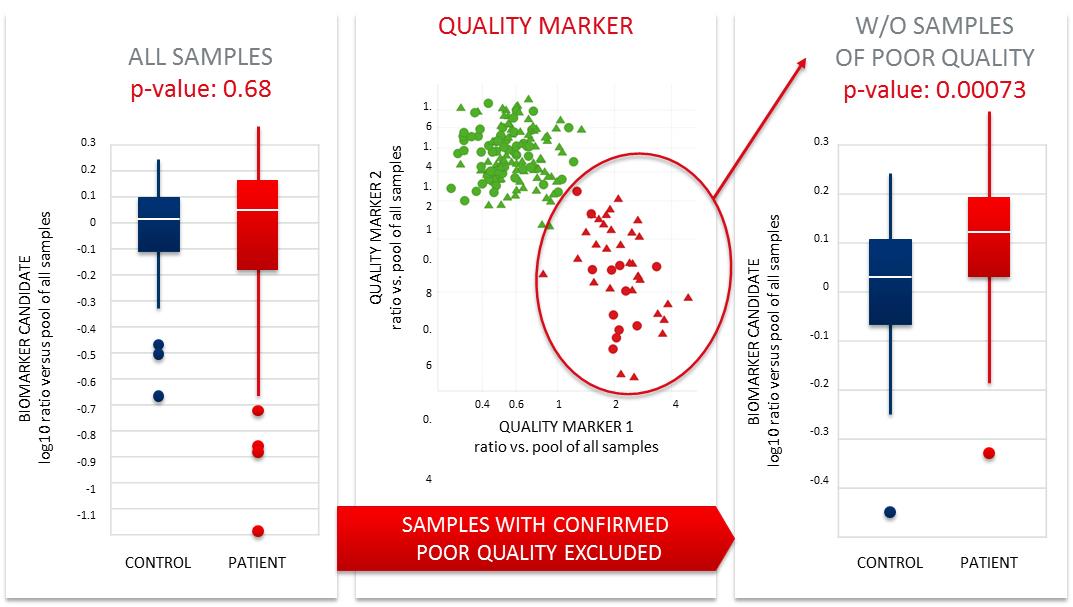 Figure 3. Example of a beneficial effect of sample quality control in a biomarker identification study.
Figure 3 illustrates the beneficial effect of sample quality control in clinical biomarker research. As shown on the left side, initially no significant difference (p-value>0.05) between the disease and control group was found. By additional quality assessment of the samples, a sub-group of samples of poor quality (marked in red) could be identified and removed. As shown on the right side, the statistical analysis, repeated on the set of satisfactorily qualified samples, elucidated a significant difference (p-value<0.05) for the same biomarker candidate and additionally a lower variability of the two groups (see the vertical axis). This example demonstrates the importance of quality control assessment prior to conducting research.
Investing in the right samples
The novel MxP® Quality Control Plasma assay measures different validated metabolomic biomarkers in single read-outs. By applying proprietary algorithms, three different test results are calculated, which provide not only a precise assessment of sample quality but also a "fit for purpose" suggestion for sample utilization.
This is enabling pharmaceutical R&D, clinical research organizations, and biobanks to better understand the actual condition of human plasma samples, efficiently monitor SOP compliance in multicenter trials, deliver superior quality samples, and support evidence-based decisions for sample selection.

Figure 4. Schematic representation of MxP® Quality Control Plasma workflow.
Details of the plasma metabolome response to pre-analytical confounders have been recently published in a peer-reviewed article ("Quality Markers Addressing Preanalytical Variations of Blood and Plasma Processing Identified by Broad and Targeted Metabolite Profiling", Clinical Chemistry, 2013,
http://www.clinchem.org/content/60/2/399.full
).
Metanomics Health offers its quality control assay for human plasma samples in a fee-for-service and an out-licensing business model.
Metanomics Health, a BASF Group company, is the world-leading company offering targeted and non-targeted metabolomics to healthcare, nutrition, and bioprocessing partners in industry and academia. In parallel to the service business, Metanomics Health is funding and conducting a comprehensive clinical biomarker program, addressing a wide range of questions with high unmet medical need.
Find out more about Metanomics Health GmbH at www.metanomics-health.de



Please note:
If you know of any metabolomics research programs, software, databases, statistical methods, meetings, workshops, or training sessions that we should feature in future issues of this newsletter, please email Ian Forsythe at metabolomics.innovation@gmail.com.
MetaboInterviews features interviews with prominent researchers in the field of metabolomics. The aim of these interviews is to shed light on metabolomics researchers around the world and give them an opportunity to share their metabolomics story. In this issue, we feature an interview with Tom Metz
.



Principal Investigator, Integrative Omics Group, Pacific Northwest National Laboratory, Richland, Washington, USA





Biography



Tom Metz obtained his PhD in chemistry from the University of South Carolina and joined the research group of Dr. Richard D. Smith at Pacific Northwest National Laboratory (PNNL,

www.pnnl.gov

) as a post-doc in 2003. He is now a principal investigator in the Integrative Omics group at PNNL and the author of over sixty peer-reviewed publications and book chapters on topics ranging from proteomics, metabolomics, and lipidomics methods development to studies of chronic and infectious diseases. His research interests include the application of chromatography-mass spectrometry methods in studies of diabetes mellitus, the development of robust and high throughput mass spectrometry-based metabolomics and lipidomics approaches, using metabolomics to study metabolic exchange within microbial communities, and multi-omics studies.