.
Mitochondrial DNA Replication Defects Cause dNTP Pool Imbalance and Disrupt One-Carbon Metabolism


Feature article contributed by Vidya Velagapudi, Head of the Metabolomics Unit at Institute for Molecular Medicine Finland (FIMM)
Summary

In response to mitochondrial disease and disturbed cell respiration, cells have to adapt their energy metabolism; however, less is known about the consequences for cytoplasmic biosynthetic reactions dependent on mitochondrial metabolites. An outstanding question in the field of mitochondrial disorders is the cause of the exceptional clinical variability of the disease group. This is exemplified by defects in TWINKLE, nuclear-encoded replicative helicase of mtDNA, manifesting as early-onset disorder of the brain and liver (e.g., infantile-onset spinocerebellar ataxia, IOSCA), or adult-onset mitochondrial myopathy (MM).
We previously generated Deletor mice with TWINKLE-associated MM, and here we report IOSCA mice, manifesting epileptic hepatoencephalopathy. Our multi-tissue metabolomic analyses of these mice indicate that mtDNA maintenance defect results in a major disturbance of mitochondrial folate-driven one-carbon cycle (
Figure 1
). These results show that primary mitochondrial dysfunction prioritizes metabolic flux of glucose carbons to
de novo
serine biosynthesis and transsulfuration for glutathione synthesis, modifies one-carbon-dependent purine synthesis, dNTP pools, leading to disturbed metabolite methylation reactions in the specific affected tissue and cell. Metabolome of IOSCA and MM (
Figure 2
) patient sera supported these findings. Therefore, mitochondrial dysfunction has the potential to remodel cellular anabolic and catabolic metabolism in a cell-autonomous, context-dependent manner. These results have major implications for disorders with primary and secondary mitochondrial dysfunction, mechanisms of their tissue-specificity, and offer multiple potential targets for therapy.
Highlights
- Mitochondrial disease metabolome reveals a whole-cellular one-carbon cycle defect
- Mitochondrial dysfunction affects
de novo
purine synthesis and dNTP pools
- Mitochondrial disease disturbs methyl cycle, with toxic intermediate accumulation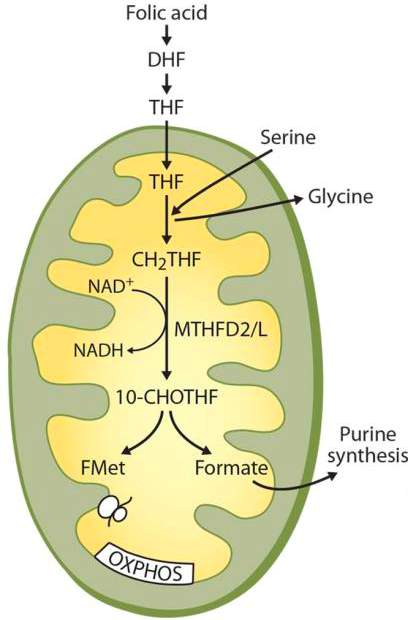 Figure 1.
Schematic overview of mitochondrial 1C-cycle. Mitochondrial 1C-cycle provides 1C units either to formyl-methionine to initiate mitochondrial translation or to formate to support cytoplasmic purine synthesis. Enzymes responsible for conversion of different intermediates in mitochondrial folate cycle are Mthfd2/2L and Mthfd1L.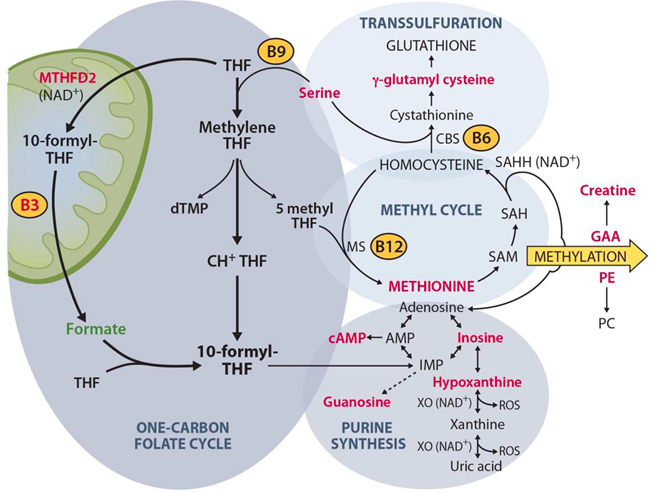 Figure 2.
Schematic picture of 1C metabolism with changed metabolites in Deletor muscle. Red color represents increased levels and green decreased.
Abbreviations: THF, tetrahydrofolate; fMet, formylmethionine; dTMP, thymidine monophosphate; AMP, adenosine monophosphate; cAMP, cyclic adenosine monophosphate; IMP, inosine monophosphate; SAM S-Adenosyl methionine; SAH, S-Adenosyl homocysteine; GAA, guanidino acetic acid; PE, phosphoethanolamine; PC, phosphatidylcholine; ROS, reactive oxygen species; MTHFD2, Methylenetetrahydrofolate dehydrogenase 2; MTHFD1L, Methylenetetrahydrofolate dehydrogenase 1-like; SAHH, S-adenosyl-L-homocysteine hydrolase; CBS, Cystathionine-beta-synthase; XO, xanthine oxidase.



Reference

Nikkanen, J., Forsström, S., Euro, L., Paetau, I., Kohnz, R.A., Wang, L., Chilov, D., Viinamäki, J., Roivainen, A., Marjamäki, P., Liljenbäck, H., Ahola, S., Buzkova, J., Terzioglu, M., Khan, N.A., Pirnes-Karhu, S., Paetau, A., Lönnqvist, T., Sajantila, A., Isohanni, P., Tyynismaa, H., Nomura, D.K., Battersby, B., Velagapudi, V., Carroll, C.J., Suomalainen, A. Mitochondrial DNA Replication Defects Disturb Cellular dNTP Pools And Remodel One-Carbon Metabolism.
Cell Metabolism,
12;23(4):635-48.
Please note:
If you know of any metabolomics research programs, software, databases, statistical methods, meetings, workshops, or training sessions that we should feature in future issues of this newsletter, please email Ian Forsythe at metabolomics.innovation@gmail.com.
Senior NMR Scientist, US National Institute of Standards and Technology, Charleston, SC, USA






Biography



Dan Bearden is a Research Chemist for the US National Institute of Standards and Technology (NIST), at the Hollings Marine Laboratory (HML) in Charleston, South Carolina. Dan earned a PhD in Physics from Rice University (Houston, Texas) and he conducted postdoctoral research in structural biology at the Australian National University, Research School of Chemistry. He was on the faculty of the Chemistry Department of Clemson University for nearly four years before taking up his current position. Currently, he is the NIST Senior NMR Scientist at HML. His current research involves metabolomics for marine environmental research and quantitative NMR. Metabolomics is proving to be a powerful tool for the environmental community, linking biological response to organismal stressors with novel approaches.



DB: I think metabolomics research is a viable area that will not go away, so funding will continue to increase worldwide, from governmental sources and private enterprise. I have no trouble encouraging students and post-docs to pursue the field with passion because the future is bright.