), and is intended to keep metabolomics researchers and other professionals informed about new technologies, software, databases, events, job postings, conferences, training opportunities, interviews, publications, awards, and other newsworthy items concerning metabolomics. We hope to provide enough useful content to keep you interested and informed and appreciate your feedback on how we can make this newsletter better (
).
MeRy-B: a plant metabolomics database and knowledgebase

Feature article contributed by Daniel Jacob, Bioinformatician, and Catherine Deborde, Chemist, Metabolome Facility of Bordeaux and INRA, UMR1332 Fruit Biology and Pathology, University of Bordeaux, Villenave d'Ornon, France
MeRy-B stands for Metabolomic Repository of Bordeaux and is available from
http://bit.ly/meryb
. It is the first platform for plant
1
H-NMR metabolomic profile management and metabolite identification for nuclear magnetic resonance (NMR) experiments [
Ferry et al. 2011
]. MeRy-B manages all the data generated by NMR-based plant metabolomics experiments, from description of the biological source to identification of the metabolites and determination of their concentrations. It is the first database allowing the display and overlay of NMR metabolomic profiles selected through queries on data or metadata.
MeRy-B takes into account the recommendations of Metabolomics Standard Initiative and used controlled vocabularies and ontologies, such as
NCBI Taxonomy
,
Plant Ontology Consortium
, and
Environment Ontology
. This renders the platform more coherent and makes it easier to query data for the scientific community. Moreover, MeRy-B is working to support the ISA-Tab format, in order to supply data in the growing ecosystem of resources, and thus, to support the effort towards data sharing and integration (
www.isacommons.org
).
MeRy-B fulfills two needs. First, each registered user, as project owner, creates projects and deposits his or her own data and associated metadata into the application for storage, consultation, visualization, and analysis. Detailed explanations about "How to upload and consult a metabolomics project on MeRy-B as project owner" are beyond this brief introduction (see the publication [
Ferry et al. 2011
]). Second, all users are allowed to search the MeRy-B knowledgebase constructed from the information provided by all previous project owners (public data), for the re-analysis and comparison of data sets and to facilitate compound identification.
The experimental data and related metadata can be consulted through the
Data consultation
module and its various interfaces, providing either a global view or a detailed view. The complete experimental design, by project, is available through the
Project Details
function, which provides an overview on a single web page (
Figure 1a
). From this web page, a global view of each experiment of the project, from which all related information, such as experimental protocols or spectral data, is accessible (
Figure 1b
).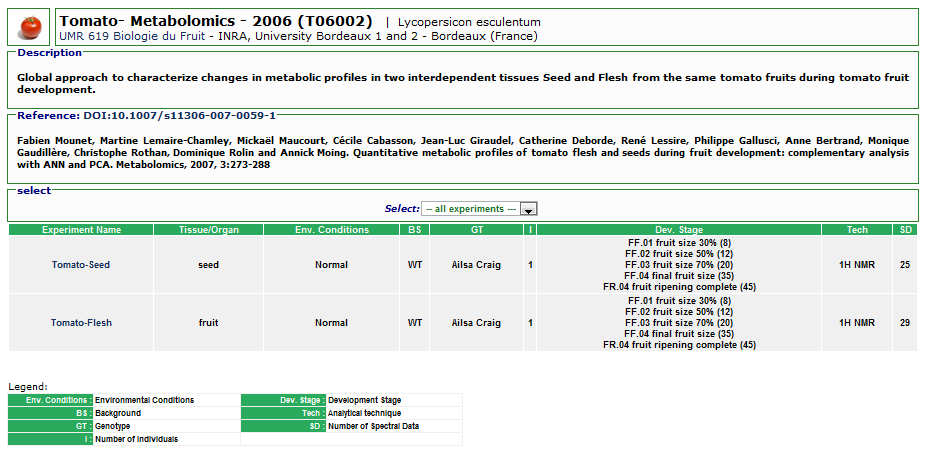 Figure 1a.

Overview of a project.
The aim of this project on tomato was to characterize differences between the metabolic profiles of two interdependent tissues, seeds (experiment 1) and flesh (experiment 2), from the same fruits, during fruit development, by means of a metabolomics approach. The genotype (GT) chosen (Ailsa Craig) and the five
Developmental (Dev.) stages
, from FF.01 fruit size 30% (8 days post anthesis or DPA) to FR.04 fruit ripening complete (45 DPA), are reported in the fifth and seventh columns of the table, respectively.

Figure 1b.
This screen shot illustrates the overview of an experiment on seed with the three protocols describing
Growth
,
Harvest,
and
Storage
as PDF files: PG-Tomato-Metabolomics-2006, PH-Tomato-Metabolomics-2006, and PS-Tomato-UMR619-1, and the description of the 'Environmental Condition', 'Study Type', and 'Tissue/Organ': Normal, Growth chamber study, and Seed, respectively.
With the Spectra overlay module (
Figure 2
), spectra are displayed in color according to the criteria chosen by the user, facilitating the visual inspection and identification of spectral regions varying as a function of the level of a given factor.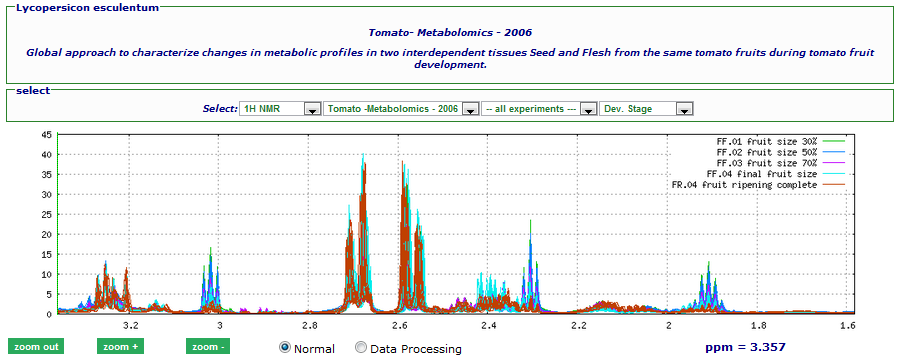 Figure 2.
Overlay of a portion of the NMR spectra colored according to the developmental stage.
All analytical protocols and detailed information related to the spectral data can be accessed through the Spectral data Interface (
Figure 3a
,
3b
, and
3c
) for each sample.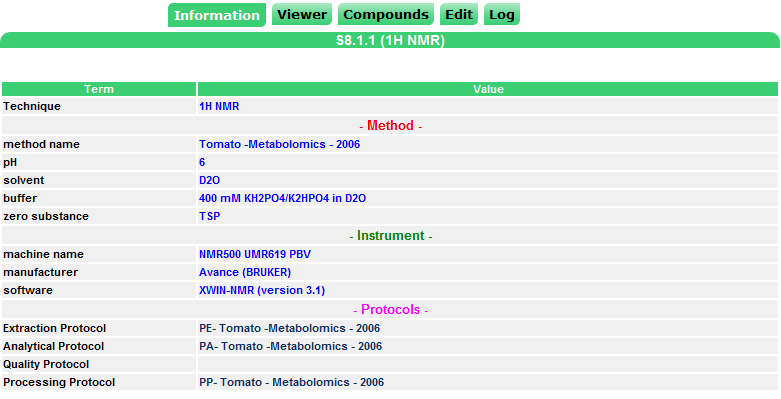 Figure 3a.
All analytical protocols relating to the spectral data can be accessed. In the above figure, details for sample S8.1.1 of the Seed experiment are shown.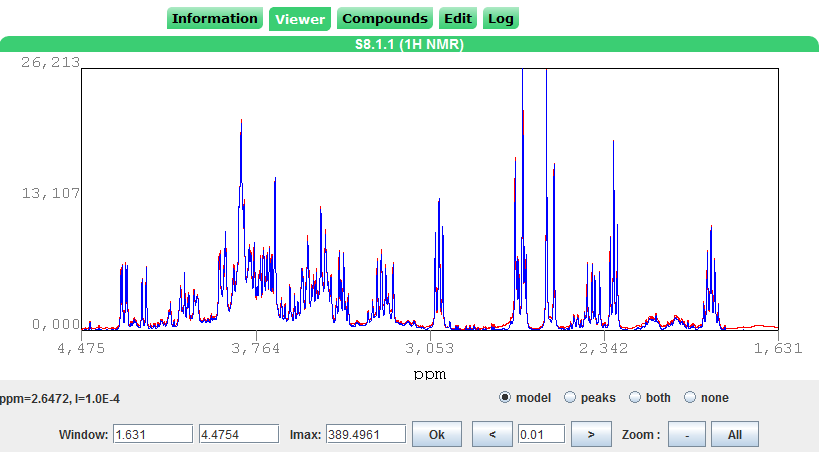 Figure 3b.
An interactive graphical tool can be used to view either the entire spectrum or to zoom in and focus on one part of the spectrum.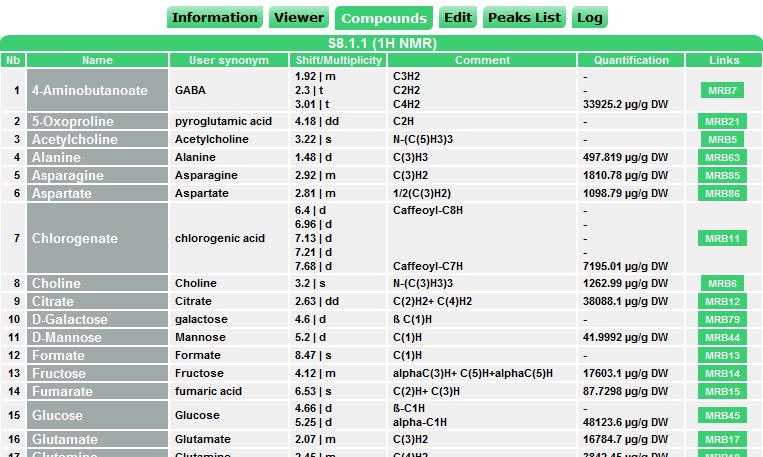 Figure 3c.
All identified and possibly quantified compounds are also available for each sample.



MeRy-B A knowledgebase for plant metabolites

All the data and metadata deposited in projects (when declared public) are shared with the metabolomics community. Thus, MeRy-B can be used as a knowledgebase. For each metabolite in the MeRy-B Database, there is one MeRy-B Card (
Figure 4
). The concept of the MeRy-B Card is analogous to the MetaboCard in the HMDB. Each MeRy-B Card contains several sections, depending on whether information is available or not, mainly subdivided into two kinds: chemical and experimental. The chemical information sections are laid out as follows: i) KEGG Compound, ii) Other Links, iii) Pathways & Reactome, iv) HMDB NMR Peak List (with compound chemical shifts when available), and v) NMR Spectrum. The "Other Links" section brings together useful hyperlinks to references and other public databases including the ChEBI database, the KNApSAck database, the Golm Metabolome Database, and the HMDB. The "Pathways & Reactome" section provides the set of biological pathways retrieved from the PlantCyc database.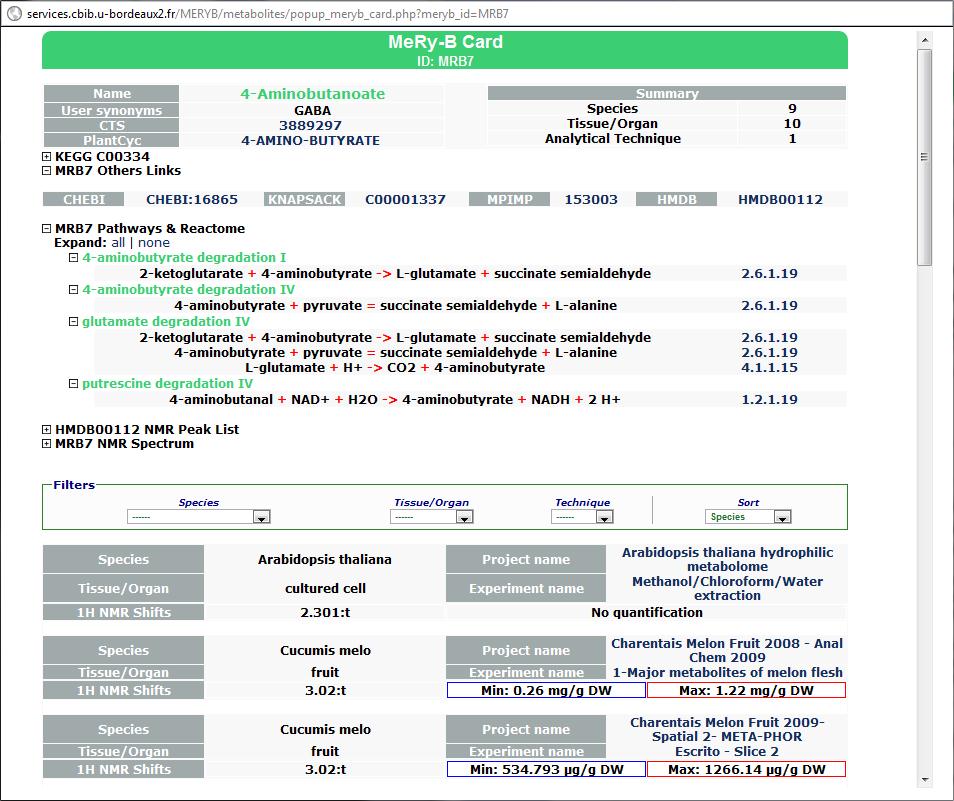 Figure 4. The MeRy-B Card.
The MeRy-B Card displays all public data stored in the MeRy-B knowledgebase for a given compound.
MeRy-B contains lists of plant metabolites and unknown compounds detected by
1
H-NMR, with detailed information about experimental conditions, the factors studied and metabolite concentrations for 16 different plant species (
Arabidopsis
, Barrel Clover, Broccoli, Daphne, Grape, Maize, Melon,
Ostreococcus tauri
, Palm date, Palm tree, Peach, Rice, Strawberry, Sugar beet, Tomato, Vanilla) compiled from more than two thousand annotated NMR profiles for various organs (e.g., fruit, seed, embryo, leaf, root) or tissues (e.g., mesocarp, epicarp, endosperm) deposited by 26 different private or public contributors on March 2012. Currently about half of the data deposited in MeRy-B is publicly available.
MeRy-B also contains a collection of experimental metabolite concentration data for more than 40 metabolites coming from 18 public projects (44 experiments and 1,083 NMR spectra). The metabolites are mainly primary metabolites due to the choice of extraction processes and NMR methods used. In
Figure 5,
a simplified map of plant metabolism (mainly primary) is shown with all the metabolites identified and/or quantified coming from the projects deposited in the MeRy-B database.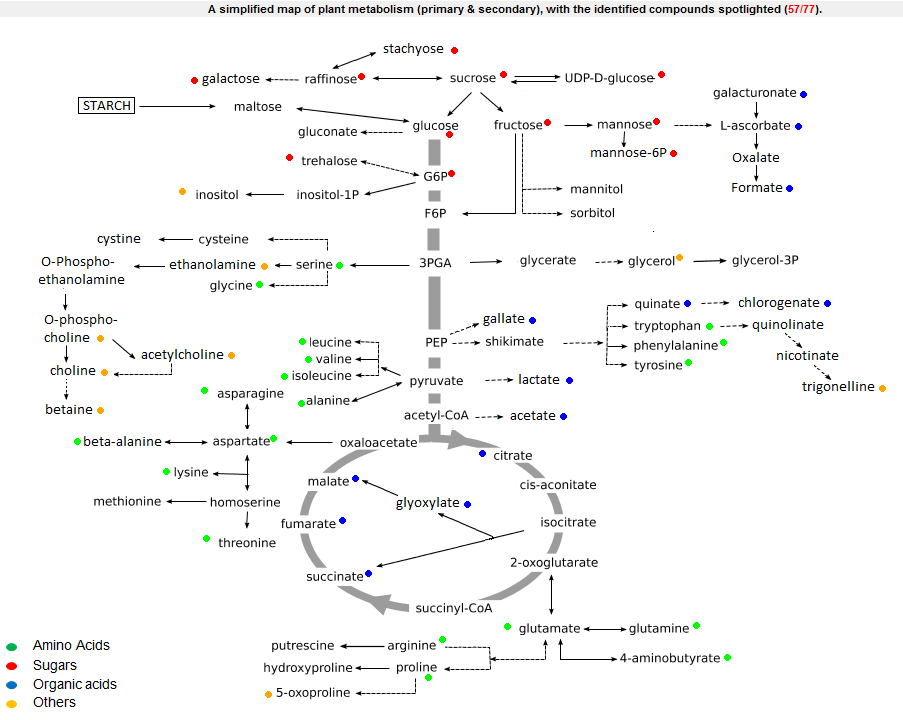 Figure 5.
A simplified map of plant metabolism (mainly primary). Some metabolite names are highlighted with colored circles, indicating metabolites identified or quantified in projects deposited in MeRy-B.
Please note:
If you know of any metabolomics research programs, software, databases, statistical methods, meetings, workshops, or training sessions that we should feature in future issues of this newsletter, please email Ian Forsythe at metabolomics.innovation@gmail.com.