Welcome to the nineteenth issue of MetaboNews, a monthly newsletter for the worldwide metabolomics community. In this month's issue,
we feature
a Database Spotlight article on MetaboLights
, the new EBI Metabolomics database.
As of May 2012, we introduced a new section called MetaboInterviews that features interviews with metabolomics experts from around the world. This issue includes an interview with Matej Orešič, Research Professor in Systems Biology and Bioinformatics, VTT Technical Research Centre of Finland
. This newsletter is produced by The Metabolomics Innovati

on Centre (TMIC,
http://www.metabolomicscentre.ca/
), and is intended to keep metabolomics researchers and other professionals informed about new technologies, software, databases, events, job postings, conferences, training opportunities, interviews, publications, awards, and other newsworthy items concerning metabolomics. We hope to provide enough useful content to keep you interested and informed and appreciate your feedback on how we can make this newsletter better (
metabolomics.innovation@gmail.com
).
---
| | | |
| --- | --- | --- |
| | 1) Database Spotlight | |

MetaboLights - The new EBI Metabolomics database

Article contributors: Kenneth Haug1, Dr. Reza M. Salek1,3, Pablo Conesa
1, Tejasvi Mahendraker1, Dr. Mark Williams1, Dr. Julian L. Griffin2,3, Dr. Christoph Steinbeck1
Affiliations:
1. Cheminformatics and Metabolism Group, European Bioinformatics Institute, Wellcome Trust Genome Campus, Hinxton, Cambridgeshire, CB10 1SD, UK.
2. MRC HNR, Elsie Widdowson Laboratory, Fulbourn Road, Cambridge, CB1 9NL, UK.
3. University of Cambridge, Department of Biochemistry and Cambridge Systems Biology Centre, Cambridge CB2 1GA, UK.
Over the past ten years a significant number of databases for Metabolomics have been created, differing in the types of data, species and applications they cover. Recently, efforts are underway to establish large-scale repositories for metabolomics data as they exist for the other omics areas, both in Europe as well as in the United States.
In June 2012, EMBL-European Bioinformatics Institute (EBI), Europe's largest open-access data provider in molecular biology, launched MetaboLights (
http://www.ebi.ac.uk/metabolights
), the first general-purpose, open-access repository for metabolomics studies, their raw experimental data and associated metadata. The EBI has a proven record of maintaining such databases and its associated data over several decades, thereby ensuring long-term stability and exploitability.
The MetaboLights repository [
1
], powered by the open source ISA framework [
2
], is cross-species and cross-technique. MetaboLights features an open repository layer (released in June 2012 and receiving data) and ultimately a curated knowledge base/reference layer with abstracted information on metabolites, their chemistry, biology, and analytical data. For the MetaboLights repository, scientists submit information about a metabolomics study, comprising the primary research data and associated meta-data. Studies automatically receive a stable unique accession number that can be used as a publication reference (e.g., MTBLS1,
Figure 1
).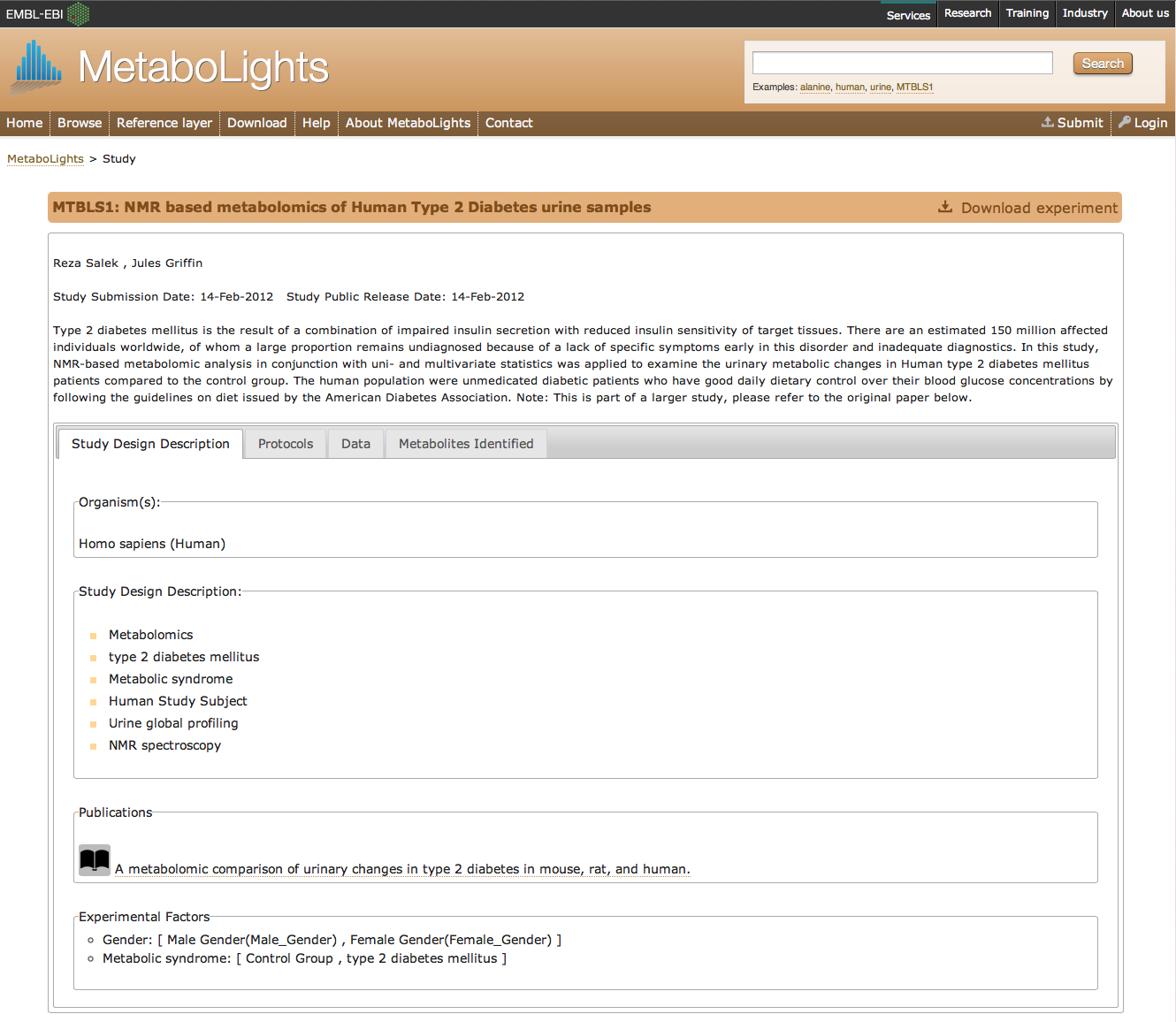 Figure 1.
A screenshot of study MTBLS1 - NMR based metabolomics study on Type 2 Diabetes.
MetaboLights accept studies in ISA-Tab format [
3
]. ISA-Tab is rapidly becoming the
de facto
standard for bioscience data exchange.
In October 2012 the Cheminformatics and Metabolism team at the EBI started the global COSMOS [
4
] project (Coordination of Standards in Metabolomics) (
www.cosmos-fp7.eu
). COSMOS will bring together European data providers to set and promote community standards that will make it easier to disseminate metabolomics data through life science e-infrastructures.
The MetaboLights website provides a pre-configured ISAcreator for creating and editing the ISA-Tab files (
http://www.ebi.ac.uk/metabolights/download
) (
Figure 2
). This archive can be downloaded and you have all you need to start recording your experiments. MetaboLights will encode agreed standards from the COSMOS project to facilitate high quality data exchange.


Figure 2.
Workflow for the ISA software suite, with direct submission to MetaboLights.
To simplify sharing and reporting of any metabolites found in a study, we have developed a metabolite identification plugin to ISAcreator (
Figure 3
). This plugin will search for additional compound information from PubChem.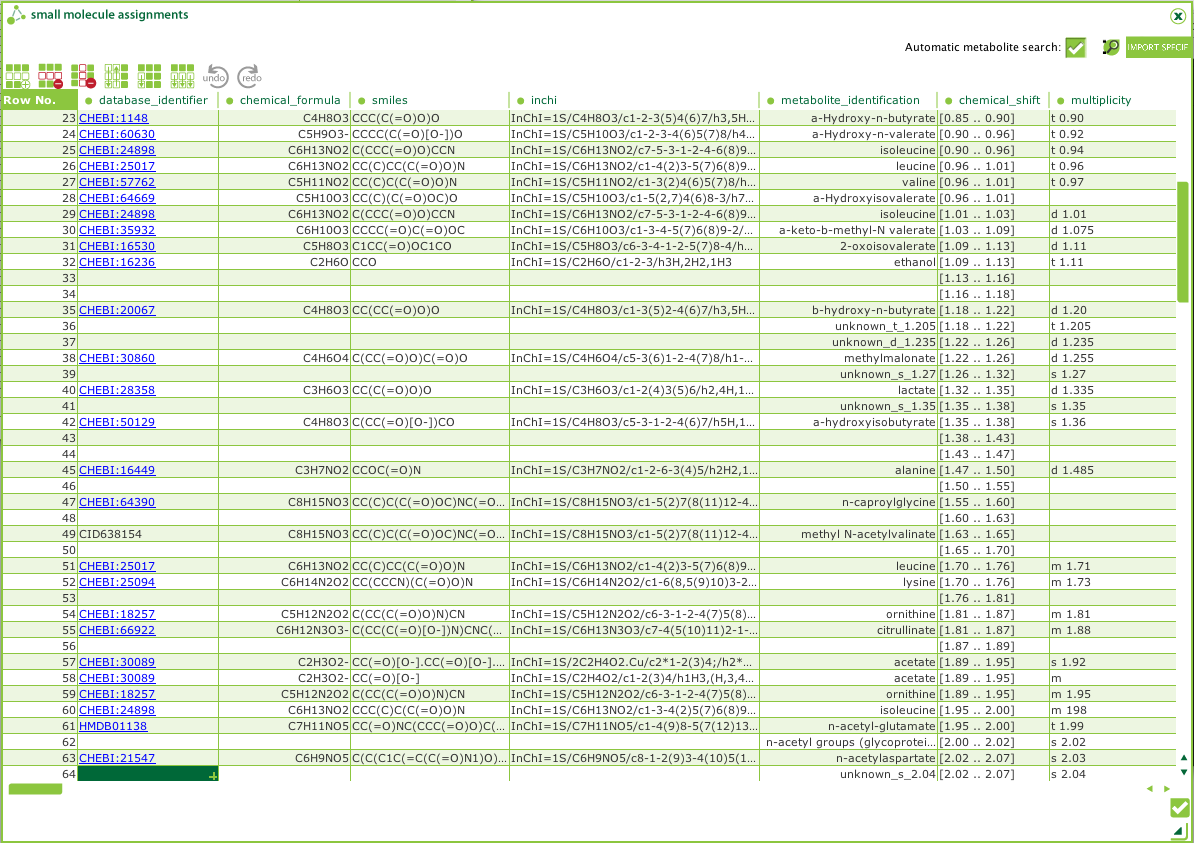 Figure 3.
MetaboLights - ISAcreator Metabolite Identification Plugin.
At present, the repository includes 22 submitted studies, encompassing 152 protocols for 5253 samples, and span over ten different species including human,
Caenorhabditis elegans
,
Mus musculus
, and
Arabidopsis thaliana
. As many as 937 of the metabolites identified in these studies have been mapped to ChEBI (
http://www.ebi.ac.uk/chebi
) and 135 to HMDB (
http://www.hmdb.ca
). These studies cover a variety of techniques, including NMR spectroscopy and mass spectrometry.
The MetaboLights team are now actively implementing the MetaboLights Reference Layer, which will be launched in Summer 2013. This will be a metabolomics knowledge base with the metabolite as the central element. This will enable experimentalists to get a comprehensive Metabolomic view on known metabolites. There will be information about the reference biology, metabolites and their occurrence and concentration in species, organs, tissues, and cell compartments in various conditions e.g., healthy vs diseased.
A short introduction to MetaboLights is now available on
EBI Train online
.
References

Please note:
If you know of any metabolomics research programs, software, databases, statistical methods, meetings, workshops, or training sessions that we should feature in future issues of this newsletter, please email Ian Forsythe at metabolomics.innovation@gmail.com.
| | |
| --- | --- |
| | 2) MetaboInterviews |
MetaboInterviews, a new section as of May 2012, features interviews with prominent researchers in the field of metabolomics. The aim of these interviews is to shed light on metabolomics researchers around the world and give them an opportunity to share their metabolomics story. In this issue, we feature an interview with Matej Orešič, Research Professor in Systems Biology and Bioinformatics, VTT Technical Research Centre of Finland
.


Research Professor in Systems Biology and Bioinformatics, VTT Technical Research Centre of Finland




Biography



Prof. Matej Orešič holds a PhD in biophysics from Cornell University. Since 2003 he has led research in the areas of quantitative biology and bioinformatics at VTT Technical Research Centre of Finland (Espoo, Finland), where he is a Research Professor in Systems Biology and Bioinformatics. Prof. Orešič is a director of the Academy of Finland Centre of Excellence in Molecular Systems Immunology and Physiology Research (2012-2017). He is also a founder and board member of Zora Biosciences, Oy. (Espoo, Finland) and board member of the Metabolomics Society. His main research areas are metabolomics applications in biomedical research and integrative bioinformatics. Prof. Orešič has initiated the popular MZmine open source project, leading to popular software for metabolomics data processing.




Metabolomics Interview (MN, MetaboNews; MO, Matej Orešič)


MN: How did you get involved in metabolomics?



MO: I started my career as a theoretical physicist, then completed my PhD studies in the field of biophysics. In 2001 I joined Beyond Genomics (currently known as BG Medicine), a start-up company in Boston which was one of the first companies adopting a systems biology approach in biomedical R&D. While being primarily involved in leading the developments of the biocomputational pipeline at BG, I soon realized how centrally important the data acquired from metabolomics platforms was. After moving to Finland in 2003 to
VTT Technical Research Centre, I established my own research team which by now comprises over 20 researchers (http://sysbio.vtt.fi/), with competencies in metabolomics, computational systems biology, bioinformatics, and advanced analytical technologies. While our core mission has been medical systems biology, the technology platform that we established ourselves was mass spectrometry-based metabolomics. As part of the platform development, we also released the open source data processing software MZmine (http://mzmine.sourceforge.net/), which is widely used by the metabolomics community.



MN: What are some of the most exciting aspects of your work in metabolomics?



MO: Finland is one of the best-studied genetic isolates. Founder effect, genetic drift, and isolation, which are the characteristic features of population isolates, have over the centuries shaped the gene pool of the Finns. For this reason Finnish diseases have been a target of extensive genetic research. Several unique clinical cohort studies have been established to study the role of genes and gene-environment interactions leading to several complex diseases. We have been involved since 2005 in the Finnish Type 1 Diabetes Prediction and Prevention study (DIPP), which is a cohort of over 8000 children followed-up at 3-6 month intervals with serum sample collection. In this cohort, we investigated early metabolic profiles of children who were known to progress to type 1 diabetes during follow-up. For example, this work led us to a key discovery of pre-autoimmune metabolic changes in the progression to type 1 diabetes: M. Orešič, S. Simell, M. Sysi-Aho, K. Näntö-Salonen, T. Seppänen-Laakso, V. Parikka, M. Katajamaa, A. Hekkala, I. Mattila, P. Keskinen, L. Yetukuri, A. Reinikainen, J. Lähde, T. Suortti, J. Hakalax, T. Simell, H. Hyöty, R. Veijola, J. Ilonen, R. Lahesmaa, M. Knip, O. Simell, Dysregulation of lipid and amino acid metabolism precedes islet autoimmunity in children who later progress to type 1 diabetes, J. Exp. Med. 205(13), 2975-2984 (2008).

In the same cohort, we have also been investigating early metabolic profiles preceding celiac disease, and have plans to extend the investigations to other disease endpoints (metabolic disease, behavioral phenotypes). The unique study setting of DIPP allows for investigations of the 'early origins' of the disease in individuals who progress to disease during the follow-up period.

Another exciting aspect of our work, which I particularly enjoy due to my scientific background, is related to the introduction of novel approaches to model and interpret metabolomics data. We recognize that the ability to interpret the data in a biochemical as well as physiological context is one of the key bottlenecks of the metabolomics field. For example, in order to interpret lipids in the spatial biophysical context, we applied atomic scale and coarse grained molecular dynamic simulations in the studies of membranes and lipoproteins, respectively. This led us, for instance, to identify potential physiological mechanisms underlying the adipocyte lipid membrane remodeling in obesity: K. Pietiläinen, T. Róg, T. Seppänen-Laakso, S. Virtue, P. Gopalacharyulu, J. Tang, S. Rodriguez-Cuenca, A. Maciejewski, J. Naukkarinen, A. Rissanen, A.-L. Ruskeepää, P. Niemelä, V. Velagapudi, S. Castillo, H. Nygren, T. Hyötyläinen, J. Kaprio, H. Yki-Järvinen, I. Vattulainen, A. Vidal-Puig, M. Orešič, Association of lipidome remodeling in the adipocyte membrane with acquired obesity in humans, PLoS Biol. 9(6), e1000623 (2011).



MN: What key metabolomics initiatives are you pursuing at your research centre or institute? What is happening in your country in terms of metabolomics?

MO: In 2012, we received the prestigious status of the Academy of Finland Centre of Excellence (CoE), together with four other research teams. The CoE in Molecular Systems Immunology and Physiology Research (http://www.symmys.fi/), which I lead, aims to understand the molecular mechanisms that control the immune system as well as the interactions between the immune system and other physiological systems in health and disease, and to translate this knowledge into novel treatment and prevention strategies of inflammatory/immune-mediated disorders, with a specific focus on type 1 diabetes. The CoE relies strongly on unique clinical resources in Finland, such as the DIPP study, as well as on mechanistic studies in molecular immunology.

We are involved in a number of other medical metabolomics projects, with major developments being in the domains of obesity and its co-morbidities, neurodegenerative and psychotic disorders. We are also involved in the COSMOS consortium (http://cosmos-fp7.eu), the EU funded network of fourteen partners to work on the next wave of standards, workflows, and data management in metabolomics.

Overall, there is an increasing recognition in Finland of the importance of metabolomics, not only in biomedical research, but also in other areas such as plant biology, food and nutrition, microbiology, and environmental research. This recognition has not yet been fully translated into practice. One of the key bottlenecks for wider utilization of metabolomics in the life sciences is the lack of investment at Universities. Unlike at our institute, major shares of technology investments at Universities have been in more 'traditional' omics fields such as genomics and proteomics, while funding for metabolomics infrastructure remains rather minor.

MN: How do you see your work in metabolomics being applied today or in the future?

MO: Our work has already led to a number of key discoveries related to early prediction and pathogenesis of multiple complex diseases. The key challenge we are facing today, and this applies to the whole metabolomics community, is how to create a true medical impact based on our research. In the future, we will thus put more effort into focused developments of medical applications based on our findings. The specific ongoing example is the development of early markers to predict Alzheimer's disease: M. Orešič, T. Hyötyläinen, S.-K. Herukka, M. Sysi-Aho, I. Mattila, T. Seppänan-Laakso, V. Julkunen, P. V. Gopalacharyulu, M. Hallikainen, J. Koikkalainen, M. Kivipelto, S. Helisalmi, J. Lötjönen, H. Soininen, Metabolome in progression to Alzheimer's disease, Transl. Psychiatry 1, e57 (2011).

MN: As you see it, what are metabolomics' greatest strengths?



MO: The metabolome is a very sensitive, quantitative and dynamic readout of the phenotype, and is thus a key platform for systems biology. We do not have the tools yet to study the global metabolome in the context of organismal physiology, but one can already foresee a central role of metabolome research in future life sciences and biomedical research.



MN: What do you see as the greatest barriers for metabolomics? What improvements, technological or otherwise, need to take place for metabolomics to really take off?

MO: It is disappointing to see that despite the many advances in metabolomics technology, the biochemistry we rely on, and thus metabolomics data interpretation, is still based on studies performed mainly in the 1950s to 1970s. The decade of metabolomics so far has been a lot about picking low-hanging fruits, while our basic understanding of biochemistry and physiology behind the metabolome has not yet advanced by much. I see that as a great opportunity for metabolomics research.

There clearly are challenges and opportunities for technologies as well, e.g., to enable in vivo real time measurements or quantify larger sets of metabolites, but a lot more could have been done with current technologies with innovative experimental settings and better modeling tools.

MN: How does the future look in terms of funding for metabolomics?



MO: While these are overall difficult times for science funding, there still appear to be reasonably good opportunities for metabolomics research, owing to its status as an emerging 'omics' science. However, although investments into metabolomics have been made in several countries, the share of metabolomics funding compared to, e.g., proteomics and genomics, is still very minor. In order to be assured of substantial investments into metabolomics infrastructure and research in the future, the impact of the field on science and consequently on society will have to be demonstrated. While one could question whether such an impact has ever been achieved by the other 'omics' disciplines, the expectations and barriers are higher for emerging disciplines such as metabolomics. More success stories and breakthroughs are thus needed. I am optimistic about these prospects.



MN: What role can metabolomics standards play?

MO: One of the key strengths of genetic research has been in the ease and ability to pool datasets together and perform meta-analyses on large sample series, thus increasing the statistical power as well as engaging a wide scientific community. Given the inherent nature of metabolomics data, such meta-analyses are a very distant goal in our field. One of the key challenges is standardization of the data. It is absolutely crucial that sufficient detail on data acquisition and the data itself are deposited, so that they can be used by other groups. However, the challenges do not end there. Even if the data were made available and followed certain standards, due to the sensitivity of the metabolome and the sampling itself, as well as methodological challenges, it will remain difficult to compare different datasets. I therefore believe the community also needs better computational tools for meta-analyses of metabolomics data. These may not only be statistics based, but ideally would also include biochemical information.



MN: Do you have any other comments that you wish to share about metabolomics?



MO: I see a great future for metabolomics. I challenge young researchers not to take their biochemistry and biology textbooks for granted when applying metabolomics, but instead to use metabolomics to advance the basic knowledge of biology. The impact is likely to follow.

| | |
| --- | --- |
| | 3) Biomarker Beacon |
Feature article contributed by Ian Forsythe, Editor, MetaboNews, Dept of Computing Science, University of Alberta, Edmonton, Canada
Metabolomics is an emerging field that is complementary to other omics sciences and that is gaining increasing interest across all disciplines. Because of metabolomics' unique advantages, it is now being applied in functional genomics, integrative and systems biology, pharmacogenomics, and biomarker discovery for drug development and therapy monitoring. A substantial number of biomarkers are small molecules or metabolites (MW <1500 Da), which can be used for disease testing, drug testing, toxic exposure testing, and food consumption tracking. While standard clinical assays are limited in the number and type of compounds that can be detected, metabolomics measures many more compounds. Since a single compound is not always the best biomarker (diagnostic, prognostic, or predictive), healthcare practitioners can use metabolomic
information about multiple compounds
to make better medical decisions. Global metabolic profiling is now being used to determine clinical biomarkers in assessing the pathophysiological health status of patients.
In the following two recent studies, metabolomic approaches were used to develop biomarker tools for the identification of biomarkers associated with myeloma
and esophageal squamous cell carcinoma
, respectively.
Lodi A, Tiziani S, Khanim FL, Günther UL, Viant MR, Morgan GJ, Bunce CM, Drayson MT. Proton NMR-Based Metabolite Analyses of Archived Serial Paired Serum and Urine Samples from Myeloma Patients at Different Stages of Disease Activity Identifies Acetylcarnitine as a Novel Marker of Active Disease. PLoS One. 2013;8(2):e56422. doi: 10.1371/journal.pone.0056422. Epub 2013 Feb 19. [PMID: 23431376]

In this paper, the research team sought to identify novel biomarkers for myeloma. The investigators used proton nuclear magnetic resonance spectroscopy-based metabolomics

to evaluate serum and urine samples from 32 patients

with multiple myeloma. The authors of this study identified carnitine and acetylcarnitine as new potential biomarkers of active disease. Metabolites, such as those discovered in this study, may serve as key biomarkers for diagnosing disease and for tracking disease progression following treatment.

Xu J, Chen Y, Zhang R, Song Y, Cao J, Bi N, Wang J, He J, Bai J, Dong L, Wang L, Zhan Q, Abliz Z.

Global and Targeted Metabolomics of Esophageal Squamous Cell Carcinoma Discovers Potential Diagnostic and Therapeutic Biomarkers.

Mol Cell Proteomics. 2013 Feb 8. [Epub ahead of print] [

PMID: 23397110

]

Biomarkers for the diagnosis and treatment of esophageal squamous cell carcinoma (ESCC) could help improve long term survival outcomes for those who suffer from this disease. In this study, the researchers used LC-MS to identify plasma biomarkers for the diagnosis of ESCC and for monitoring response to treatment. The investigators looked at four patient groups (

healthy controls and ESCC patients before, during, and after chemoradiotherapy treatment).

These researchers discovered 18 metabolites that were significantly altered in ESCC patients, compared to healthy controls (lysophosphatidylcholines (lysoPCs), fatty acids, L-carnitine, acylcarnitines, organic acids, and a sterol metabolite). They also compared pre- and post-treatment ESCC patient groups and identified 11 metabolites as potential therapeutic biomarkers (amino acids, acylcarnitines, and lysoPCs). These metabolite biomarkers could serve not only in disease diagnosis but also in monitoring response to treatment.

| | |
| --- | --- |
| | 4) Metabolomics Current Contents |
| | |
| --- | --- |
| | 5) MetaboNews |
4 Mar 2013




Effects of smoking and smoking cessation on human serum metabolite profile: results from the KORA cohort study

Metabolomics helps to identify links between environmental exposures and intermediate biomarkers of disturbed pathways. We previously reported variations in phosphatidylcholines in male smokers compared with non-smokers in a cross-sectional pilot study with a small sample size, but knowledge of the reversibility of smoking effects on metabolite profiles is limited.

Here, we extend our metabolomics study with a large prospective study including female smokers and quitters.

Methods: Using targeted metabolomics approach, we quantified 140 metabolite concentrations for 1,241 fasting serum samples in the population-based Cooperative Health Research in the Region of Augsburg (KORA) human cohort at two time points: baseline survey conducted between 1999 and 2001 and follow-up after seven years. Metabolite profiles were compared among groups of current smokers, former smokers and never smokers, and were further assessed for their reversibility after smoking cessation.

Changes in metabolite concentrations from baseline to the follow-up were investigated in a longitudinal analysis comparing current smokers, never smokers and smoking quitters, who were current smokers at baseline but former smokers by the time of follow-up. In addition, we constructed protein-metabolite networks with smoking-related genes and metabolites.

Results: We identified 21 smoking-related metabolites in the baseline investigation (18 in men and six in women, with three overlaps) enriched in amino acid and lipid pathways, which were significantly different between current smokers and never smokers.

Moreover, 19 out of the 21 metabolites were found to be reversible in former smokers. In the follow-up study, 13 reversible metabolites in men were measured, of which 10 were confirmed to be reversible in male quitters.

Protein-metabolite networks are proposed to explain the consistent reversibility of smoking effects on metabolites.

Conclusions: We showed that smoking-related changes in human serum metabolites are reversible after smoking cessation, consistent with the known cardiovascular risk reduction. The metabolites identified may serve as potential biomarkers to evaluate the status of smoking cessation and characterize smoking-related diseases.





22 Feb 2013




LECO Support West Coast Metabolomics Center at the University of California, Davis

LECO Corporation

has announced its support of the

West Coast Metabolomics Center

, a new high-tech consortium of research and service laboratories housed within the University of California, Davis, Genome Center.

As part of an agreement with LECO, the West Coast Metabolomics Center will receive access to the LECO Citius™ LC-HRT (High Resolution TOFMS) for applied research in metabolomics that will help scientists better understand and develop more effective treatments for complex diseases like diabetes, cancer, and atherosclerosis. Designed for complex sample analysis, LECO's HRT instrumentation provides acquisition speeds of up to 200 spectra/second, mass resolution up to 100,000 FWHM, and mass accuracy less than 1 ppm.

The new center is under the direction of Dr. Oliver Fiehn, professor of molecular and cellular biology at UC Davis. A worldwide leader in metabolomics, Dr. Fiehn has utilized LECO instruments to analyze more than 50,000 samples for more than 520 projects and 80 different species over the past seven years. The results have been the basis for many scientific papers, ranging from microbial products to plant and pre-clinical and clinical studies.

"LECO is known for its robust and sensitive instruments, and its great software capability for distinguishing closely eluting compounds," said Dr. Fiehn. "We believe the Citius may solve urgent bottlenecks in metabolomics, specifically because in our field, we have highly complex mixtures of compounds!"

"This partnership demonstrates LECO's renewed commitment to the advancement of metabolomics," said Dr. Jeff Patrick, Director of Marketed Technology, LECO Separation Science. "We are honored that Dr. Fiehn and his team chose the Citius LC-HRT to be part of the West Coast Metabolomics Center, and we are excited about the implications their research will have on the treatment of certain diseases."



22 Feb 2013




PerFuMe Press Release

The Marie Curie Initial Training Network PERFUME announces the start of a new multiple year research programme on Peroxisome Function Metabolism. The programme aims at providing state-of-the-art research training to 12 PhD students and 2 postdocs at the interface of medicine, plant and fungal biology. Marie Curie Initial Training Networks are highly prestigious awards funded by the European Union Seventh Framework Programme, focused on the training of the next generation of European leaders in science to solve interdisciplinary questions of global concern and to increase the European competitiveness in research and development.

Press Release:

http://www.metabonews.ca/Mar2013/news/PerfumePressrelease22-2-2013.pdf

For more information, visit

http://www.itn-perfume.eu/

.




Please note: If you know of any metabolomics news that we should feature in future issues of this newsletter, please email Ian Forsythe (metabolomics.innovation@gmail.com).
| | |
| --- | --- |
| | 6) Metabolomics Events |
11-12 Mar 2013

Inauguration of the Swedish Metabolomics Centre
Venue: Chemical Biological Centre (KBC), Umeå University, Large Lecture Hall, Stora Hörsalen KB3B1 (Sweden)


Welcome to the Inauguration of the Swedish Metabolomics Centre Umeå!
The former metabolomics platform at KBC has expanded. All interested people, experts and non-experts, who want to learn more about the new established centre and its service and research are welcome to an inspiring symposium which is organized during two half days at KBC.

The symposium will take place on 11-12 March 2013, at Chemical Biological Centre (KBC), Umeå University, Large Lecture Hall, Stora Hörsalen KB3B1.

Marianne Sommarin, Deputy Vice-Chancellor for Research at Umeå University, and Johan Schnürer, Deputy Vice-chancellor for Cooperation at SLU, will invite the new centre on 12 March at 10:40 am, Large Lecture hall "Stora hörsalen", KB3B1, KBC.

More information and registration are available here.


14 Mar 2013

Clinical Metabolomics: The Art of the Possible
Venue: Michigan Regional Comprehensive Metabolomics Research Core, Cure Room, 5050 Brehm Tower, 1000 Wall Street, Ann Arbor, MI 48105-5714 USA


"Clinical Metabolomics: The Art of the Possible"
Oleg A. Mayboroda, PhD
Associate Professor
Center for Proteomics and Metabolomics
Leiden University Medical Center

Thursday, March 14, 2013 • 4:00 pm
Cure Room, 5050 Brehm Tower

For more information, visit http://mrc2.umich.edu/Docs/Event_20130314_Mayboroda.pdf.


8-10 Apr 2013

2nd International Conference and Exhibition on Metabolomics & Systems Biology
Venue: Hilton Suites Chicago/Northbrook, USA


OMICS Group invites you to attend the 2nd International Conference and Exhibition on Metabolomics & Systems Biology which is going to be held during April 08-10, 2013 at Hilton Suites Chicago/Northbrook, USA.

Metabolomics-2013 is a remarkable event which brings together a unique and International mix of large and medium pharmaceutical, biotech and diagnostics companies, leading universities and clinical research institutions making the conference a perfect platform to share experience, foster collaborations across industry and academia, and evaluate emerging technologies across the globe.

2nd International Conference and Exhibition on Metabolomics & Systems Biology will serve as a catalyst for the advances in the study of Metabolomics & Systems Biology by connecting scientists within and across disciplines at sessions and exhibition held at the venue, creates an environment conducive to information exchange, generation of new ideas, and acceleration of applications that benefit research in Metabolomics & Systems Biology.

For more information, visit http://omicsgroup.com/conferences/metabolomics-systems-biology-2013/.


14-19 Apr 2013

54th ENC Conference
Venue: Asilomar Conference Grounds, Pacific Grove, California, USA


Come immerse yourself in cutting-edge NMR science at the beautiful Asilomar conference grounds by the sea!


Jan 11, 2013: Deadline for abstracts to be considered for short talks and early decision.
Jan 11, 2013: Deadline for student travel and Ritchey Award materials
March 8, 2013: Deadline for late poster abstracts
March 15, 2013: Deadline for Asilomar lodging and advance conference registration

General Information: http://enc-conference.org/Conference/GeneralInformation/tabid/144/Default.aspx
Preliminary Program: http://www.enc-conference.org/ConferenceDetails/Program/tabid/63/Default.aspx

For more information, visit http://www.enc-conference.org/.


1-7 June 2013

GRC on Computational NMR and Associated Seminar on Metabolomic NMR
Venue: Mount Snow Resort, West Dover, Vermont, USA


The organizers of the Gordon Research Conference on Computational Aspects of Biomolecular NMR are pleased to announce that the GRC and a related Gordon Research Seminar (GRS) on Metabolomic NMR for graduate students and postdocs will be held at the Mount Snow Resort in Vermont from June 1-7, 2013.

The meeting is the eighth GRC on Computational NMR and the first to include a dedicated Seminar for graduate students and postdocs. The focus of the GRS is to discuss new contributions in computational Nuclear Magnetic Resonance to the growing field of metabolomics and will feature a keynote talk by David Wishart, University of Alberta, and discussions led by experts in metabolomic NMR as a complement to oral presentations by graduate students and postdocs.

For more information: http://www.grc.org/programs.aspx?year=2013&program=grs_bionmr

For registration: http://www.grc.org/application.aspx?id=15572

We do hope that you will both consider attending and provide this information to your students and postdocs and encourage them join us in Vermont for what we anticipate will be an enjoyable and stimulating meeting.


1-4 Jul 2013

9th Annual International Meeting of the Metabolomics Society
Venue: Glasgow, Scotland


We are delighted to announce that the 9th Annual International Conference of the Metabolomics Society will be held in Glasgow, Scotland 1st – 4th July 2013 at the award-winning Scottish Exhibition & Conference Centre (SECC). This appealing combination of an excellent city location and the best scientific research will guarantee this a memorable conference.

We expect this to be the 'must attend' meeting in 2013 for researchers from around the world, where the best speakers in the world and rising stars of the future will present their work in a mixture of plenary and parallel sessions. The Metabolomics Society came into being with the development of the Metabolomics as a discipline and as a result provides a focus for the most varied aspects of the subject ranging from microbes to man. As a result of this it brings together a diverse mixture of scientists from many disciplines, which produces very stimulating meetings.

One of the main aims of the conference will be to create a unique platform for young scientists. Come and listen and talk to the top experts in the field. Find out about the latest exciting technologies that can advance your own research, but most of all come and enjoy Scotland's largest and most vibrant city and the beautiful countryside around it.

We look forward to welcoming you to Glasgow in 2013!

Dave Watson
Chair, Local Organising Committee
Metabolomics Glasgow 2013

For more information, visit http://www.metabolomics2013.org/.


2-4 Jul 2013

3rd European Lipidomic Meeting
Venue: Pardubice, Czech Republic


We would like to cordially invite you to participate in the 3rd European Lipidomic Meeting, which will be held in Pardubice, Czech Republic, July 2-4, 2013. The meeting is organized by the Czech Society for Biochemistry and Molecular Biology and the University of Pardubice in cooperation with organizers of previous successful Graz Lipid Mass Spec Meetings in 2010 and 2012. Based on the mutual agreement, we have decided to continue in this series and invite colleagues interested in the lipid research from all over the world. The conference title is changed to the European Lipidomic Meeting, but the original numbering is kept to demonstrate the continuity of Graz meetings. The word "European" shows the intention to rotate the organization among different European locations. We have removed "Mass Spec" from the title to emphasize that scientists from all branches of chemistry, biology and medicine are welcome with a single connecting idea - interest in lipids and lipidomics. The analytical chemistry and mass spectrometry in particular will certainly play a significant role again, but intensive interactions and complementary expertise of analytical chemists, biologists, medical doctors, nutrition specialists and experts from other fields could result in better knowledge of biological roles and metabolism of lipids. The conference program will consist of invited plenary lectures, oral and poster contributions. We can proudly announce the list of prominent plenary speakers confirmed so far:


Edward A. Dennis (University of California, San Diego, La Jolla, CA, USA)
Stephen J. Blanksby (University of Wollongong, Australia)
Andrej Shevchenko (Max Planck Institute of Molecular Cell Biology and Genetics, Dresden, Germany)
Xianlin Han (Sanford-Burnham Medical Research Institute, Orlando, FL, USA)
Kim Ekroos (Zora Biosciences, Espoo, Finland)
Bernhard Spengler (University of Giessen, Germany)
Harald C. Köfeler (Medical University of Graz, Austria)

The scientific part of the meeting will be complemented by rich social program emphasizing the local history. Participants will have a chance to visit Pardubice chateaux with exhibitions of Czech glass and taste beer from old Bohemian brewery. The conference venue is easily accessible from Prague, which has regular flight connections with many European and overseas destinations. Trains between Prague and Pardubice run frequently and fast (only 60 minutes). Pardubice city is famous due to the local production of gingerbread, high concentration of chemical industry and important sport events (horse race Velká Pardubická steeplechase, Golden Helmet of Pardubice speedway competition, ice-hockey, etc.).

For more information, visit http://mab.uochb.cas.cz/iochb/ELM2013/.


4-5 Jul 2013

Informatics and Statistics for Metabolomics (2013)
Venue: Downtown Toronto, Ontario, Canada


Course Objectives: The workshop will cover many topics ranging from understanding metabolomics technologies, data collection and analysis, using pathway databases, performing pathway analysis, conducting univariate and multivariate statistics, working with metabolomic databases and exploring chemical databases. Participants will be given various data sets and short assignments to assist with the learning process.

Target Audience: This course is intended for graduate students, post-doctoral fellows, clinical fellows and investigators who are interested in learning about both bioinformatic and cheminformatic tools to analyze and interpret metabolomics data.

Prerequisite: Your own laptop computer. Minimum requirements: 1024x768 screen resolution, 1.5GHz CPU, 1GB RAM, recent versions of Windows, Mac OS X or Linux (Most computers purchased in the past 3-4 years likely meet these requirements). If you do not access to a laptop, you may loan one from the CBW. Please contact course_info@bioinformatics.ca for more information.

Pre-Readings: You are expected to have completed the following tutorials in R beforehand. The tutorial should be very accessible even if you have never used R before. Please complete the following: R Tutorial

For more information, visit http://bioinformatics.ca/workshops/2013/informatics-and-statistics-metabolomics-2013.


13-17 Aug 2013

Metabolic Signaling & Disease: From Cell to Organism
Venue: Cold Spring Harbor Laboratory, Cold Spring Harbor, NY, USA


Abstract Deadline: May 31, 2013

Organizers:
Daniel Kelly, Sanford-Burnham Medical Research Institute
Mitchell Lazar, University of Pennsylvania
Susanne Mandrup, University of Southern Denmark

We are pleased to announce the first Cold Spring Harbor meeting on Metabolic Signaling & Disease: From Cell to Organism which will begin on Tuesday evening, August 13 and end at noon on Saturday, August 17, 2013.

Metabolic regulation is at the intersection of many scientific fields, ranging from basic biochemistry and molecular biology to physiology, to the study of disease pathogenesis. Currently, a major challenge for these diverse fields is to define commonalities and differences in metabolic pathways and their regulation, and determine the role of these processes for physiology and disease states. This meeting will fill an important gap by bringing together outstanding researchers focused on diverse pathways, cell types, or diseases with a common theme of understanding how metabolism is regulated in physiology and disease states.

For more information, visit http://meetings.cshl.edu/meetings/2013/metab13.shtml.


Please note: If you know of any metabolomics lectures, meetings, workshops, or training sessions that we should feature in future issues of this newsletter, please email Ian Forsythe (metabolomics.innovation@gmail.com).
| | |
| --- | --- |
| | 7) Metabolomics Jobs |
This is a resource for advertising positions in metabolomics. If you have a job you would like posted in this newsletter, please email Ian Forsythe (metabolomics.innovation@gmail.com). Job postings will be carried for a maximum of 4 issues (8 weeks) unless the position is filled prior to that date.

Jobs Offered

Job Title
Employer
Location
Posted
Closes
Source
PostDoctoral position for mass spectrometry analysis

Université Libre de Bruxelles (ULB)
Bruxelles, Belgium

6-Mar-2013
31-Mar-2013
naturejobs.com

An engineer-technician in metabolomics (m/f)

Centre de Recherche Public - Gabriel Lippmann
Belvaux, Luxembourg

6-Mar-2013
31-Mar-2013

naturejobs.com
PhD student position in nutritional metabolomics

Chalmers University of Technology

Göteborg

, Sweden

6-Mar-2013
3-Apr-2013
naturejobs.com
Early-Stage Researcher

University of Groningen / Molecular Cell Biology

Groningen, Netherlands

6-Mar-2013
31-Mar-2013
naturejobs.com
Early-Stage Researcher

University of Stavanger, Centre for Organelle Research (CORE)

Stavanger, Norway

6-Mar-2013
31-Mar-2013
naturejobs.com
PhD student position in nutritional metabolomics


Chalmers University of Technology

Göteborg, Sweden

5-Mar-2013

3-Apr-2013

naturejobs.com
PhD Scholarship: Metabolomics of Climate Stress Responses in Drosophila

CSIRO (Commonwealth Scientific & Industrial Research Organisation)

Black Mountain, Canberra, Australia

5-Mar-2013
31-Mar-2013

naturejobs.com
Sales Representative / Business Developer (m/f)

Metabolomic Discoveries GmbH
Potsdam, Germany

27-Feb-2013



metabolomicdiscoveries.com



Internship/Thesis: Development of suitable plugins for the knowledge base

Metabolomic Discoveries GmbH
Potsdam, Germany


27-Feb-2013



metabolomicdiscoveries.com
Senior Research Scientist – Nutritional Metabolomics

AgResearch

Palmerston North, New Zealand

20-Feb-2013

11-Mar-2013

naturejobs.com
PhD studentship in parasite metabolomics

INRA center of Toulouse (French National Institute for Agricultural Research)

Toulouse, France

10-Feb-2013
11-Apr-2013

naturejobs.com
An engineer-technician in metabolomics (m/f)


Centre de Recherche Public - Gabriel Lippmann

Belvaux, Luxembourg

6-Feb-2013
21-Mar-2013
naturejobs.com
Jobs Wanted
This section is intended for very highly qualified individuals (e.g., lab managers, professors, directors, executives with extensive experience) who are seeking employment in metabolomics. We encourage these individuals to submit their position requests to Ian Forsythe (metabolomics.innovation@gmail.com). Upon review, a limited number of job submissions will be selected for publication in the Jobs Wanted section.
Research or Lab Manager Position Sought (Candidate has extensive NMR metabolomics experience and knowledge including NMR instrumentation maintenance): [Candidate's CV]



---
Free Subscription


---