.
This issue of MetaboNews is supported by:
Advertising
Would you like to advertise your metabolomics hardware, software, products, and services to over 2,800 MetaboNews readers worldwide? We offer a variety of advertising options. Please consult the MetaboNews advertising brochure for details.

Free Subscriptions:

Our subscriber list is managed using Mailman, the GNU Mailing List Manager. To subscribe or unsubscribe, please visit http://www.mailman.srv.ualberta.ca/mailman/listinfo/metabonews.
Newsletter Archive: Current and back issues of MetaboNews can be viewed from the newsletter archive (http://www.metabonews.ca/archive.html).
Content Suggestions/Feedback:
We always appreciate your feedback on how we can make this newsletter better (metabolomics.innovation@gmail.com).
---
| | |
| --- | --- |
| | Metabolomics Society News |

CONFERENCE CORNER

2016 Metabolomics Society Conference, Dublin
June 27
–

June 30, 2016

Registration and abstract submissions are now open for the annual Conference of the international Metabolomics Society. The conference will showcase the best of metabolomics science from all disciplines and features Jeremy Nicholson, Luke O'Neill, Ines Thiele, and Tsutomu Masujima as plenary speakers. Additional keynote speakers include Soren Engelsen, Michael Schmidt, Karsten Hiller, Tuulia Hyötyläinen, Melissa Fitzgerald, and Krista Zanetti. Details of the six workshops planned for the first day are also available at the website.

Register at www.metabolomics2016.org before March 31st to secure early-bird prices and book your accommodation at http://metabolomics2016.org/venue/hotel-information to secure a room.

Student and Early Career members of the Society are eligible for travel awards. See http://metabolomics2016.org/submission/awards for application details.

Call for Expressions of Interest (EOI) to Chair the 2018 Metabolomics Conference:
The Metabolomics Society is calling for interested members in the American region (North, Central, or South America) to express their interest in hosting the 2018 annual Metabolomics Society meeting (http://metabolomics2018.org/).

Please send notice of your interest using the EOI form by 15th March 2016. You should name individuals who will be key to forming a Local Organizing Committee (LOC) and outline the scientific plan for the conference. The LOC will report to the Metabolomics Society Board, assist A-S-K staff* and the Board in selection of a suitable venue, and organize the conference. The tasks of the LOC are to ensure regional and national support for the conference, to assist the Society in administrative planning, and most importantly, to chair and manage the scientific aspects of the conference. The LOC is also responsible for selecting, and administering, an International Organizing Committee, which in turn is responsible for determining the scientific content of the meeting. Please complete the application form outlining your ideas to maximize the scientific quality and outreach of the conference. For further enquires please contact the Society via A-S-K Associates (metabolomics@askusa.com). *A-S-K Associates is the Society's administrative firm.



M

EMBERS

CORNER

Membership News for 2016
Attention students and early-career scientists! A large number of travel awards are available for the annual meeting of the Metabolomics Society, Metabolomics 2016, in Dublin. However, to be eligible for consideration for the awards, you must be a paid member by March 27, 2016. Please join or renew your membership at our convenient site.
TASK GROUPS CORNER

Data Standards Task Group


General Announcements for related standards activities:

Metabolomics Data Infrastructures Survey

The PhenoMeNal project is developing an open-source e-infrastructure for the processing, analysis, and information-mining of medical molecular phenotyping and genotyping data that will be generated by metabolomics applications. The project is publicly funded by the European Union's Horizon 2020 Programme. For more information, please see http://phenomenal-h2020.eu

To gain a better understanding of the requirements for data infrastructures for metabolomics research, PhenoMeNal has commissioned a survey to gain insight into current practices, future needs, and opinions, on how metabolomics research data is managed, published, and disseminated. We would be grateful if you could contribute to the survey at the link below.

Survey link: https://www.surveymonkey.co.uk/r/metabolomics-data

Contact:
David Johnson (david.johnson@oerc.ox.ac.uk)
Philippe Rocca-Serra (philippe.rocca-serra@oerc.ox.ac.uk)


HUPO-PSI meeting 2016 announcement
The HUPO Proteomics Standards Initiative defines community standards for data representation in proteomics to facilitate data comparison, exchange, and verification. In metabolomics, we share many such formats, most notably, mzML, mzTab, ProteoWizard, etc. The success of the PSI standards is only achieved through wide participation from the broader community, including metabolomics community, so please consider participating and contributing to this important effort. Registration is free as the workshop is supported by several grants.
For more information, visit (or contact Reza.Salek@ebi.ac.uk): http://www.psidev.info/content/hupo-psi-meeting-2016


INTERNATIONAL AFFILIATES CORNER
Australian & New Zealand Metabolomics Network (ANZMN)
Visit
http://www.anzmn.org
ANZMN president Dr Oliver Jones and Professor Ewan Blanch hosted Professor Roy Goodacre (University of Manchester) at RMIT University from 11
th
Feb to 3
rd
March under the RMIT International Visiting Fellowship scheme. Professor Goodacre is well known in metabolomics, having helped establish the Metabolomics Society and being a director of the Metabolic Profiling Forum, as well as the founding Editor-in-Chief of
Metabolomics
(established 2005). While in Melbourne he gave lectures at RMIT (
https://www.eventbrite.com.au/e/enhancing-metabolomics-shining-light-on-metabolism-tickets-21605888795
) and the University of Melbourne (amongst several others), and set up several new collaborations with groups in Victoria.
Réseau Français de Métabolomique et Fluxomique (RFMF)
Visit
http://www.rfmf.fr/


Registration has opened for the the 10
th
conference of the Francophone Metabolomics and Fluxomics Society (RFMF), to be held in Montpellier between the 30
th
of May and the 2
nd
of June 2016. More information can be obtained on the RFMF conference website:
http://10-js-rfmf.sciencesconf.org/
Swiss Metabolomics Society (SMS)
Visit
www.swiss-metabolomics.ch
The Swiss Metabolomics Society (SMS) is happy to announce the election of its organizing committee. On December 3
rd
2015, in Basel, the SMS held its first general assembly meeting. Attending members elected the following to the board: Dr. Thomas Luke Simmons, President; Prof. Dr. Götz Schlotterbeck, Vice President; Dr. David Tonoli, Treasurer and Dr. Guido Sonsmann, Secretary. Drs. Patrick Kiefer, Endre Laczko, and Christian Berchtold were elected as our members-at-large.
In other news, the official SMS URL has been changed; please visit our new site:
www.swiss-metabolomics.ch
Shaping a Computational Mass Spectrometry Community for Metabolomics
Feature article contributed by Sebastian Böcker1, Oliver Fiehn2,3, Steffen Neumann4, Reza M. Salek5, Emma L. Schymanski6


1Chair for Bioinformatics, Friedrich-Schiller-University Jena, 07743 Jena, Germany
2West Coast Metabolomics Center, UC Davis, 95616 Davis, California, USA
3King Abdulaziz University, Biochemistry Department, Jeddah, Saudi Arabia
4Leibniz Institute of Plant Biochemistry, Dept. of Stress and Developmental Biology, Weinberg 3, 06120 Halle, Germany
5Cheminformatics and Metabolism Group, European Bioinformatics Institute, Wellcome Trust Genome Campus, Hinxton, Cambridgeshire, CB10 1SD, UK.
6Eawag: Swiss Federal Institute of Aquatic Science and Technology, Überlandstrasse 133, 8600 Dübendorf, Switzerland


Mass spectrometry is the predominant analytical technique for detecting and identifying metabolites and other small molecules in large-scale metabolomics experiments. Huge technological advances in mass spectrometry and experimental workflows have occurred during the past decade, enabling novel investigations into biological systems beyond the metabolic level and towards comprehensive exposome analysis. These advances have resulted in a tremendous increase in both the amount and complexity of experimental data, such that both the data processing and identification of the detected metabolites and small molecules have become the most critical bottlenecks in high-throughput analysis. With advances in instrumentation sensitivity, accuracy, and throughput, metabolomics is currently at the edge of becoming a "big data" science and data analysts need to tackle this with resource-efficient methods. Analytics now needs to integrate bioinformatics, cheminformatics, and computer science in a more efficient way.
The Metabolomics Society established a Computational Mass Spectrometry Task Group in the beginning of 2015. The main objectives of the task group are to promote development and use of computational tools for data analysis of small molecules in metabolomics, natural products research, environmental and toxicology research, as well as other related areas. A distinguishing feature of this task group is its ties to
CompMS.org
, a joint initiative of the Human Proteome Organization (HUPO), the International Society for Computational Biology (ISCB), and now also the Metabolomics Society. The challenges in computational mass spectrometry are not unique to just one discipline and there are some excellent examples of successful workshops and training material for computational proteomics. The time is ripe to promote similar efforts for metabolomics.
A notable event last year was a full-day pre-Metabolomics Society conference hackathon organised by Emma Schymanski (Eawag, Switzerland), Gert Wohlgemuth, Diego Pedrosa, and Oliver Fiehn (UC Davis, USA). The 30 hackathon participants divided into three different groups initially, discussing ideas related to data analysis workflows, data visualisation, and general licensing. In the afternoon, hands-on work was performed on "MassBank/data exchange & standardization", "metabolite structure identification", and "software communication". The hackathon inspired related discussions during and after the conference, including conversations about the "
spectral hash
". This spectral hash key will not only support mass spectrometry but can in principle can be extended to other types of spectra such as NMR, UV, IR, or Raman spectra.
During the 2015 Metabolomics Society conference in San Francisco, the Computational Mass Spectrometry task group had its inaugural meeting as an informal "birds-of-a-feather" gathering. Approximately 25 scientists participated in this event to discuss the next steps of the group. Several topics of interest were identified, ranging from collaborations on software development to avoid duplication in efforts such as raw data access or cheminformatics basics, and on discussion towards reviewing guidelines for software publications. Following the initial workshop there will be online meetings, phone conferences, and workshops. All parties interested are encouraged to participate in the discussion forum at
www.metabolomics-forum.com/viewforum.php?f=30
and are invited to join subsequent events that are planned around the globe.
The U.S. National Institute of Health acknowledged these efforts by organizing a follow-up workshop "Beyond the Known Metabolome: Discovery and Identification of Biologically-Relevant Small Molecules" on November 17
th
, 2015, in Bethesda.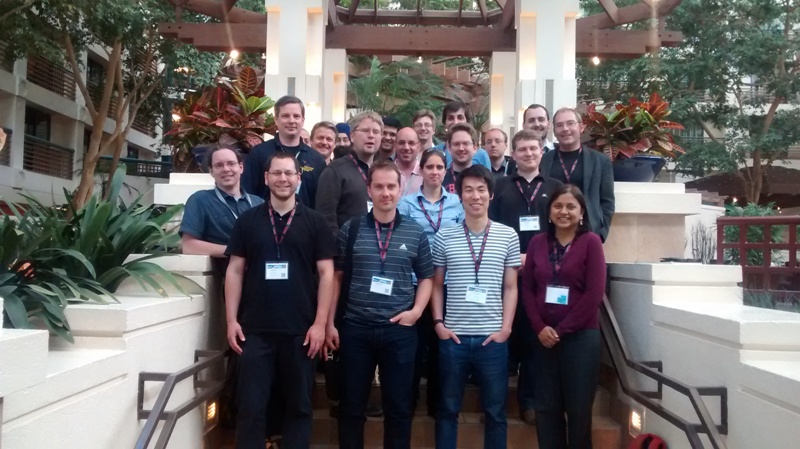 Figure 1.
Participants of the birds-of-a-feather meeting in the Hyatt Regency in San Francisco/Burlingame, USA, during the Metabolomics Society Conference 2015.
In autumn 2015, Emma Schymanski, Juho Rousu (Aalto University, Finland) and Sebastian Böcker (with help from Tobias Kind and Oliver Fiehn, UC Davis, US) organized a Dagstuhl seminar on Computational Metabolomics
1
in Saarland, Germany. Dagstuhl seminars are highly renowned in the Computer Science community, and are intended to foster discussion, exchange expertise, and initiate collaborations for specific research topics. The seminar brought together 30 participants from both the experimental and the computational side. The dynamic schedule consisted of overview talks and breakout sessions, covering the experimental-computational continuum in mass spectrometry and metabolomics data in applications. Overall, the seminar was considered a huge success by the participants. The seminar participants found that while the (lack of) public availability of data is holding back progress, several good initiatives are on the way. A follow-up seminar is planned for 2017.
Future metabolomics studies will grow ever larger, encompass many thousands of samples, which can amount to petabytes of data per year. New developments are underway in building new infrastructure to support large-scale computational metabolomics studies; one such example is the EU Horizon 2020 funded PhenoMeNal
2
project that strives to assemble the required e-infrastructure for tomorrow's metabolomics data.
The Metabolomics2016.org conference in Dublin in June is one event ahead that will also contain a lot of computational mass spectrometry efforts. The sessions planned range from
"Advances in Statistical Tools"
by the conference organisers, to
"New Approaches for Identification of Metabolites applying MS and NMR"
(Session team: Witting/Dunn),
"Network and Pathway Analysis for Metabolomics"
(Session team: Willighagen/Jourdan), and
"Computational Mass Spectrometry"
(Session team: Neumann/Böcker). There are also workshops on
"Computational Workflows and Workflow Engines"
(Workshop lead: Christoph Steinbeck),
"Workshop On Data Sharing and Standardisation"
(Workshop team: Reza Salek
et al.
), and
"metaRbolomics: The R toolbox for Metabolomics"
(Workshop team: Stanstrup/Neumann). Likewise, there will be an
"Informatics: Metabolomics"
session, chaired by Sebastian Böcker, at the ASMS Conference in Texas (June 5-9)
3
, and a non-target analysis conference (nontarget2016) organised by Eawag in Switzerland (May 29-June 3)
4
.
More such workshops and opportunities to participate will be highlighted and presented on the Metabolomics Society web page in the future. We look forward to your participation and interactions for a growing computational mass spectrometry community in metabolomics.

References

Please note:
If you know of any metabolomics research programs, software, databases, statistical methods, meetings, workshops, or training sessions that we should feature in future issues of this newsletter, please email Ian Forsythe at metabolomics.innovation@gmail.com.
Program Officer in the Epidemiology and Genomics Research Program, Division of Cancer Control and Population Sciences at the National Cancer Institute, National Institutes of Health






Biography



Krista Zanetti is a Program Officer in the Epidemiology and Genomics Research Program (EGRP), Division of Cancer Control and Population Sciences at the National Cancer Institute (NCI), National Institutes of Health. Dr. Zanetti earned her Ph.D. in Nutrition in 2003 from Cornell University and joined the Cancer Prevention Fellowship Program at the NCI. During the first year of her fellowship, she earned an M.P.H. at the Johns Hopkins Bloomberg School of Public Health. Dr. Zanetti then conducted primary research in the Laboratory of Human Carcinogenesis in the NCI's Center for Cancer Research from 2004 to 2010. Since joining EGRP in 2010, Dr. Zanetti's primary focus has been building infrastructure and capacity to support metabolomics in population-based research. Most recently, she spearheaded collaborative efforts to establish the trans-NIH international COnsortium of METabolomics Studies (COMETS) that brought together 25 prospective cohorts and three well-established consortia from the U.S., Europe, Asia, and South America.

KZ: As mentioned earlier, the NIH has invested significantly in the field through the Metabolomics Common Fund Program, which aims to increase national capacity in metabolomics. Future funding will depend on advances in the field, including both technological and methodological advances, key scientific discoveries, and the general funding climate, so there will be many factors at play in the years to come.