.
Worldwide first two successful ring trials in standardized targeted metabolomics


Feature article contributed by Therese Koal, Head of Research and Development, Biocrates Life Sciences AG, Austria

Summary


Metabolomics is a promising tool in providing new insight to biological questions, especially in biomarker discovery. However, one must assume that it is unlikely there is a single 'golden' endogenous biomarker that answers the biological hypothesis, e.g., prediction or diagnosis of diseases. The consensus in the research community is that most studies in the scientific literature document that 'metabolic signatures' as a panel of affected endogenous metabolites will be the answer. This is plausible due to alterations of the affected metabolic pathways. It also appears that metabolic signatures can provide an improvement in statistical outcome and robustness of biomarker candidates. Therefore, as the leading researchers in metabolomics clearly describe in their current international publication "Metabolomics enable precision medicine: A White Paper, Community Perspective" [
1
], future metabolic signatures and not individual 'golden' biomarkers as new diagnostics will find their way into clinical laboratory medicine. Biocrates' targeted metabolomics kits are explicitly mentioned in this White Paper. Another key publication from David Wishart in
Nature Reviews Drug Discovery
(2016) [
2
] considers the Biocrates kits as a unique technical solution ready today for inter-laboratory comparability with quantitative and reproducible metabolomics data. It is of utmost importance to successfully develop new metabolomics applications, e.g., in drug development, future clinical applications including establishment of reference values with necessary routine-robustness, quality and analytical workflow controlled and standardized quantification of the metabolome. [
3
]
In order to demonstrate the technology advancement with the Biocrates kits, two ring trials with the Absolute
IDQ®
p180 Kit [
4
] and Biocrates
®
Bile Acids Kit [
5
] in international laboratories including academia, clinical laboratory medicine, government and pharma industry were carried out and published in peer-reviewed journals in 2016. Ring trials are excellent tools to demonstrate the inter-laboratory performance of a new technology before comprehensive round-robin test programs from governmental-based institutes are available for clinical/clinical-near applications. Both ring trials demonstrated the robustness and comparability of kit-based targeted metabolomics data from laboratory to laboratory, which has not yet been achieved with any other metabolomics approach.
With the standardized analysis of 188 metabolites in 10 µL sample volume from five metabolite classes (acyl carnitines, amino acids, hexoses, phospho- and sphingolipids and biogenic amines) of central metabolism, the Absolute
IDQ®
p180 Kit has proven to be a quantitative gold standard technology in targeted metabolomics with
more than 300 scientific publications in the last 3 years
. In order to support ongoing efforts of harmonization of lipid nomenclature, to facilitate improved biological interpretation, and to provide a link between the different lipid annotations, a list with the potential isobares/isomers of all lipid signals measured with the Absolute
IDQ®
p180 Kit (phosphatidylcholines (PC), lyso phosphatidylcholines (lysoPC) and sphingomyelins (SM)) is available on the
Biocrates webpage
. Six laboratories with different instrumentation were included in the Absolute
IDQ®
p180 Kit ring trial. The study design of the ring trial contained 26 human test materials in replicates (3 x QCs, 1 x NIST standard reference material (SRM) 1950, 1 x lipaemic plasma, 20 x plasma (EDTA, heparin, citrate) and serum, 1 x sample pool). [
4
]
The Biocrates
®
Bile Acids Kit is able to quantify 16 human and 19 rodent (mouse)-specific bile acids, covering all central primary and secondary (glycine/taurine-conjugated and unconjugated) bile acids in 10 µL sample volume. The ring trial with the Biocrates
®
Bile Acids Kit was performed across twelve laboratories with nine human plasma and serum and mouse plasma samples in replicates. [
5
]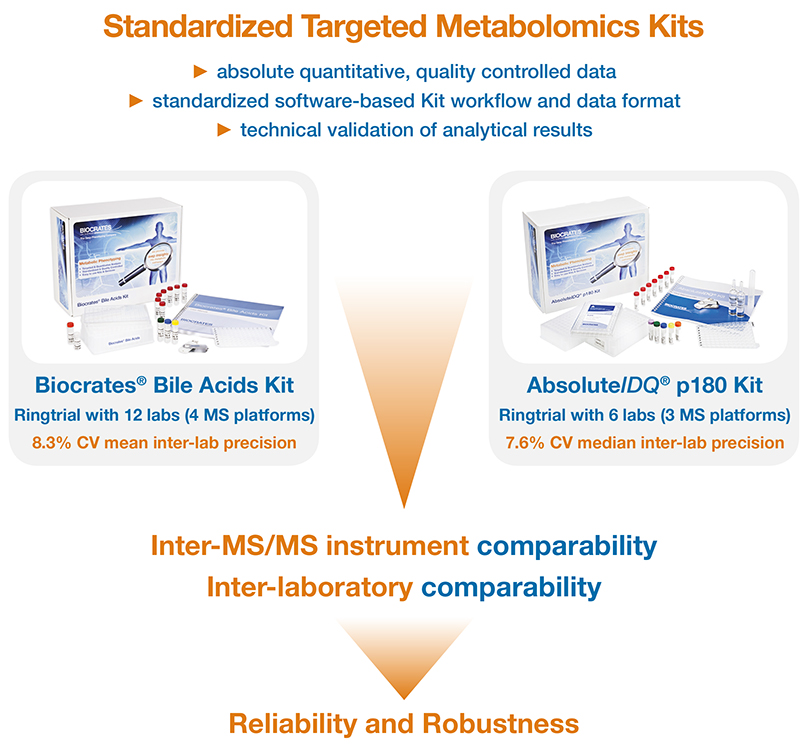 Figure 1.
Advantages of standardized targeted metabolomics kits for ring trial proven inter-laboratory and inter-instrument comparability.
The ring trials revealed inter-laboratory analytical median precision (coefficient of variation, CV) of 7.6% for the Absolute
IDQ®
p180 Kit and mean precision of 8.3% for the Biocrates
®
Bile Acids Kit, respectively. For the Absolute
IDQ®
p180 Kit and Biocrates
®
Bile Acids Kit, mean inter-laboratory accuracies of 100 ± 20% were obtained for tested human and mouse samples. The median inter-laboratory accuracy and precision of the Absolute
IDQ®
p180 Kit for the NIST standard reference material (SRM) 1950 were 107% and 6.7%, respectively.
Highlights
Biocrates targeted metabolomics kits deliver excellent inter-laboratory comparability with quantitative, quality controlled and reproducible metabolomics data.
References
Beger RD, Dunn W, Schmidt MA. Metabolomics enables precision medicine: "A White Paper, Community Perspective". Metabolomics (2016), 12:149. doi:10.1007/s11306-016-1094-6.
Wishart DS. Emerging applications of metabolomics in drug discovery and precision medicine. Nature Reviews Drug Discovery (2016), 15:473.
Diaz DA, Koal T. Progress in metabolomics standardisation and its significance in future clinical laboratory medicine. eJIFCC (2016), eJIFCC2016Vol27No4pp331-343.

Siskos AP, Jain P, Römisch-Margl W, Bennett M, Achaintre D, Asad Y, Marney LC, Richardson L, Koulman A, Griffin JL, Raynaud FI, Scalbert A, Adamski J, Prehn C, Keun HC. Interlaboratory reproducibility of a targeted metabolomics platform for analysis of human serum and plasma. Anal. Chem. (2017), 89(1), pp 656–665. doi:10.1021/acs.analchem.6b02930.
Pham HT, Arnhard K, Asad YJ, Deng L, Felder TK, St. John-Williams L, Kaever V, Leadley M, Mitro N, Muccio S, Prehn C, Rauh M, Rolle-Kampczyk U, Thomson W, Uhl O, Ulaszewska M, Vogeser M, Wishart DS, Koal T. Inter-laboratory robustness of next-generation bile acid study in mice and humans: International Ring Trial involving 12 laboratories. JALM (2016), doi:10.1373/jalm.2016.020537.
Please note:
If you know of any metabolomics research programs, software, databases, statistical methods, meetings, workshops, or training sessions that we should feature in future issues of this newsletter, please email Ian Forsythe at metabolomics.innovation@gmail.com.

Associate Professor of Molecular Toxicology at the Pennsylvania State University, University Park, Pennsylvania, USA


Biography



Andrew Patterson is an Associate Professor of Molecular Toxicology at the Pennsylvania State University, University Park. The Patterson lab's focus is on understanding the host-metabolite-microbiome axis—specifically how the manipulation of gut microbiota by xenobiotic exposure impacts metabolism, host metabolite pools like bile acids, and how these interactions are modulated by host nuclear receptors. The lab employs a variety of tools including 1H nuclear magnetic resonance spectroscopy, mass spectrometry and conventional and gnotobiotic mouse models to facilitate its study of these pathways and understand their potential impact on human health and disease.