Welcome to the tenth issue of MetaboNews, a monthly newsletter for the worldwide metabolomics community. In this month's issue,
we feature
a Consortium Spotlight article on
Metabolomics Australia and its bioinformatics capabilities.
As of this issue, we have also added a brand new section called MetaboInterviews that will feature interviews with metabolomics experts from around the world. This issue includes an interview with Dr. Oliver Fiehn of the University of California, Davis. This newsletter is being produced by The Metabolomics Innovati

on Centre (TMIC,
http://www.metabolomicscentre.ca/
), and is intended to keep metabolomics researchers and other professionals informed about new technologies, software, databases, events, job postings, conferences, training opportunities, interviews, publications, awards, and other newsworthy items concerning metabolomics. We hope to provide enough useful content to keep you interested and informed and appreciate your feedback on how we can make this newsletter better (
metabolomics.innovation@gmail.com
).
---
| | | |
| --- | --- | --- |
| | 1) Consortium Spotlight | |

Metabolomics Australia and its Bioinformatics Capabilities

Feature article contributed by
Saravanan Dayalan1, Seán O'Callaghan1, David P DeSouza1, Brad Power3, Tamas Szabo3, Adam Hunter3, Matthew Bellgard3, Dedreia L Tull1, Ute Roessner2, Vladimir A Likic1, Malcolm J McConville1, and Antony Bacic1
,2
1 Metabolomics Australia, The Bio21 Molecular Science and Biotechnology Institute, The University of Melbourne, Melbourne, VIC, Australia
2 Metabolomics Australia, School of Botany, The University of Melbourne, Melbourne, VIC, Australia
3 Australian Bioinformatics Facility, Centre for Comparative Genomics, Murdoch University, Murdoch, WA, Australia
1. Metabolomics Australia
Metabolomics Australia (MA) was established in 2007 and is a research service-delivery consortium that offers high throughput metabolomics services to life sciences researchers in academia and industry on both an open access and research hotel basis. It was established with funding from the Federal Government National Collaborative Research Infrastructure Strategy (NCRIS) scheme to Bioplatforms Australia Pty Ltd (
http://www.bioplatforms.com.au/
) and co-investment from State governments and institution partners. The consortium is made up of five nodes at The University of Melbourne (Victoria), Australian Wine Research Institute Ltd. (South Australia), University of Western Australia (Western Australia), Murdoch University (Western Australia) and University of Queensland (Queensland). Details on the various technologies available, analytical approaches used and the different services provided by Metabolomics Australia are detailed at our website
http://www.metabolomics.com.au/
. MA offers both analytical services and data analysis solutions.


2. Software Solutions


The Bioinformatics Group within Metabolomics Australia, in collaboration with the Australian Bioinformatics Facility at Murdoch University, is developing a number of software solutions for high throughput metabolomics data analysis and visualisation. In this article, we detail three such solutions.


2.1 Metabolomics Australia LIMS (MASTR-MS)


Each of the Metabolomics Australia nodes handles a large number of projects and clients/collaborators, and the development of a flexible LIMS for capturing experimental and analytical data has been a high priority. We have developed the MA Sample Tracking Repository (MASTR-MS) that comprises four main modular components:
The Node Management System controls the participation of different laboratories that are part of the LIMS system by allowing the option to add and delete laboratories that are part of the LIMS.
The User Management and Quote System provides options for user registration including client registration, control of different user groups and their privileges in the LIMS system. In addition, this module allows the client the option of interacting with laboratory staff through a quote request and response system.
The Sample Management System is used to capture the metadata that describes a project and all the experiments contained within it. Once captured, the metadata is used to generate a sample list, which can then be run any of the analytical instruments that are associated with the LIMS. MA scientists and clients are able to visualise progress of their samples through the sample tracking system.
The Data Management System controls the transfer of raw data from the instruments to the LIMS and its association with relevant projects and experiments. This module also allows laboratory users to add processed data to the LIMS system by associating them with projects and allows clients to download their raw and processed data.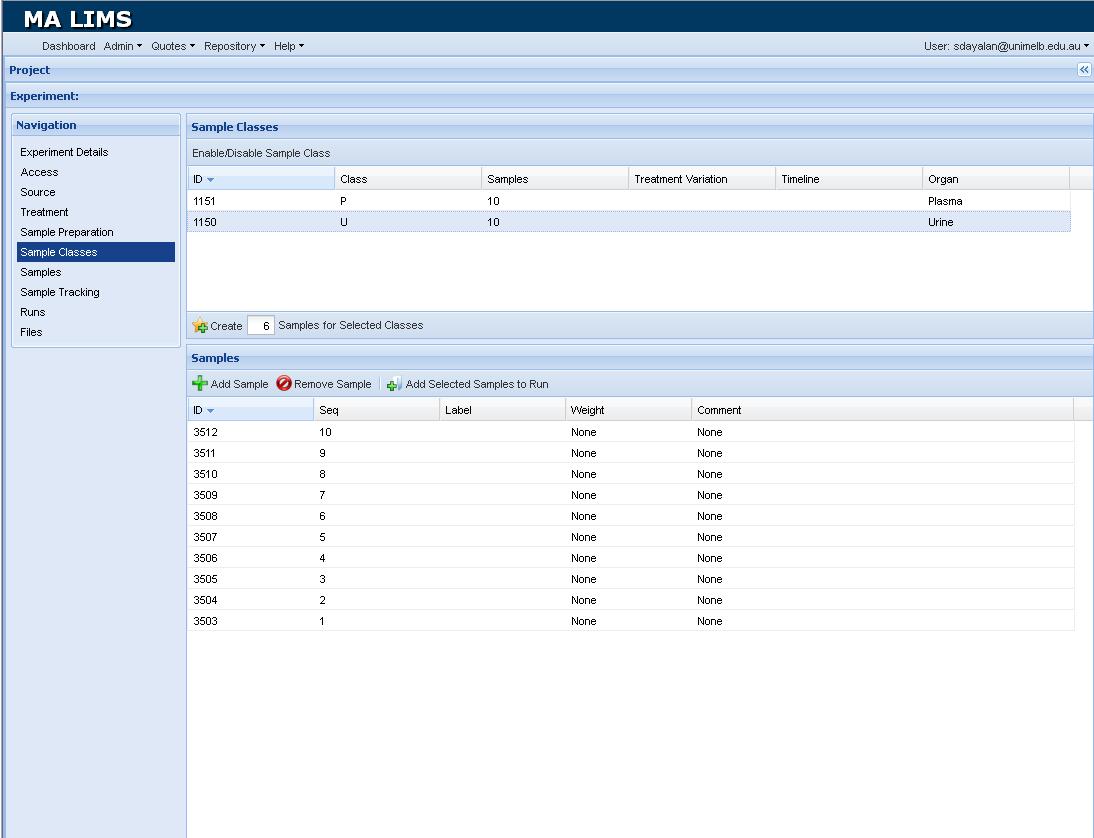 Figure 1.
Screenshot of the LIMS window.
2.2 Metabolomics Australia MS Database (MAMBO-MS)
In order to facilitate metabolite identification in GC-MS and LC-MS analyses we have developed the
MA
M
eta
BO
lite
M
ass
S
pectral database (MAMBO-MS) as a searchable repository of GC/LC mass spectra and associated information. MAMBO-MS was developed as an in-house database solution, as none of the publicly available database frameworks met MA's requirements. The requirements and the MAMBO-MS features that were developed as a result are detailed below. MAMBO-MS comprises four major modules:
Lab Management System: This module allows control over the number of laboratories/groups that contribute data to MAMBO-MS. This module was build due to the geographically distributed nature of MA's nodes. Through this module, more laboratories/groups can either be added to MAMBO-MS or existing laboratories can be deleted. Addition and deletion of laboratories in this module would automatically reflect in the following modules.

User Management System: This module creates and manages different user groups (Admin, Node Leader, Staff, Client) and their privileges over the available features of MAMBO-MS.

Records Management System: Controls the mass spectral records uploaded by the different participating labs. MAMBO-MS stores GC-MS and LC-MS records, where each record holds a series of metadata information on the spectra acquisition conditions (instrument, method, etc.) and information on the mass spectra itself (source, names, molecular weight, spectral values, etc.). In addition, MAMBO-MS stores NIST 08 records for internal use only.

Search System: This module allows users to search the records by either keyword or by spectra.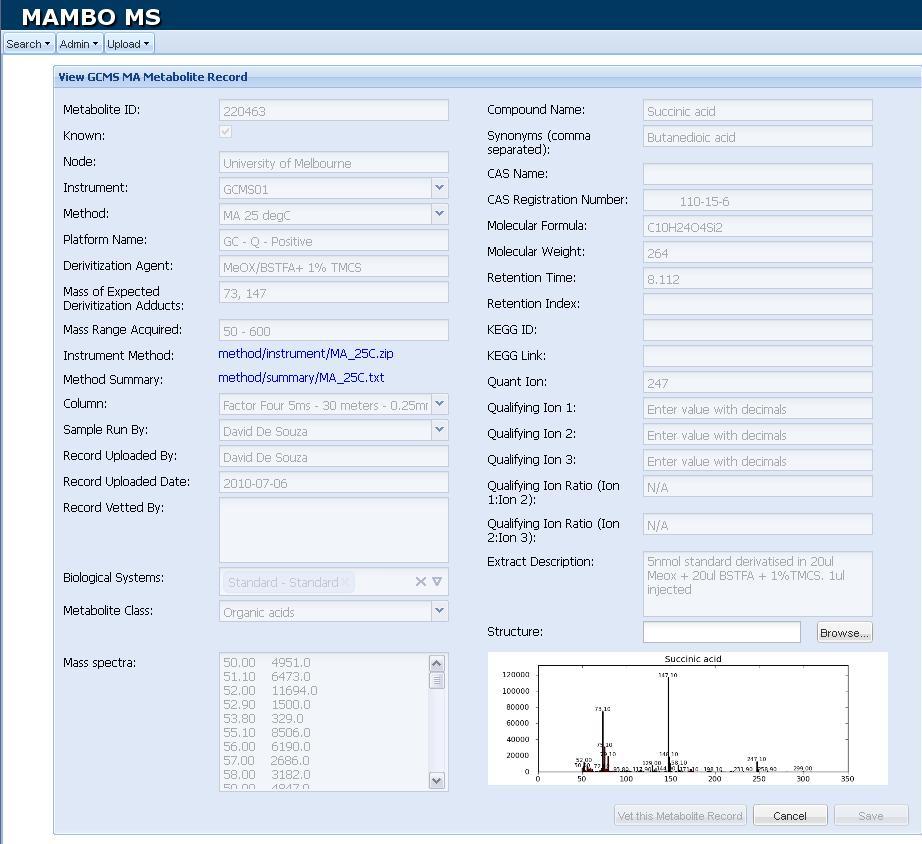 Figure 2.
Screenshot of a GC-MS Record Window.
Figure 3.
Screenshot of search options in MAMBO-MS Window.
2.3 PyMS
PyMS is a set of libraries for processing of GC-MS data, written in the Python programming language. PyMS was developed to allow high throughput alignment and peak integration of GC-MS chromatograms generated from experiments involving hundreds of sample runs. Together with the python programming environment, PyMS provides a powerful framework for rapid development and testing of methods for processing of GC-MS data [1]. Python scripts using the PyMS framework can be quickly and easily written for large scale data processing, providing a useful batch processing tool. These scripts can in turn be easily incorporated into automated data processing pipeline tools, frontends, web servers, or any other systems capable of calling Python scripts.
Typically, a PyMS user will set up a PyMS processing pipeline in the following way:
For each file in the GC-MS analysis:

Read in raw data into a PyMS Intensity Matrix object
Filter the raw data to remove unwanted signal (noise)
Find all peaks, and filter the peak list to remove unrealistic peaks



Then, for each peak list

Align the peaks using Dynamic Programming of Peak objects
Write out a matrix of aligned peak areas for all data files

To calculate the area of each peak, PyMS uses a novel quantitation method. After alignment, aligned peaks are interrogated for ions which are both abundant and also common to each individual peak. A single 'common ion' is chosen for each aligned peak and area quantitation is based on this ion. Thus PyMS area quantitation is extremely robust and the influence of noise is greatly reduced.
A set of example scripts, covering most common GC-MS processing tasks has been created as the pyms-test project. In addition, the pyms-docs project provides a comprehensive user manual. When combined, pyms-test and pyms-docs provide a thorough introduction and reference to PyMS.
2.4 Availability
All of the above detailed software projects are developed as open source solutions under the GPL license. Their source codes are available from:
3 Future Directions
These three software projects form different sections of the GC-MS and LC-MS data production and processing work flow pipeline. Future efforts are directed at integrating these software packages into a seamless work flow system for the capture, analysis, and visualisation of metabolomics data generated by high throughput technologies.
[1] Seán O'Callaghan
et al.
, "PyMS: a Python toolkit for processing of gas chromatography--mass spectrometry (GC-MS) data. Application and comparative study of selected tools",
BMC Bioinformatics
, 2012, In Press.
Please note:
If you know of any metabolomics research programs, software, databases, statistical methods, meetings, workshops, or training sessions that we should feature in future issues of this newsletter, please email Ian Forsythe at metabolomics.innovation@gmail.com.
| | |
| --- | --- |
| | 2) MetaboInterviews |
MetaboInterviews, a new section as of May 2012, features interviews with prominent researchers in the field of metabolomics. The aim of these interviews is to shed light on metabolomics researchers around the world and give them an opportunity to share their metabolomics story. In this issue, we feature an interview with Dr. Oliver Fiehn of the University of California, Davis.
Oliver Fiehn




Associate Professor, Molecular and Cellular Biology (College of Biological Sciences), UC Davis Genome Center (USA)


Member, Scientific Programs Committee, Metabolomics Society



Biography



Prof. Oliver Fiehn, PhD, has pioneered developments and applications in metabolomics since 1998 with over 130 publications to date. Dr. Fiehn is Full Professor at the UC Davis Genome Center, teaching biochemistry at the graduate and undergraduate level. He heads the Genome Center's Metabolomics Facility, directing his research laboratory and overseeing the service core laboratory with a total of 9 mass spectrometers and 15 staff members.

Dr. Fiehn's laboratory works at the interface of biology, informatics, and analytical chemistry. He is an outspoken advocate for metabolomic databases as a prerequisite for coherent and standardized reporting of metabolomic results. His laboratory develops mass spectral libraries as well as algorithms, databases, and public web-based tools. To date, almost 450 studies have been conducted covering more than 80 species detailed by over 35,000 samples. The laboratory hosts five metabolic platforms targeting: primary metabolism (<550 Da), lipidomics, volatiles, secondary metabolism, and metabolic polymers.

Dr. Fiehn is committed to serving the community by chairing efforts in establishing metabolomic standards within the Metabolomics Society for which he has served on the Board of Directors for over five years. Dr. Fiehn regularly reviews grant proposals for the NIH and serves as editor for the

Rapid Communication in Mass Spectrometry, Metabolomics and Plant Methods

.



Metabolomics Interview (MN, MetaboNews; OF, Oliver Fiehn)


MN: How did you get involved in metabolomics?



OF: I did my PhD in analytical toxicology of complex mixtures (wastewater), so when I started as postdoctoral scholar in 1998 at the Max-Planck Institute in Potsdam, Germany, it was an easy transition to use analytical technologies to understand another complex system: metabolic responses in multicellular organisms! On my first day of work, my boss told me he could not share many details about that area because he was setting up a company, which became Metanomics. Today, Metanomics is a large and highly successful company in Berlin, Germany, focusing on functional genomics. So the institute and my laboratory had a head start into this new area of research, with the benefit of generous governmental funding that all Max-Planck Institutes enjoy, and with industrial partners who were really interested in fostering this young and emerging scientific field.




MN: What are some of the most exciting aspects of your work in metabolomics?



OF: I really think that metabolomics challenges all of us to integrate informatics, analytical technologies and biological understanding. You cannot do metabolomics with only one of these three areas, so communication, and patience, is characteristic of all our laboratories. In addition, metabolomics is readily applicable to solve real-world questions and problems, so our aims are not just for the 'next paper', but really to go out there and do something for real!



MN: What key metabolomics initiatives are you pursuing at your research centre or institute? What is happening in your country in terms of metabolomics?


OF:
In the United States, the National Science Foundation has funded four laboratories this year to innovate metabolomic technologies and apply these as solutions for a "Low Carbon Society", in tight collaboration with complementing efforts by Japanese laboratories, funded by the Japanese Science and Technology agency. My lab at the UC Davis Genome Center is part of this effort, and we try to combine MassBank, KNApSAcK, LipidBlast and BinBase into a single coherent resource for metabolomic researchers. We also investigate a range of algae species with respect to metabolome plasticity and use for biofuel production.

In a separate effort, the NIH has launched a large initiative by its Common Fund, a multi-institute strategic investment to improve metabolome technologies, to start metabolomic training courses, to train the next generation of metabolomic scientists, to build a national metabolome data center and to implement regional comprehensive metabolomic service centers. Proposals for these grants have been reviewed by the NIH in May 2012, and applicants will receive their comment sheets in mid-June, for funding starting in the Fall of this year.



MN: How do you see your work in metabolomics being applied today or in the future?


OF: As academic researchers, we are happy to see how our tools and our results are being used by colleagues in industry, and we share and contribute where we can. For example, our "Seven Golden Rules" algorithm can be downloaded from our website to obtain correct elemental formulas as top-hits from accurate mass analyses. This tool is free to use for everyone, including mass spectrometry vendors, under the Creative Commons agreement. Several firms have implemented this algorithm, and we are talking to other vendors to encourage them to follow suit.

Other published work from our laboratory has shown how metabolomic data led to testable hypotheses in humans to understand the response to anti-depressant drugs, which was confirmed in over 1,000 patients on the genetic level. We hope that such work can be extended to a wide area of disease therapies, to form a pathway to personalized medicine.



MN: As you see it, what are metabolomics' greatest strengths?


OF:
We go from phenotype to the root cause of a metabolic disruption. This is much more straightforward than guesswork starting from the genome level!



MN: What do you see as the greatest barriers for metabolomics? What improvements, technological or otherwise, need to take place for metabolomics to really take off?


OF: The metabolome complexity is still greatly underestimated. Species are specific due to their metabolic differences. Metabolites are used in communication, signaling, defense, and cellular regulation. Just today, a report in

Science

detailed that salicylic acid directly regulates AMP-kinase, a key enzyme in cellular signaling. How many of those interactions are there to be explored? How can we systematically study such interactions, and then understand how regulation of cellular networks really work? How can we address human diseases if we do not even know what types of metabolites the gut microbes excrete into our blood stream, influencing enzymes and regulatory cascades in peripheral organs?



MN: How does the future look in terms of funding for metabolomics?


OF: The fast pace of genomic sequencing technologies cannot hide the fact that more sequenced species do not add to our understanding of metabolic pathways. GWAS studies have proven to be immensely expensive, not always with a high return on investment. In the U.S. and Europe, it is now understood that we need to look at phenotypic consequences of genomic differences, and the subtleties of metabolic imprints on the onset of diseases. There will be evermore research applications, and hence funding, for metabolomics in the years to come.



MN: What role can metabolomics standards play?


OF: It's a stick-and-carrot problem. Researchers are not forced to release their data and to adhere to community standards like the International Chemical Identifier keys (InChI). However, agencies and journals correctly and dryly note that there are no national or international data repositories to which researchers could be encouraged to upload their data. Without large data repositories, metabolomics will most likely remain in the realm of the 'usual suspects' of common lipids, amino acids and sugars. However, if we can team up efforts in different countries and build common grounds for large repositories, with accurate and detailed descriptions of our biological study designs, we will find ourselves digging into treasure troves!
MN: Do you have any other comments that you wish to share about metabolomics?
OF: It's the field to be involved in in the 21st century!
| | |
| --- | --- |
| | 3) Biomarker Beacon |
Feature article contributed by Ian Forsythe, Editor, MetaboNews, Dept of Computing Science, University of Alberta, Edmonton, Canada
Metabolomics is an emerging field that is complementary to other omics sciences and that is gaining increasing interest across all disciplines. Because of metabolomics' unique advantages, it is now being applied in functional genomics, integrative and systems biology, pharmacogenomics, and biomarker discovery for drug development and therapy monitoring. More than 95% of today's biomarkers are small molecules or metabolites (MW <1500 Da), which can be used for disease testing, drug testing, toxic exposure testing, and food consumption tracking. While standard clinical assays are limited in the number and type of compounds that can be detected, metabolomics measures many more compounds. Since a single compound is not always the best biomarker (diagnostic, prognostic or predictive), healthcare practitioners can use metabolomics
information about multiple compounds
to make better medical decisions. Global metabolic profiling is now being used to determine clinical biomarkers in assessing the pathophysiological health status of patients.
In the following two recent studies, metabolomics approaches were used to develop biomarker tools for the identification of biomarkers associated with systemic inflammatory disorders and

immunoglobulin A nephropathy

, respectively.
Schmerler D, Neugebauer S, Ludewig K, Bremer-Streck S, Brunkhorst FM, Kiehntopf M. Targeted Metabolomics for discrimination of systemic inflammatory disorders in critically ill patients. J Lipid Res. 2012 May 11. [Epub ahead of print] [PMID: 22581935]



The occurrence of systemic inflammatory response syndromes (SIRS) presents a major challenge to intensive care units with critically ill patients.

Using routine clinical methods, it is difficult to diagnose between non-infectious and infectious forms (i.e., sepsis) of SIRS.

In this paper, the research team used LC-MS/MS (liquid chromatography-tandem mass spectrometry) to identify plasma biomarkers that would allow them to differentiate between non-infectious SIRS patients and sepsis patients. This research group identified 186 metabolites from six analyte classes that permit differentiation of the above two patient groups. In sepsis patients, the researchers found significantly higher concentrations of C10:1 and PCaaC32:0. This research shows that glycerophosphatidylcholines and acylcarnitines, due to their significantly higher concentration in sepsis patients, may serve as useful biomarkers in the differential diagnosis of SIRS and sepsis.



Sui W, Li L, Che W, Guimai Z, Chen J, Li W, Dai Y. A proton nuclear magnetic resonance-based metabonomics study of metabolic profiling in immunoglobulin a nephropathy. Clinics (Sao Paulo). 2012;67(4):363-73. [

PMID: 22522762

]





Among primary glomerulonephritis patients, immunoglobulin A nephropathy is the leading cause of chronic renal failure. In this study, the researchers identified serum biomarkers of immunoglobulin A nephropathy patients not using immunosuppressants. The researchers used proton nuclear magnetic resonance spectroscopy to study three patient groups: 23 healthy controls, 23 low-risk patients with grade I-II immunoglobulin A nephropathy, and 12 high-risk patients with grade IV-V nephropathies. In low-risk and high-risk patients, compared to healthy controls, the research team found higher levels of phenylalanine, lactate, myo-inositol, L6 lipids (=CH-CH2-CH=O), L5 lipids (-CH2-C=O), and L3 lipids (-CH2-CH2-C=O) and decreased levels of alpha-glucose, beta-glucose, valine, tyrosine, phosphocholine, lysine, isoleucine, glycerolphosphocholine, glycine, glutamine, glutamate, alanine, acetate, 3-hydroxybutyrate, and 1-methylhistidine. These discoveries may lead to the development of an accurate, non-invasive diagnostic for immunoglobulin A nephropathy.



| | |
| --- | --- |
| | 4) Metabolomics Current Contents |
| | |
| --- | --- |
| | 5) MetaboNews |
31 May 2012




ChromaDex®, Scripps Reach Deal to Generate Tandem Mass Spec Data for Metabolite Database

Natural products firm ChromaDex® and the Scripps Center for Metabolomics have formed a partnership to generate tandem mass spectrometry data for compounds for inclusion in a metabolite database

Data from compounds from ChromaDex's products and phytochemical catalog will be included in the Scripps Metlin Metabolite Database, which contains metabolite information, such as tandem mass spectrometry information, for more than 55,000 potentially therapeutic compounds.

Metlin, however, has only limited data on natural products, and including such information would enable researchers to screen potential compounds for use in areas of clinical interest, such as cancer, heart disease, diabetes, and Alzheimer's disease, ChromaDex® said.

The collaboration announced today "will further advance small molecule profiling to increase demand for natural product libraries through the ease of the Internet to assist in finding candidate compounds for research and development," ChromaDex® Founder and Chief Scientific Officer Frank Jaksch said in a statement.

ChromaDex® is based in Irvine, Calif., and provides solutions and ingredients to the dietary supplement, food and beverage, cosmetic, and pharmaceutical industries.

Gary Siuzdak, senior director for the Center for Metabolomics and Mass Spectrometry Scripps Research Institute, added that the inclusion of ChromaDex® compounds "will expand Metlin's compound library and mass spectrometry data to nutraceuticals and many novel plant-related natural products. The importance in the ChromaDex®/Metlin partnership is that it will facilitate metabolomics experiments around the world."




24 May 2012




Metabolic Study Suggests Glycine Involved in Rapid Cancer Cell Growth

- Quickly proliferating cancer cells are prone to an uptick in use of the amino acid glycine, a new Science study suggests.

Researchers from the US and Sweden came up with a mass spectrometry-based method called "consumption and release," or CORE, to profile metabolite use in cancer cells from the National Cancer Institute's human cancer cell line panel NCI-60 over time. To round out their metabolic analysis, they also folded in existing data on the expression of more than 1,400 metabolic enzyme-coding genes in the 60 primary cancer cell lines.

Across the lines, which represent nine cancer types, the team saw a surge in glycine consumption in fast-growing cells. In addition, quickly dividing cancer cells had higher-than-usual expression of genes that code for components of a glycine production pathway that operates in the cell's mitochondria.

On the other hand, cancer cells that were either grown in low glycine media or treated with short hairpin RNAs that silenced the mitochondrial glycine synthesis enzyme SHMT2 curbed the growth of quickly dividing cancer cells.

"We have two independent methods — metabolite profiling as well as gene expression profiling — both of which point to glycine metabolism as being important for rate of proliferation," corresponding author Vamsi Mootha, a systems biology researcher affiliated with the Broad Institute, Harvard Medical School, and Massachusetts General Hospital, said in a statement.

Mootha and his team used liquid chromatography and tandem mass spectrometry to track the flow of 219 metabolites moving into and out of cancer cells from the NCI-60 panel over four to five days.

"Using CORE, we can quantitatively determine exactly how much of every metabolite is being consumed or released on a per-cell, per-hour basis," co-first author Mohit Jain, a postdoctoral researcher in Mootha's lab, explained in a statement. "We can now start to derive flux or transport of nutrients into or out of the cell."




14 May 2012




Genome Medicine Special Issue: Metabolomics of Disease

-

Rapid advances have been made in the prediction, detection, understanding and monitoring of human disease using metabolomic technologies.

Genome Medicine

presents a special issue devoted to metabolomics of disease, with specially commissioned comment and review articles, plus original research, to provide a state-of-the-art overview of this fast moving area and its clinical applications.

Several of the articles in this special issue are featured in the above

Metabolomics Current Contents section

.

Source:

Genome Medicine



Please note: If you know of any metabolomics news that we should feature in future issues of this newsletter, please email Ian Forsythe (metabolomics.innovation@gmail.com).
| | |
| --- | --- |
| | 6) Metabolomics Events |
18-21 June 2012

Metabonomics Shortcourse 2012 - Metabolic Phenotyping in Disease Diagnosis & Personalised Health Care
Venue: Imperial College London, South Kensington Campus, London, UK


This course features:


MS demo
Hands-on data analysis workshops
Panel discussions with experts from academia and industry
Lectures on topics including NMR spectroscopic tools

Mass spectrometry approaches
QC strategies and study design
Data analysis and interpretation




25-28 June 2012

METABOLOMICS 2012: Breakthroughs in plant, microbial and human biology, clinical and nutritional research, and biomarker discovery
Venue: Washington Marriott Wardman Park Hotel, Washington, DC, USA


The annual meeting of the Metabolomics Society brings together metabolomics researchers from around the world to discuss their most recent achievements as they work to harness the power of metabolomics. Gathering together in a hospitable venue is key to developing the collegial interactions that can build a successful community that advances together.

The 2012 meeting promises a program full of practical workshops and parallel sessions covering the broad range of biological and technological metabolomics topics as well as providing rich opportunities for networking. Join us as we gather together to share ideas, insights, advances and obstacles in the multi-faceted world of metabolomics.






10 July 2012

Merck Deep Dive: Translational Technologies for Basic and Clinical Scientists
Venue: Ocean Place Resort and Spa, Long Branch, New Jersey, USA


Join us for another in this quarterly unique series that brings together about 150 Merck subject experts and key vendors. Sponsors and Exhibitors can display products and services to a very focused set of the Merck community leaders. Select exhibitors are given an opportunity to privately present upcoming product development and get instant feedback from Merck on where they would like to see development go to meet their upcoming needs. Topic for this event: Translational Technologies for Basic and Clinical Scientists. Molecular BioMarkers (Proteomics/Genomics/Metabolomics) is a key part of this event.






28-31 Aug 2012

NuGOweek 2012 (9th Edition): "Nutrition, lifestyle and genes in the changing environment"
Venue: Helsinki, Finland


NuGOweek 2012: "Nutrition, lifestyle and genes in the changing environment", will be held from Tuesday afternoon 28 August till Friday 31 August in Helsinki, Finland. This will be the 9th edition of the NuGOweek.



Venue & Accommodation


The conference venue and hotel is the hotel and conference centre Hilton Helsinki Kalastajatorppa .



Scientific & Conference Committee


The members of the Scientific Committee are:
Matti Uusitupa (chair), Jussi Pihlajamäki, Marjukka Kolehmainen, Kaisa Poutanen, Kirsti Husgafvel-Pursiainen, Jim Kaput, Martin Kussmann, Ben van Ommen, Lars Ove Dragsted, Stine Marie Ulven, Antonio Zorzano, Lorraine Brennan

The members of the Conference Organising Committee are:
Marjukka Kolehmainen, Matti Uusitupa, Kaisa Poutanen, Hannu Mykkänen, Jussi Pihlajamäki, Kati Hanhineva, Vanessa de Mello Laaksonen, Fré Pepping, Ingeborg van Leeuwen-Bol.

Further details about the programme will be made available end of February 2012.



Course on Metabolomics


Also this year we will organise a PhD course prior the NuGOweek. From 20-25 August 2012 the Course on Metabolomics 2012 will be held in Kuopio, Finland.

For further information please contact Ingeborg van Leeuwen-Bol or visit http://www.nugo.org/nugoweek/42113/5/0/30.




18-20 Sep 2012

Metabolomics in Drug Discovery & Development
Venue: Boston, USA


Metabolome "OMICs" set to revolutionize drug discovery and development.



Metabolomics provide the ultimate answer to how genetic alterations, disease and environmental influences impact in vivo biology and drug action. That is why, increasingly, drug developers are embracing the benefits of using metabolomics to enhance all aspects of development, from lead discovery right through to post approval surveillance.

Uncovering new drug targets. Identifying safety & efficacy biomarkers. Using pharmaco-metabolomic data in clinical trial design.

Make sure you stay abreast of the last progress and start applying metabolomics to your pipeline.

Metabolomics in Drug Discovery & Development is the world's only commercially focussed metabolomics meeting. Bringing together the industry leaders to debate what challenges still remain and what stages of drug development can benefit most.

What will you gain from attending?


You will improve your knowledge of current metabolomic techniques in target identification & validation
Get a detailed understanding of how metabolomics can be used to reduce costs & time and improve safety of your clinical development
Hear in-depth studies on how pharmaceutical companies and leading innovators are applying metabolomics to understand biological variability
Receive an update on how the FDA are preparing for the use of metabolomics and biomarker data in drug submissions
Learn which technologies and services are helping to analyze complex metabolomic data sets and discover new biomarkers

Who is the meeting for?

This meeting should be attended by industry leaders from pharma, as well as leading biotechs and academia who wish to further their knowledge of metabolomic applications in drug development. Specifically those involved in:

Biomarkers
Molecular/companion diagnostics
Metabolite Profiling
Clinical Development
Regulatory affairs
R&D Strategy

Commercial/business development
Analytical chemistry
Preclinical toxicology
Target identification & validation
Bioinformatics


For further information, please visit http://metabolomics-drugdevelopment.com/




25-27 Sep 2012

Metabomeeting 2012
Venue: Manchester Conference Centre, Manchester, UK


The Metabolic Profiling Forum is pleased to announce that Metabomeeting 2012 will be held at the Manchester Conference Centre, Manchester, UK from September 25-27th 2012.

The conference centre is located within the University of Manchester campus, close to major transport links and one of the most cosmopolitan centres in the UK. The meeting is the seventh of the Metabomeeting conferences and continues the series of highly successful events held across Europe since 2005. The program will focus on the increasingly diverse range of applications as well as the latest developments to enhance the practise of metabolomics.

Confirmed speakers for the meeting include:


Professor Robert Hall, Plant Research International, The Netherlands, who will present the plenary lecture.
Professor Rainer Breitling, University of Glasgow, UK.
Professor Hannelore Daniel, Technical University of Munich, Germany.
Dr Jules Griffin, University of Cambridge, UK
Dr George Harrigan, Monsanto, USA
Dr Jerome Jansen, Raboud University, Nijmegen, The Netherlands.
Dr Nick Lockyer, University of Manchester, UK.
Professor George Nychas, Agricultural University of Athens, Greece.
Professor Ian Wilson, AstraZeneca, UK.
Dr Asaph Aharoni, Weizmann Institute of Science, Israel

Submission of abstracts for poster presentation has now opened. All abstracts for poster presentation must be submitted before

August 10th 2012

.

More details are available via http://thempf.org/mpf_cms/index.php/conferencesworkshops/forthcoming-mpf-events/78-metabomeeting-2012.




16-17 Oct 2012

Metabolic Profiling & Lipidomics
Venue: Madrid, Spain (Part of Systems Biology Europe)


Welcome to the Metabolic Profiling & Lipidomics track of the Systems Biology Europe conference and exhibition.

This conference aims to discuss the latest developments in the rapidly evolving area of metabolic profiling with particular emphasis on the break out field of Lipidomics. Recent HPLC-MS advances now allow for individual molecular species of lipids to be isolated and identified. This meeting will detail the cutting edge research taking place as a result of these developments with emphasis on understanding not only lipid metabolism but also ascertaining the role of lipids in conditions such as atherosclerosis, inflammatory disease, arthritis, cancer, diabetes and Alzheimer's disease, with a view to improving treatment. As a whole focus will be drawn to the key technological developments being made in both the separation and detection analytical fields used in profiling as well as the area's other key applications including toxicity assessment, functional genomics and nutrigenomics.

Other conference tracks at this event include Cancer Proteomics, Exosomes/Markers in Biological Fluids, and Informatics. Registered delegates will have access to all four meetings ensuring a very cost-effective trip.

In addition the event will also host two cutting edge business courses which can be viewed here.

For further information, please visit http://selectbiosciences.com/conferences/index.aspx?conf=MPL2012




7-9 Nov 2012

29th LC/MS Montreux Symposium
Venue: Montreux, Switzerland


Short Courses:

November 5-6, 2012


The Montreux LC/MS 2012 conference:

Special highlights on Metabolomics and Clinical Chemistry

The field of LC/MS is continuously growing as is reflected by the participation of over 30 nationalities and by scientific contributions from a variety of research and development domains such as pharmaceutical, biotechnological, food, environmental and research on novel instrumentation and new LC/MS fields such as nanotechnology and microfluidics, UPLC, low flow rate spray techniques, proteomics, and systems biology.

In collaboration with the Metabolomics Society, a special joint parallel program for this rapidly emerging field is organized addressing the technology as well as novel systems-based biology approaches in pharma, nutrition, clinical chemistry, plant sciences, and medical biology. A parallel program is organized together with various Clinical Chemistry societies focusing on current and future LC/MS options in clinical diagnosis. Accreditation by related societies for the program as well as the short course has been applied for.

For more information, visit http://www.lcms-montreux.com/.
Conference flyer (PDF): http://www.metabonews.ca/Mar2012/events/flyer_LC-MS _Montreux_conference_2012.pdf




Please note: If you know of any metabolomics lectures, meetings, workshops, or training sessions that we should feature in future issues of this newsletter, please email Ian Forsythe (metabolomics.innovation@gmail.com).
| | |
| --- | --- |
| | 7) Metabolomics Jobs |
This is a resource for advertising positions in metabolomics. If you have a job you would like posted in this newsletter, please email Ian Forsythe (metabolomics.innovation@gmail.com). Job postings will be carried for a maximum of 4 issues (8 weeks) unless the position is filled prior to that date.

Jobs Offered

| Job Title | Employer | Location | Date Posted | Source |
| --- | --- | --- | --- | --- |
| Postdoctoral Fellow in Mycobacterial Genetics and Systems | EMBL | Germany | 31-May-2012 | Naturejobs.com |
| A researcher in molecular plant science (m/f) | Centre de Recherche Public - Gabriel Lippmann | Luxembourg | 31-May-2012 | Naturejobs.com |
| Chemogenomics Scientist | Janssen (Johnson & Johnson Group) | Toledo, Spain | 31-May-2012 | Naturejobs.com |
| PhD position in Metabolomics unit | CIC bioGUNE | Spain | 31-May-2012 | Naturejobs.com |
| Metabolomics of fungal diseases: a systems biology approach for biomarkers discovery and therapy | Dipartimento di Medicina Sperimentale e Scienze Biochimiche | Italy | 30-May-2012 | Naturejobs.com |
| 2 Research Fellowship to support PhD students for the project MAN-VIP | Fondazione Edmun Mach - Research and Innovation Centre | San Michele all'Adige (TN), Italy | 30-May-2012 | Naturejobs.com |
| Scientist | International Agency for Research on Cancer (IARC) | Lyon, France | 25-May-2012 | Naturejobs.com |
| Postdoctoral Researcher Microbiology, School of Natural Sciences | NUI Galway Ireland | Galway, Ireland | 23-May-2012 | Naturejobs.com |
| Lead Laboratory Scientist - Bioanalytics | Complex Matrix Characterization & Metabolomics Group, Switzerland High Res Mass Spec / Orbitrap (Paramount Recruitment) | Neuchâtel, Switzerland | 21-May-2012 | Naturejobs.com |
| Lead Lab Scientist - LCMS / GCMS | Complex Matrix Characterization & Metabolomics Group (Paramount Recruitment) | Neuchâtel, Switzerland | 13-May-2012 | Naturejobs.com |
| Analytical Chemist – Mass Spectrometry - Lead Lab Technician – Bioanalytics | Philip Morris International Products S.A. | Neuchâtel, Switzerland | 8-May-2012 | Naturejobs.com |
| Analytical Chemist - Mass Spectrometry - Lead Lab Technician - Bioanalytics | Philip Morris International Products S.A. | Neuchâtel, Switzerland | 8-May-2012 | Naturejobs.com |
| Experimental Officer in Metabolomics | University of Birmingham | Birmingham, UK | 16-Apr-2012 | Metabolomics Society Jobs |
| Lectureship in Metabolomics / Metabolic Biochemistry | University of Birmingham | Birmingham, UK | 16-Apr-2012 | Metabolomics Society Jobs |
| Postdoc position in metabolomic NMR | University of Freiburg | Freiburg, Germany | 12-Apr-2012 | University of Freiburg |
Jobs Wanted
This section is intended for very highly qualified individuals (e.g., lab managers, professors, directors, executives with extensive experience) who are seeking employment in metabolomics. We encourage these individuals to submit their position requests to Ian Forsythe (metabolomics.innovation@gmail.com). Upon review, a limited number of job submissions will be selected for publication in the Jobs Wanted section.
Note: There are no postings at this time.
---
Free Subscription
---