.
New NMR-Based Methods for Assessing Confidence in Known Metabolite Identification
Feature article contributed by Jeremy Everett
, Medway Metabonomics Research Group, University of Greenwich, Chatham Maritime, Kent, UK
The identification of known metabolites is a bottleneck for metabonomics/metabolomics studies whether they are conducted using mass spectrometry or NMR spectroscopy-based detection technologies. Wishart nicely contrasted the four different bases in the human genome and the twenty amino acids in the human proteome with the thousands of metabolites in the human metabolome [1]. Because of the complexity of the metabolome, progress with automated methods of known metabolite identification has been limited.
This issue was recognised in the metabonomics community and, in 2007, the Metabolomics Standards Initiative (MSI) set up a Chemical Analysis Working Group (CAWG) which proposed a qualitative, four-level classification system for the structure confirmation of known metabolites [2].
Identified Compounds
Putatively Annotated Compounds
Putatively Characterised Compound Classes
Unknown Compounds
Level 1 identification strictly requires the determination of a minimum of two independent and orthogonal data on a metabolite, relative to an authentic reference standard analysed under identical conditions, e.g., HPLC retention time and accurate mass. Any metabolite identified solely by reference to literature values or to a database such as the HMDB [3] would be a Level 2, Putatively Annotated metabolite.
Since introduction, this system has been little used and recently a new call to the community for engagement on this issue was made [4] and some responses have already been published [5].
This Spotlight article will focus on a method for the determination of confidence in NMR-based, known metabolite identification. This method assesses the amount of NMR information available for a metabolite, relative to its molecular size. The method is known as metabolite identification carbon efficiency (MICE) [6]. It borrows an idea from ligand efficiency (LE), a relatively new concept in drug discovery. LE is the binding energy per heavy atom in a lead molecule and is now used as the primary optimisation parameter in many drug discovery projects, in place of simple potency, in order to optimise drugs to be the most efficient binders [7].
The MICE methodology is simple: the amount of NMR-based information in a metabolite is added up and then divided by the number of carbon atoms; this is the MICE value for that metabolite. This experimental MICE value can be compared with the theoretical MICE that could be obtained for that metabolite under ideal conditions, or with a threshold value that separates confident from non-confident known metabolite identification [6].
For metabonomics experiments conducted up to the level of HSQC experiments, i.e., including 1D
1
H, COSY and HSQC NMR data, the metabolite identification information counted is as follows: one bit for each piece of information
Chemical shifts for each non-equivalent methyl, methylene, methyne, and non-exchanging amide NH proton
1H signal multiplicities
Coupling constants (2JHH and 3JHH and only counted once)
Presence of second order spin system (only if there are additional lines present in the spectrum, not anticipated by a first order spectral analysis)
COSY links via 2JHH and 3JHH between hydrogens (only counted once)
Chemical shifts for each protonated carbon atom (counted twice if measured separately at both hydrogens of a non-equivalent methylene group) via HSQC
Information is only counted if it matches either with data run under the same conditions for the authentic reference standard, or against appropriate data in the literature, or in a database such as the HMDB [3]. The fit of the experimental data to reference data should be precise, generally within ± 0.03 ppm for 1D
1
H shifts, ± 0.5 ppm for
13
C NMR shifts and ± 0.2 Hz for homonuclear proton couplings [6]. MICE values of > 1.0 generally correspond to confidently identified metabolites [6]. An example will help.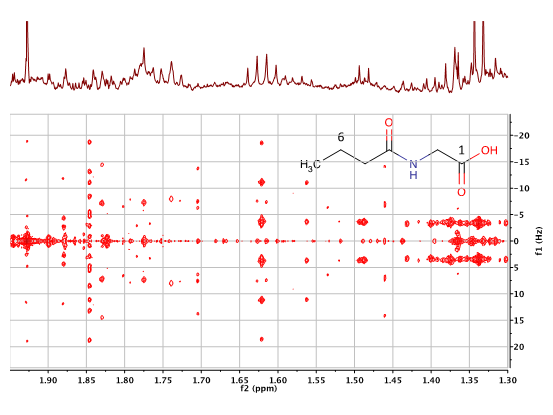 In the 600 MHz 2D
1
H J-resolved NMR spectrum (shown above) of the urine from a week 30 FMO5 knockout mouse [8], the pseudo-sextet (quartet of triplets with almost identical couplings, 7.4 and 7.5 Hz) signal of the CH
2
-6 protons of
N
-butyrylglycine (HMDB00808) is observed at 1.62 ppm. This signal had a COSY to 2.28 (CH
2
-5) and another to 0.93 (CH
3
-7), in addition to an HSQC to the CH
2
-6 carbon at 21.6 ppm. For this one signal, a total of seven bits of information have been observed:
1
H shift,
13
C shift, two
3
J couplings, a signal multiplicity, and two COSY connectivities. The corresponding reference data values in Kubica
et al.
[9] at pH 7.0 are: 2.28 (H5); 1.62 (sextet, 7.3 Hz), 21.6 (CH
2
-6) and 0.92 (CH
3
-7): an almost exact match. For the metabolite as a whole, a total of twelve bits of matching NMR-based metabolite identification information were experimentally observed. Since there are six carbons in the metabolite, the experimental MICE value for this metabolite is 12/6 = 2.0. For comparison, the theoretical HSQC-level MICE is 20/6 = 3.3. The twenty theoretical bits correspond to five
1
H shifts, five
1
H multiplicities, three
3
J
HH
values, three COSY connectivities and four
13
C shifts. On the basis of the experimental MICE value of 2.0,
N
-butyrylglycine is considered confidently identified.
The MICE method works well at an HSQC level when the following guidelines are met [6]:
Experimental MICE > 1
Precise fit of the experimental data to reference data
NMR spectral data provides 'coverage' of all parts of the molecule
Spectral sensitivity and resolution sufficient to measure signal features with confidence
Care taken in assigning signals in crowded spectral regions
HSQC data is important in metabolite identification, as it provides an excellent orthogonal data source via the 13C NMR chemical shift
HMBC data used when necessary to corroborate uncertain or important metabolite identifications
The theoretical and experimental HSQC level MICE results from a recent study [6] on a set of seventy-five diverse metabolites identified in mouse and human urine is shown below: seventeen metabolites had an actual MICE value in the range 0 to 1, of which thirteen were actually below the threshold value of 1.0. These metabolites would require additional information from NMR experiments such as HMBC, or complementary data from mass spectrometry in order to be confident of their identification.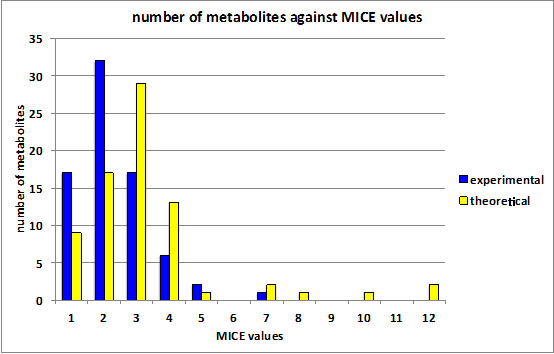 MICE works well, even when comparisons are made to literature or database NMR data rather than a direct experimental comparison with the authentic reference standard. This is because, in general, NMR spectroscopy is a stable and precise analytical technology that is sensitive to small changes in molecular structure. It is not subject to effects such as column history-related retention time changes, or to mixture-related ion suppression or enhancement effects, that may occur in technologies such as UPLC-MS. However, distinguishing very similar metabolites such as caproylglycine (
HMDB00701
) from capryloylglycine (
HMDB00832
) for instance, will be challenging by NMR alone and will require the orthogonal capabilities of mass spectrometry to provide confident identification. In general, NMR spectroscopy and mass spectrometry are tools that are complementary and most valuable when used in concert.
MICE is a new way to help measure confidence in NMR-based, known metabolite identification. It is simple, practical, and quantitative, and does not require experimental comparison of data to that of authentic reference standards in the laboratory; comparison with literature or database values works fine. For metabonomics/metabolomics to move forward as a science, improved methods of assessing confidence in metabolite identification are essential. MICE is one such method that can help in this task.
Acknowledgements
Thanks are due to Professors Jeremy Nicholson, John Lindon, and Elaine Holmes of Imperial College for long-term collaborations and access to NMR facilities. Thanks are also due to Professor Elizabeth Shephard, Dr Flora Scott, Dr Dorsa Varshavi, and Dr Kirill Veselkov for their collaboration on the FMO5 KO project. Finally, thanks to Ms Beatriz Sanchon Lopez for recent developments of the MICE concept.
References
Wishart DS. Advances in metabolite identification. Bioanalysis, 3(15), 1769-1782 (2011).
Sumner LW, Amberg A, Barrett D et al. Proposed minimum reporting standards for chemical analysis. Metabolomics, 3(3), 211-221 (2007).
Wishart DS, Jewison T, Guo AC et al. HMDB 3.0-The Human Metabolome Database in 2013. Nucleic Acids Research, 41(D1), D801-D807 (2013).
Creek DJ, Dunn WB, Fiehn O et al. Metabolite identification: are you sure? And how do your peers gauge your confidence? Metabolomics, 10(3), 350-353 (2014).
Daly R, Rogers S, Wandy J, Jankevics A, Burgess KEV, Breitling R. MetAssign: probabilistic annotation of metabolites from LC-MS data using a Bayesian clustering approach. Bioinformatics, 30(19), 2764-2771 (2014).
Everett JR. A new paradigm for known metabolite identification in metabonomics/metabolomics: metabolite identification efficiency. Computational and structural biotechnology journal, 13, 131-144 (2015).
Hopkins AL, Groom CR, Alex A. Ligand efficiency: a useful metric for lead selection. Drug Discovery Today, 9(10), 430-431 (2004).
Malagon SGG, Melidoni AN, Hernandez D et al. The phenotype of a knockout mouse identifies flavin-containing monooxygenase 5 (FMO5) as a regulator of metabolic ageing. Biochemical Pharmacology, 96(3), 267-277 (2015).
Gryff-Keller A, Kraska-Dziadecka A, Kubica D. Detection of acylglycines in urine by H-1 and C-13 NMR for the diagnosis of inborn metabolic diseases. Acta Biochimica Polonica, 59(4), 613-617 (2012).
Please note:
If you know of any metabolomics research programs, software, databases, statistical methods, meetings, workshops, or training sessions that we should feature in future issues of this newsletter, please email Ian Forsythe at metabolomics.innovation@gmail.com.
SS: Within the US, the funding for metabolomics has been very strong through the NIH and to some extent from agencies such as NIST. NIH continues to release new solicitations for which metabolomics plays a key role, such as in nutrition, nursing, cancer, physical activity, rare disease diagnosis, and many more. The future for metabolomics in supporting research for the Environmental Protection Agency, the Center for Disease Control, and NIOSH is likely to grow in the near future.