a Software Spotlight article on IROA™, an accurate quantitative biochemical profiling tool
), and is intended to keep metabolomics researchers and other professionals informed about new technologies, software, databases, events, job postings, conferences, training opportunities, interviews, publications, awards, and other newsworthy items concerning metabolomics. We hope to provide enough useful content to keep you interested and informed and appreciate your feedback on how we can make this newsletter better (
).

IROA™: An Accurate Quantitative Biochemical Profiling Tool

Feature article contributed by Felice de Jong, CEO, NextGen Metabolomics, Inc., Ann Arbor, Michigan, USA

IROA™ (Isotopic Ratio Outlier Analysis) is a semi-automated metabolic profiling tool developed by NextGen Metabolomics, Inc. (
www.nextgenmetabolomics.com
) to assist the researcher in the identification and quantitation of biochemical metabolites. Current mass spectral techniques used in metabolomics make it difficult to identify and characterize the peaks, and differentiate valid biological peaks from artifacts. Often the researcher cannot easily obtain enough information to accurately identify and name compounds, and less abundant spectral signals get buried in the noise and discarded. The IROA protocol and software side-step many of these problems making it easy to remove confounding artifacts and noise from the dataset and readily calculate the number of carbons for each identified metabolite in order to verify the identity of each molecule. Metabolite identification and quantitation is based on creating a full complement of internal standards for the metabolome under study, providing triply redundant information and maximizing quality control in the process. Users can perform metabolomic analyses with either
in vitro
generated experimental samples or with samples collected from bodily fluids or tissues.
The basic principle of IROA
IROA is an unbiased biochemical profiling protocol that relies on differential labeling of the carbon-backbone of two groups of samples. This is achieved by growing cells in media made specifically for the IROA protocol in which all carbon sources have been appropriately labeled so they are chemically identical, but isotopically different. Briefly, a homogenous cell population is divided into two groups, "control" and "experimental", and each group is labeled with a distinct specific isotopic ratio, namely 95%
13
C: 5%
12
C and 5%
13
C: 95%
12
C, respectively (
Figure 1
). After sufficient growth, at least five cell divisions, the original carbon content of each of these cell populations is fully diluted and replaced with the isotopic balance of the media. In an experiment, the experimental population is treated with a stressor, and the control population is treated with vehicle. After the experiment is complete, a single experimental sample and a control sample are combined, prepped as a composite sample, and analyzed using LC-MS. Software algorithms written for the IROA protocol are employed to identify all the different isotopic patterns, sort the biological signals, remove artifacts, normalize, and quantitate the relative ratios of experimental to control analytes in each sample. The software reduces the complexity of the entire mass spectrum into a list of biochemicals identified in the sample and reports how each metabolite deviates from its common internal control.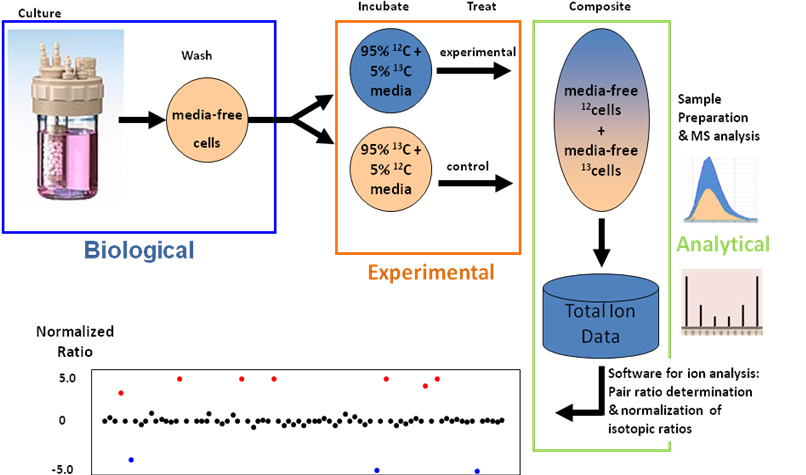 Figure 1. IROA Method for determining the biological response to drugs, toxins, or other stressors.
IROA isotope ratios of
12
C/
13
C 95%/5% and 5%/95% allow for control and experimental samples to be run simultaneously, eliminating sample-to-sample variability.

Highlights of the IROA protocol
The isotopic signature created in all biological molecules during the IROA labeling process imparts additional analytical advantages compared with standard isotopic labeling. One of the biggest advantages is that when using the IROA protocol, since both groups of biological molecules (control and experimental) are labeled with distinct biochemical signatures, the origin of every peak in the composite sample can be readily determined and artifacts and noise can be easily distinguished as they contain only natural abundance carbon.
IROA metabolites derived from control and experimental samples have enhanced M-1 and M+1 peaks, respectively, which can be used to calculate the number of carbons in each analyte (
Figure 2
). The M-1 and M+1 peak heights relative to the base peak of each molecule can be effectively calculated by the binomial expansion of the expression: (12C% +13C%)
N
where N equals the number of carbons, and
12
C% and
13
C% equals the relative isotopic abundances. This is not sufficiently accurate when all atoms are present at their natural abundance, but at 5% and 95%, the M+1 and M-1 peaks are diagnostic and indicate where the paired mate will be located. The number of carbons in a biological molecule can be determined by the distance between the two base peaks,
12
C and
13
C, and the relative height of the M+1 and M-1 provide confirmation of the fact, providing triply redundant information. The number of carbons in a molecule together with the accurate mass of the C12 and C13 monoisotopic peaks constrain the number of potential formulae so that the identification of the peaks for almost all metabolites is accurately made to the unique formula.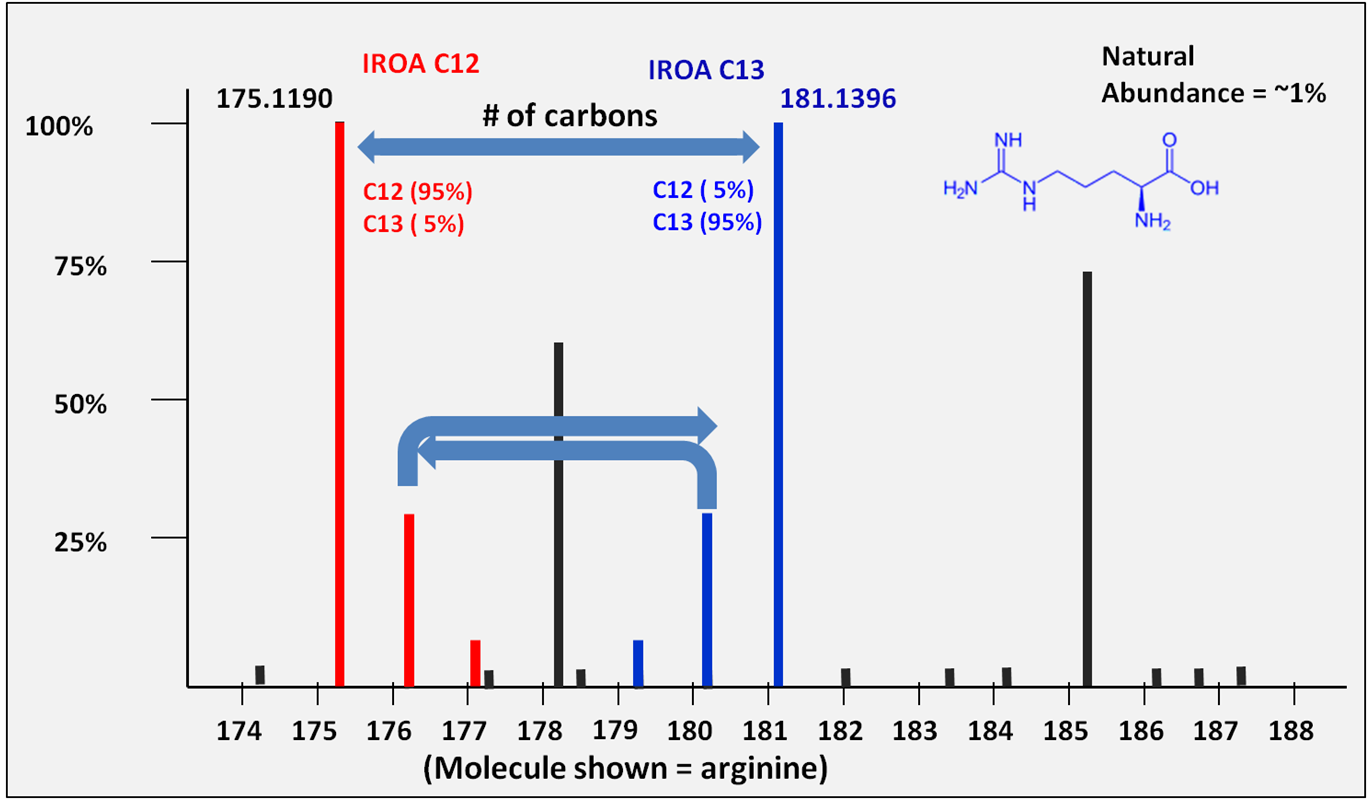 Figure 2. The IROA Peaks.
In the case of arginine, the
12
C M
+
located at 175.1190 and its
13
C mate at 181.1396 clearly indicate a 6 carbon molecule. The corresponding M
+1
and M
-1
peaks are a mass difference of 1.00335 amu (the mass difference between a
13
C and
12
C isotope). Natural abundance peaks from exogenous sources do not have a
13
C counterpart and are not considered in the analysis.
Similar to other protocols including SILAC, the IROA control sample is embedded into the IROA experimental sample prior to sample preparation and analysis, thereby removing sample-to-sample variance and also reducing the total number of samples to be analyzed. Perhaps the most important of the sample-to-sample variances controlled for by IROA, is ion suppression. This happens because the control and experimental, analyzed as a single sample, assure that the control and experimental quantification for every compound is measured simultaneously.
The IROA Phenotyping approach for bodily fluids and tissues
Where it is not possible to isotopically label experimental samples, the IROA Phenotyping protocol can be applied (
Figure 3
). Natural carbon abundance experimental samples are mixed with a fully predefined IROA "Standard" that has been isotopically labeled at 95%
13
C. Although they do not carry any isotopic label, the exact mass and position of compounds in the experimental samples are established relative to the fully-defined Standard. Artifacts and noise can be identified as they have no match. Whereas in a basic IROA dataset the ratio of the peak areas represents the relative deviation of the metabolic pool sizes brought about by the experimental condition, in a Phenotyping experiment the overall pattern of deviations from the standard will define phenotype by difference from the Standard. A Phenotyping experiment is considered a complex targeted analysis relative to the unbiased analysis of the full basic IROA experiment. An ideal Standard is one that represents the entire metabolome of the fluid or tissue under study and could be generated by the use of IROA grown cell lines (the IROA Standard) to achieve accurate quantitation.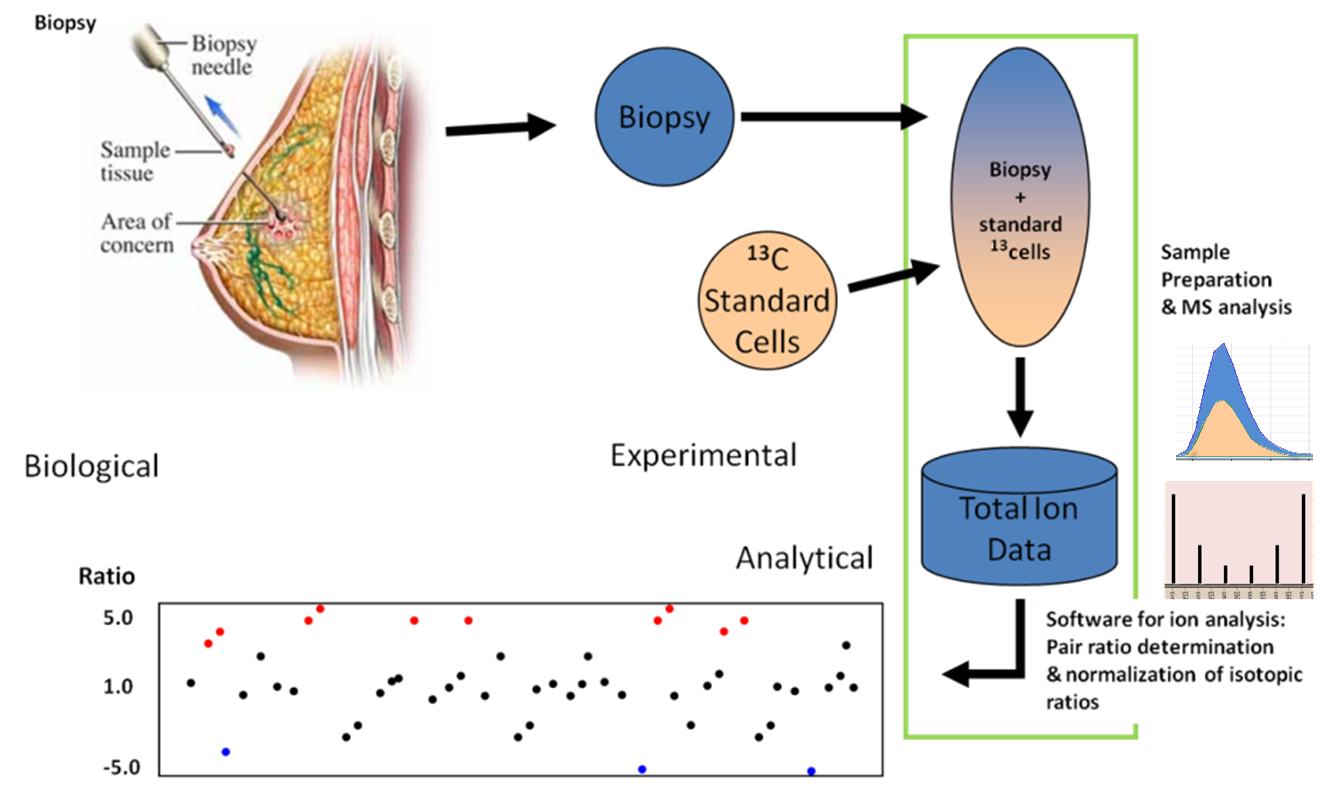 Figure 3. The IROA Phenotyping Application.
The material to be phenotyped is mixed with
13
C (IROA) cells and/or standard compounds which allow one to find and pair all peaks. The deviation from the standard is diagnostic of the sample's biochemical phenotype.

IROA data processing and output
The IROA peaks are all mathematically calculable and each group (
12
C and
13
C) of carbon isotopomers will reliably and accurately account for the other group providing a redundant quality control checkpoint. The IROA software algorithms written in Java (ClusterFinder™) achieve a data reduction of complex raw data to concise, high value information, in the following steps:
Characterization of all peaks according to source; artifact, experimental (12C), control (13C), or Standard
Removal of all artifacts
Alignment and pairing of all remaining peaks across all scans
Normalization and identification of all pairs
Review/curation of the entire data set
Determination of the relative 12C/13C ratios of analytes in each sample
Determination of the statistical variance of the sample ratios

Experimental compounds that have a ratio that is a significant deviation (greater than two standard deviations) from the average ratio of the control group have been affected by the experimental stressor.
Figure 4
shows representative IROA peaks for the compound glutathione from the application of IROA in a biological system,
Saccharomyces Cerevisiae
S288C, grown in an aerobic culture during a 72-hour time course.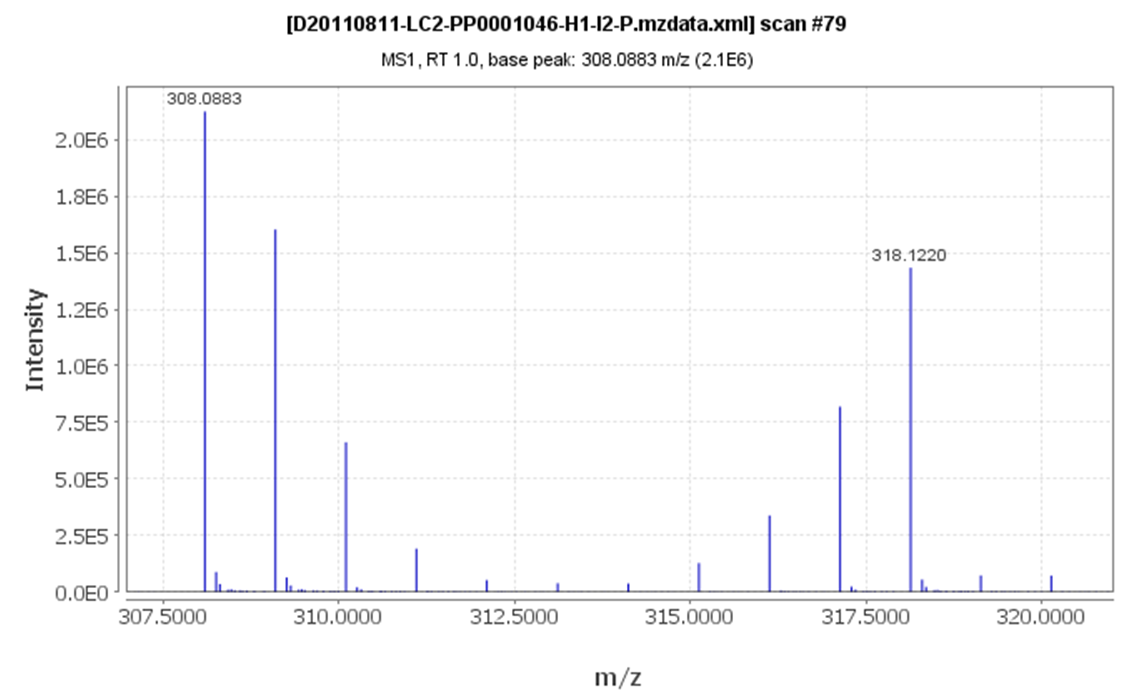 Figure 4. A Characteristic IROA Compound.
Glutathione exhibits characteristic IROA peaks; namely enhanced M+1, M+2, etc. that are paired with enhanced M-1, M-2, etc. peaks. At the 48 hour time point shown here, glutathione levels have increased relative to the 24 hour control.
Availability and future directions
NextGen Metabolomics, Inc. is working with collaborators interested in testing the IROA technology to address a biochemical profiling/metabolomics problem and welcomes inquiries. ClusterFinder and IROA media are expected to be available for researchers in 2013.
Please note:
If you know of any metabolomics research programs, software, databases, statistical methods, meetings, workshops, or training sessions that we should feature in future issues of this newsletter, please email Ian Forsythe at metabolomics.innovation@gmail.com.
MetaboInterviews, a new section as of May 2012, features interviews with prominent researchers in the field of metabolomics. The aim of these interviews is to shed light on metabolomics researchers around the world and give them an opportunity to share their metabolomics story. In this issue, we feature an interview with Dr. Robert Hall, Cluster Leader Metabolic Regulation
RH: While the hard core analytical chemists among us might see this as a weakness, I consider the non-targeted nature of high-throughput analyses as a very powerful tool for hypothesis generation. Metabolomics can provide a hugely valuable step towards defining logical research approaches to tackle problems where we initially may only have limited knowledge. I am convinced that the successful identification of multiple biomarkers in both the plant and medical sciences will have great influence on how we approach aspects of disease diagnostics, food quality, personalised medicine, etc.
RH: While we still have some way to go I believe that metabolomics has already proved its value and that the approaches have become firmly established
RH: An essential one. It is of major importance that the community continues to work together to established accepted standards, best practices, minimal reporting standards, etc. The Metabolomics Society has been involved in this and has facilitated some white papers