of Monash University.
MxP® Heart Score—a metabolomics-based biomarker for the early detection of heart failure with reduced ejection fraction (HFrEF)


"The new heart failure biomarker we jointly validated with Metanomics GmbH/Metanomics Health GmbH has the potential to improve the management of this devastating disease significantly. It is showing superior performance as compared to a reference biomarker currently used to evaluate patients already showing symptoms. Of note, the newly identified biomarker may also be useful in patients with early stages of the disease."

Prof. Dr. Hugo Katus, Head of the Cardiology Department of Ruprecht-Karls-University

Feature article contributed by Dr. Philipp Schatz, Head of Biomarker Program, Metanomics Health GmbH, Tegeler Weg 33, 10589 Berlin, Germany
In the Western world, an aging population, a sedentary lifestyle, and a rising number of cardiac disease comorbidities are leading to an increasing prevalence of congestive heart failure (CHF accounts for 5% of all hospital admissions) and present a heavy burden to health care systems. In particular, subjects over the age of 65 with additional risk factors, such as elevated arterial blood pressure, coronary artery disease, and/or type 2 diabetes have a high risk of developing CHF (prevalence up to 20%)
1,2,3
. Since CHF develops long before the onset of signs and symptoms, accurate early detection and, in the case of HFrEF, pharmacological and behavioral interventions are of the utmost importance. However, screening tools for left ventricular systolic dysfunction available to the primary care physician suffer from unacceptably high false-positive rates and lead to a high number of patients being recommended for costly follow-up procedures. Thus, HFrEF screening programs have not yet been established.
Researchers from the University Clinics of Heidelberg, Berlin, Kiel, and from Metanomics GmbH/ Metanomics Health GmbH, Berlin have identified and validated a new biomarker for the improved management of this common, costly, disabling, and potentially deadly condition by enrolling and analyzing more than 800 CHF patients in different disease stages together with 300 healthy controls (
Figure 1
). A metabolite-based biomarker on top of NT-proBNP for the detection of HFrEF was identified and validated. The new biomarker is capable of detecting left ventricular systolic dysfunction with high precision, particularly in the early disease stages. This new diagnostic biomarker shows a performance superior to the reference marker NT-proBNP alone (at a comparable negative predictive value, the positive predictive value for the new marker almost doubles,
Table 1
) and has in the meantime been developed into an LC-MS/MS CLIA-ready assay.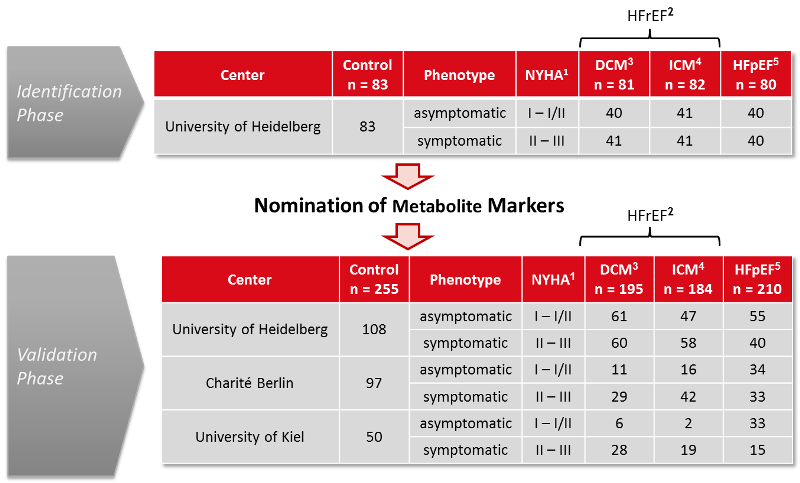 Figure 1. Study Design – flow chart

1
NYHA: Classification according to the New York Heart Association,
2
HFrEF: Heart failure with reduced ejection fraction,
3
DCM: Dilated cardiomyopathy,
4
ICM: Ischemic cardiomyopathy, and
5
HFpEF: Heart failure with preserved ejection fraction.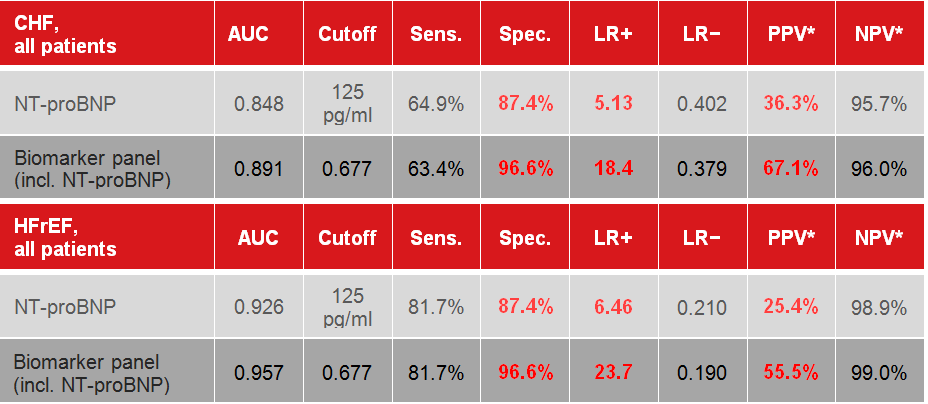 Table 1.
Clinical performance of the CLIA-ready metabolite-based early detection biomarker in patients with heart failure in general (CHF, all patients)
4
and in patients with systolic dysfunction (HFrEF, all patients)
5
). Abbreviations: AUC, area under the curve of the receiver operating characteristic (ROC); Sens., sensitivity; Spec., specificity; LR+, positive likelihood ratio; LR−, negative likelihood ratio; NPV, negative predictive value; PPV, positive predictive value. *Prevalence of heart failure in the Medicare-eligible population of the US was 9-12% between 1994 and 2003 and is assumed here for the purpose of estimating PPV and NPV with 10%, half of which are affected by HFrEF
1,2
.
The new HFrEF screening biomarker indicates alterations in numerous metabolic pathways, involving lipids and amino acids in CHF patients. The most consistent alterations across centres were observed for lipid classes including complex lipids such as sphingolipids. In addition to the significant clinical value of early HFrEF diagnosis, the combination of several metabolites with the commercially available NT-proBNP test has the potential to overcome the limitations of single feature markers in a complex disease such as HFrEF. The new diagnostic biomarker reflects multiple pathology-associated metabolic changes in addition to the results achieved by the commercially available NT-proBNP test, and is thus more robust in a diverse group of subjects, many of which suffer from comorbidities.
For routine CLIA-ready testing, a diagnostic assay has been developed in parallel. This prototype assay is based on an optimized LC-MS/MS technology for selected analytes. The new CLIA-ready assay was developed using samples from the original validation cohort, split into a training set and a test set comprised of 410 and 219 patients, respectively.
Figure 2
shows NT-proBNP concentrations and the biomarker prediction scores for the new metabolite-based marker for all HFrEF subjects and healthy controls in the combined training and test set. A cutoff value of 0.677 was chosen for the biomarker prediction score to match the sensitivity with that of the NT-proBNP test alone with respect to the detection of HFrEF in the training set. As shown in
Figure 2
, the new metabolite-based CLIA-ready assay resulted in fewer healthy controls (blue) being misclassified as diseased compared with NT-proBNP alone. This increase in specificity at comparable sensitivity results in a strongly increased diagnostic likelihood ratio and PPV, rendering the new metabolite-based biomarker suitable for heart failure screening programs.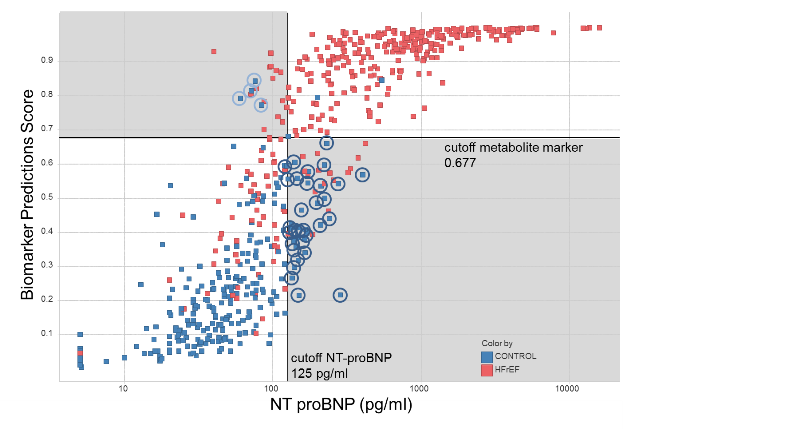 Figure 2.
Scatter plot of the prediction score of the new metabolite-based HFrEF marker + NT-proBNP vs. the plasma concentration of NT-proBNP alone in subjects with reduced systolic function (LVEF < 50%) and in healthy controls. Solid lines represent the cutoff values for NT-proBNP (125 pg/ml, vertical line) and the new metabolite-based biomarker (prediction score 0.677, horizontal line). Dark blue circled control subjects are misclassified by NT-proBNP and are correctly identified using the metabolic test. Light blue circled control subjects are false positives using the metabolic test and are correctly identified as healthy by NT proBNP.
The new CLIA-ready assay generates quantitative results. Positive and negative controls are prepared by lyophilization of different amounts of plasma to meet the positive and negative cutoffs for all metabolites. Samples for the daily quality control of the instrument performance are prepared by extracting commercially available plasma with extraction solvent. The improvement in diagnostic performance of the new CLIA-ready assay over NT-proBNP only is shown in
Table 1
. Details of the methods will soon be published in a peer-reviewed publication.
Data were derived from a large heart failure cohort study conducted between 2008 and 2013. The multicenter trial was co-funded by the German Network for Genome Research (NGFN). Currently a peer review publication is being prepared.
Further details of the MxP
®
Heart Score biomarker were presented at the European Society of Cardiology (ESC) Meeting in Amsterdam on September 4
th
, 2013.
Metanomics Health is currently seeking academic and diagnostic partners to further develop and market its HFrEF screening biomarker.
Metanomics Health, a BASF Group company, is the world-leading company offering targeted and non-targeted metabolomics to healthcare, nutrition, and bioprocessing partners in industry and academia. In parallel with the service business, Metanomics Health is funding and conducting a comprehensive clinical biomarker program, addressing a wide range of questions with high unmet medical needs.
Find out more about Metanomics Health GmbH at www.metanomics-health.com
References
Bertoni AG, Hundley WG, Massing MW, et al. (2004). Diabetes Care 27(3):699-703.
McMurray JJ, Pfeffer MA (2005). "Heart failure". Lancet 365(9474):1877-89.
Dickstein K, Cohen-Solal A, Filippatos G, et al. (2008). Eur J Heart Fail. 10(10):933-89.
CHF all patients, left ventricle wall thickness > 55 mm AND LVEF <50% OR >50% stenosis AND LVEF <50% OR Cardiac septum > 11 mm AND posterior wall thickness > 11, all patients.
Left Ventricular Ejection Fraction ≤ 50%.


Please note:
If you know of any metabolomics research programs, software, databases, statistical methods, meetings, workshops, or training sessions that we should feature in future issues of this newsletter, please email Ian Forsythe at metabolomics.innovation@gmail.com.
MetaboInterviews features interviews with prominent researchers in the field of metabolomics. The aim of these interviews is to shed light on metabolomics researchers around the world and give them an opportunity to share their metabolomics story. In this issue, we feature an interview with Darren Creek
.

Lecturer, Pharmacy and Pharmaceutical Sciences, Monash Institute of Pharmaceutical Sciences, Monash University, Melbourne, Australia





Biography



Dr Darren Creek is a lecturer in Pharmacy and Pharmaceutical Sciences at the Monash Institute of Pharmaceutical Sciences, Monash University, Melbourne, Australia. Darren completed his PhD in pharmaceutics at Monash University in 2007, which supported the discovery of novel antimalarial drugs, arterolane, and OZ439. He then conducted clinical malaria research in Uganda and returned to Australia to investigate drug metabolism at the Centre for Drug Candidate Optimisation. Darren moved to Glasgow University on a NHMRC fellowship, where he played a major role in the implementation of the Scottish Metabolomics Facility. Dr Creek continued his metabolomics research at the University of Melbourne and was recently recruited to Monash University to start a metabolomics research group investigating mechanisms of drug action. Darren has over 30 peer-reviewed publications in the fields of parasitology and metabolomics, and was elected as a director of the metabolomics society in 2013.


DC: One of the greatest strengths of metabolomics is that it allows both hypothesis-generation and hypothesis-testing. It is truly a discovery science, and can be integrated with many other scientific approaches to generate and test hypotheses. Furthermore, metabolomics allows a system-wide investigation of metabolism, providing a more accurate phenotypic analysis than the reductionist view that has previously underpinned biochemistry. The incredible amount of useful biochemical information that can be gleaned from a single, well-designed, metabolomics experiment continues to fascinate me. Whilst some would argue that it is expensive, I think that overall it is a very efficient way to conduct research.