.
Metabolomics 2016: Scientific highlights from the annual Metabolomics conference


Lorraine Brennan1, Aifric O'Sullivan1, Stacey Reinke2, Justin van der Hooft3, Reza M Salek4, and Darren J Creek5
1University College Dublin, Dublin, Ireland
2Murdoch University, Murdoch, Australia
3University of Glasgow, Glasgow, United Kingdom
4European Molecular Biology Laboratory, European Bioinformatics Institute (EMBL-EBI) Hinxton, Cambridge, UK
5Monash Institute of Pharmaceutical Sciences, Monash University, Parkville, Australia

The 12
th
annual international conference of the Metabolomics Society was held in Dublin Ireland from June 27
th
to July 30
th
2016, and lived up to its reputation as the highlight of the metabolomics calendar. With over 600 oral and poster presentations and almost 1000 attendees, this was the largest attendance at a metabolomics conference in Europe to date. The conference provided an opportunity for both experienced and novice metabolomics researchers to share the latest methodologies and findings across diverse applications. The full list of abstracts can be viewed at
www.metabolomics2016.org
and some of the most memorable moments are described here:
Plenary Lectures


Highlights of the 12
th
annual metabolomics conference were the inspiring Plenary Sessions.
Professor Jeremy Nicholson
(Imperial College, London) opened the conference with a superb overview of what metabolic profiling can achieve. Of particular note was the development of the National Phenome Centres, which now has the ability to analyse patient and population-based samples with the goal to improve patient stratification through the use of metabolic phenotyping. Prof Nicholson also gave elegant examples of where metabolic profiling is at the forefront in developing our understanding of host-gut microbiota interactions. Finally, he gave a futuristic vision of how we can start to visualise metabolic data in multiple-dimensions.
Professor Luke O'Neill
from Trinity College Dublin (Ireland) delivered a fascinating talk about the interplay between metabolism and immunity. He elegantly showed how activated M1 macrophages have a reduction in respiration and malfunction of the Krebs cycle, leading to accumulation of succinate and citrate which act as signals to alter immune function. Other aspects of this exciting talk were the potential role for metabolic inhibitors as novel therapeutic approaches for inflammatory diseases. This talk was an inspiring example of how the use of metabolomics has enabled a paradigm shift in thinking in relation to immunity and infection.
Professor Ines Thiele
(University of Luxembourg) presented a great overview of the computational modelling approaches that her group use to model human metabolism. She gave an exciting description of the "virtual metabolic human". The application of these models in combination with experimental data can allow one to examine how nutrition and genetics can impact on health.
Professor Tsutomu Masujima
(RIKEN, Japan) delivered the final Plenary Lecture on the topic of Direct Metabolomics for Plant Single Cells. In his lecture he gave an overview of metabolomic analysis on live single-cells. This exciting technological talk demonstrated new and exciting avenues for MS-metabolomics and was an excellent close to the scientific sessions.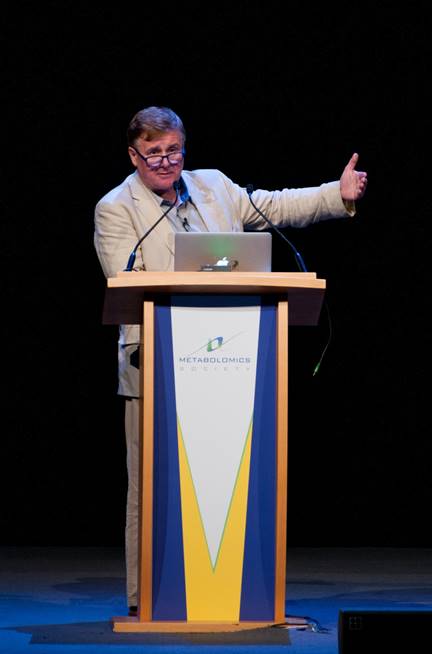 Figure 1.
Professor Jeremy Nicholson presenting the opening Plenary Lecture at Metabolomics 2016.
Early-career Members Network (EMN)


The EMN hosted a number of social, scientific and career-based events throughout the conference, including two highly anticipated workshops:
Career Development
and
The Importance of Experimental Design, Quality Assurance, and Quality Control in Metabolomics
.
Professor Jules Griffin
(University of Cambridge, UK) kicked off the morning session with an insightful recollection of his own academic career including tips to his younger self. During this time, he also shared motivating tips for those wishing to follow the same career path.
Sinead Cullen
(Life Science Recruitment, Ireland) followed with a valuable presentation on how to make oneself competitive in the science industry job market. In the
Experimental Design
workshop,
Professor David Broadhurst
(Edith Cowan University, Australia) used computer simulation to provide a fast-paced overview of the importance of estimating uncertainty in metabolomics experiments.
Dr Warwick Dunn
(University of Birmingham, UK) then followed with an essential discussion of the analytical and quality assurance measures that are necessary in metabolomics experiments. The third and final speaker,
Dr Julia Kuligowski
(Health Research Institute La Fe, Spain) explained quality control (QC) through data cleaning and how QC-based signal correction can be employed to improve data quality.
Two dedicated early-career oral sessions demonstrated the breadth of high-quality metabolomics research being performed by students and early-career post-doctoral scientists. Over 35 early-career travel award winners presented in the oral and poster sessions, including the prestigious Metabolomics Society prize-winners: Dr Andrew Palmer (European Molecular Biology Laboratory, Germany) described technical advances in MALDI imaging workflows to underpin applications in spatial metabolomics, and Helena Gibbons (University College Dublin, Ireland) demonstrated a metabolomics approach to predict dietary patterns.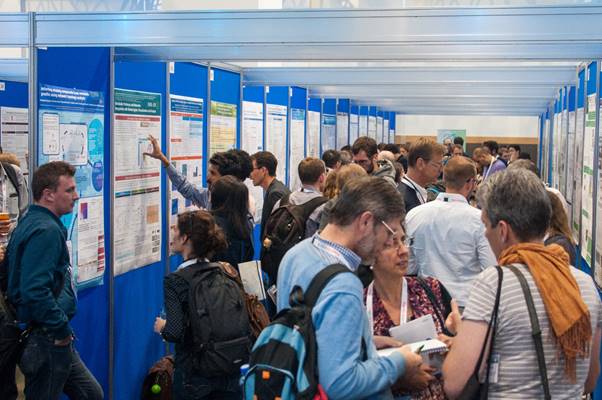 Figure 2.
The poster sessions at Metabolomics 2016 were a highlight for many attendees.
The major event hosted by the EMN in Dublin was the EMN Reception, with over 100 attendees. At this event, early-career members heard from
Professor Mark Viant
(University of Birmingham, UK), the former Metabolomics Society President who started the EMN. Professor Viant provided a history of the EMN as well as thoughts for the future of this network. The EMN Committee also unveiled the new online discussion forum (
http://www.metabolomics-forum.com/
). This forum, which is a combined continuation of earlier metabolomics-related forums, will provide a valuable platform for the entire metabolomics community to ask questions and facilitate knowledge transfer.
Nutrition and food metabolomics


Nutrition and food metabolomics was a prominent theme in the Metabolomics 2016 programme, reflecting the significant growth of metabolomics applications in food, nutrition, and health research and the expanding literature base. There were five dedicated sessions for nutrition and food including; "Crop quality and food sustainability", "Foodomics and food quality", "Biomarkers of nutrition research", "Nutrition and metabolism", and "Metabolomic analysis of challenge tests". Keynote speakers
Professor Antonio Granell
(Polytechnic University, Valencia, Spain) and
Professor Melissa Fitzgerald
(University of Queensland, Australia) led excellent sessions focused on metabolomics in crops, foods, and sustainability research. Both keynotes highlighted the strengths of metabolomics in the field with a particular emphasis on food quality from nutrition and sensory perspectives. Dr Fitzgerald connected sensory attributes of rice varieties with metabolites and further to genetic markers for those compounds. This metabolomic-driven pipeline offers opportunities for plant breeders to develop varieties that are more appealing to the consumer, resulting in higher market value. Other highlights from these sessions included
Dr Linda Oude Griep
(Imperial College London, UK) describing a metabolome-wide approach for identifying biomarkers of fruit intake across a large diverse cohort in the INTERMAP study. On the other extreme,
Dr Gabi Kastenmüller
(Helmholtz Zentrum München, Germany) and colleagues described the application of multiple metabolomics methodologies across a range of biofluids in response to several metabolic challenges in the relatively smaller sample of participants in the Humet Study. Both studies highlight the significant potential and the challenges in nutritional metabolomics research that demand infrastructures to store, integrate, and analyse complex multi-dimensional data.
Computational metabolomics and technical advancements


This year, as before, we saw great progress in the development of new computational tools, algorithms, and software for metabolomics data analysis and data handling. Several pre-conference workshops focused on computational tools including
Data Sharing and Standardisation
organised by
Dr Reza Salek
(EMBL-EBI) and data standards task group,
MetaRbolomics: The R toolbox for Metabolomics
, organised by
Dr Jan Stanstrup
(Steno Diabetes Center, Denmark) and
Dr Steffen Neumann
(Leibniz Institute of Plant Biochemistry, Germany), and
Computational Workflows and Workflow Engines
organised by
Dr Christoph Steinbeck
(EMBL-EBI, UK). Many innovative tools and algorithms were presented in the oral and poster sessions including batch correction strategies, power and multiblock analysis, metabolite identification and spectral library search engines. Likewise, new advances in instruments and methodologies were presented from both academics and industry, including a popular session focused on improving the identification of metabolites.
Summary


The central role of metabolomics for enhancing our understanding of biology, from the origins of metabolism, to cells, organisms, diseases, populations and ecosystems, was repeatedly emphasised throughout the conference. A unique session about 'Green Systems Biology' was a classic example that demonstrated the integration of metabolomics with other systems-based tools to facilitate improved outcomes for plants, animals, and the environment. The quality and quantity of metabolomics science on display at Metabolomics 2016 was, as expected, matched by the Dublin hospitality that nurtured the development of new friendships and collaborations to continue to develop the metabolomics community. As the field continues to progress at a rapid rate, planning is well-advanced for the 2017 annual Metabolomics conference to be held in Brisbane, Australia, from 26-29 June, 2017, with the theme of 'Building Bridges' (
www.metabolomics2017.org
).
Please note:
If you know of any metabolomics research programs, software, databases, statistical methods, meetings, workshops, or training sessions that we should feature in future issues of this newsletter, please email Ian Forsythe at metabolomics.innovation@gmail.com.

KB: There is increasing interest in metabolomics from different funding agencies. I think the future looks positive for metabolomics.