Metabolomic data is usually interpreted in the context of metabolic pathways. There are two types of approaches in pathway analysis – conventional and integrated approaches. The conventional approach is carried out in two major steps – researchers first obtain a list of metabolites of interest and then map them to known metabolic pathways. Important pathways are identified primarily through visual inspection of the pathway images. In contrast, the integrated approach directly uses the metabolite concentration data and produces more quantitative measures on which pathways are likely to be involved. In both approaches, a necessary preliminary step is to map the compound names from user data to names used in the underlying pathway databases. For the conventional approach, the focus is on displaying matched pathways intuitively to facilitate visual examination whereas the integrated approach focuses on using proper statistical algorithms to rank the matched pathways. Pathway visualization is not as essential as in the conventional approach.
In this issue, I will introduce two freely available pathway analysis tools for each category. The first one, MetScape (
http://www.ncibi.org/gateway/metscape.html
), uses the conventional approach for pathway analysis. The second tool, MetPA (
http://metpa.metabolomics.ca
), uses the integrated approach. Both tools support compound mapping and intuitive pathway visualization. The main differences are the allowed data inputs and outputs produced.
MetScape
MetScape was implemented in the form of a Cytoscape plugin. To use MetScape, users first need to install Cytoscape with the MetScape plugin on their local computer. The easiest way is to use the one-click Java Web Start technology (
http://portal.ncibi.org/cytoscape/cytoscape.jnlp
) from the MetScape 2 website (
http://metscape.ncibi.org/metscape2/
). When the application is installed successfully, start the Cytoscape application.
MetScape supports mammalian (human, rat, mouse) metabolic pathways mapping and visualization. It accepts either a list of compound names (
Figure 1A
) or an experimental result (
Figure 1B
). The program first tries to map the compound names to KEGG compound IDs (
Figure 2
). Only compounds with matches can be used to build metabolic pathways. MetScape can create four types of pathways: Compound-Reaction-Enzyme-Gene, Compound-Reaction, Compound-Gene, and Compound only.
Figure 3
shows the first type of pathways. When users upload experimental results, MetScape allows users to use different filters (i.e., p-values, fold change) to exclude or include compounds for building the networks. Once the network has been displayed, users can import (normalized) concentration data for display. For time series data, users can use MetScape to build an animation to show temporal changes. Detailed instructions can be found in the comprehensive user manual available (
http://metscape.ncibi.org/metscape2/Metscape2_User_Manual.pdf
) on the MetScape 2 Help & Support page (
http://metscape.ncibi.org/metscape2/help.html
).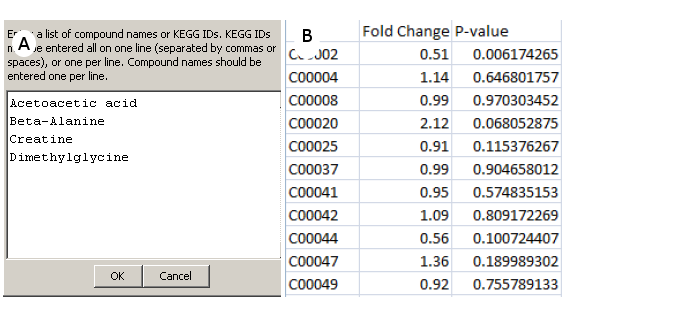 Figure 1.
Data Inputs for MetScape. Either a list of compound names (Panel A) or experimental results (Panel B) can be used.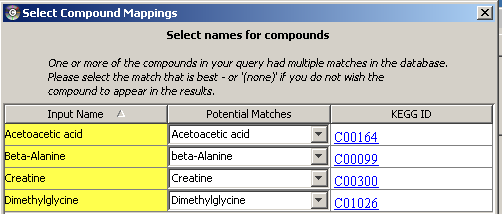 Figure 2.
Mapping compound names from user data to KEGG compound IDs.
Figure 3.
Building metabolic pathways from matched compounds. All matched pathways are displayed in the right panel. Users can zoom or navigate to different parts of the pathway using the mouse and the control panel on the lower left corner. Click on each node to display more details on the side panel.
MetPA
MetPA was implemented as a user-friendly web application. It currently supports metabolic pathway analysis for 15 different organisms based on the KEGG pathway database.
This web application accepts either a list of significant compounds (
Figure 1A
) or a compound concentration table (
Figure 4
). After uploading the data, the program will first map the compound names to underlying KEGG compound IDs. Users then need to specify which of the 15 available organism-specific pathway libraries to use. Next, users set parameters to perform statistical analysis to calculate which pathways are more likely to be involved in the experimental condition (
Figure 5
). MetPA combines functional enrichment analysis and pathway topology analysis for this purpose. Detailed explanations about these approaches and parameters are beyond this brief introduction. Users should visit the "Help" page (
http://metpa.metabolomics.ca/MetPA/faces/FAQs.jsp
) to obtain more information. The results are displayed both graphically (
Figure 6
) and in a table (
Figure 7
). Users should spend more time to explore the Google Maps style network visualization system to get more details on the compounds and pathways. Upon completion, a comprehensive PDF analysis report will be generated.

Figure 4.
Compound concentration data table supported by MetPA.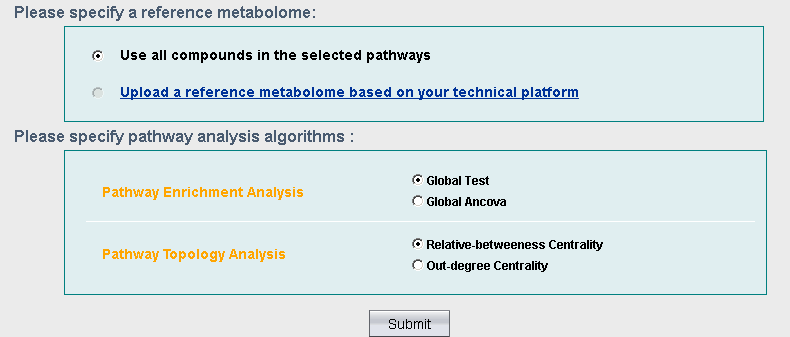 Figure 5.
Parameter selection for pathway analysis.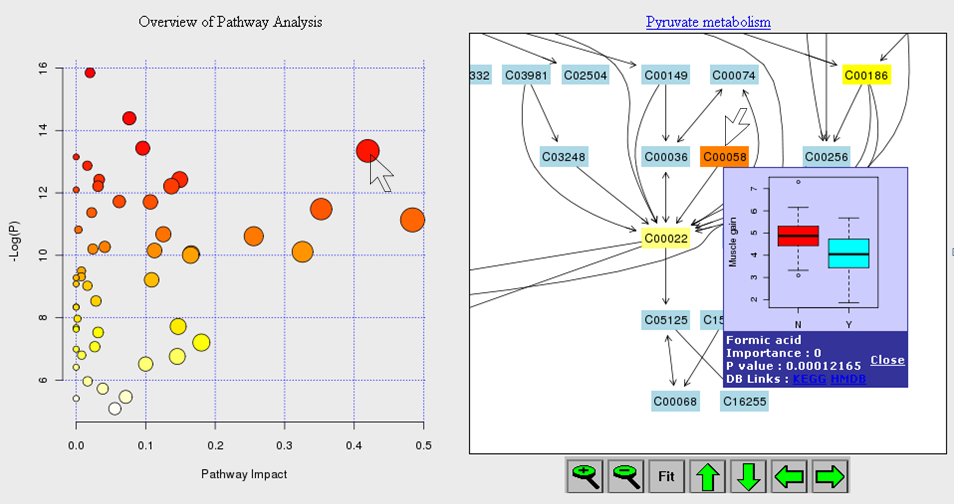 Figure 6.
Pathway analysis results and visualization. The left panel is the "metabolome view" which displays all the matched pathways as circles. Clicking on any circle will launch the "pathway view" on the right panel. Clicking on any matched compound node (highlighted with different colors) within the pathway will launch the "compound view" in the form of box plots showing the corresponding concentration ranges.

Figure 7.
Detailed results table from pathway analysis using MetPA.
Summary
Free software is available for both the conventional approach and the integrated approach to pathway analysis. While MetScape uses the conventional approach, MetPA supports an integrated approach to pathway analysis. Although the conventional approach is widely used and very flexible, the process is time-consuming and somewhat subjective (i.e., using different filtering thresholds may change the results). Using the integrated approach could potentially produce more accurate results since it relies on underlying metabolite concentration data and produces more quantitative measures.