Metabolomics is a relatively new omics technology. Both its analytical platforms and bioinformatics tools are being rapidly developed. In this commentary, the author briefly summarizes current concepts and progress in metabolomic data analysis. The content is based mainly on the lectures given by Dr. David Wishart during the Canadian Bioinformatics Workshop on Informatics and Statistics for Metabolomics (June 16-17, 2011, Edmonton, Canada).
Data normalization is necessary

There are two types of normalizations—biological normalization and statistical normalization. Biological normalization aims to reduce the biological variances unrelated to the conditions of interest, e.g., variance introduced during sample preparation (i.e., differences in sample volumes) or different dilution factors in urine samples. Researchers understand that it is necessary to address this difference before proceeding to the next level of data analysis. Statistical normalization aims to reduce the statistical variances that may obscure the discovery of small, but potentially significant signals. For instance, metabolite concentrations usually span several orders of magnitude (submicromolar to millimolar) and the effects from the highly abundant metabolites tend to dominate. However, as we know, a compound's biological significance is not proportional to its concentration. Therefore, it is important to perform appropriate data transformations to make metabolites more comparable to each other (i.e., to obtain a homogenous data set).


Data visualization is critical

Intuitive data visualization is critical for data exploration and quality assurance. As metabolomic data usually contains over hundreds of features, numerical summaries can often hide important messages which can be easily picked up through graphical presentation.
Fig.1
illustrates such a case. An outlier (indicated by a red arrow) is obvious to any examiner. Is it caused by some measurement error or typographical error? Addressing such an issue (i.e., through removal of the outlier) may significantly improve the results of the downstream data analysis.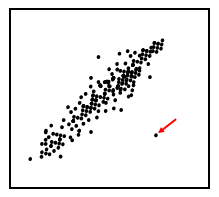 Figure 1.
Data visualization for outlier detection.

Combining univariate and multivariate methods to achieve better understanding
Identification of significant metabolites is usually the first step towards finding useful biomarkers or identifying associated biological processes. Univariate approaches are widely used in this regard. Many well-established approaches (e.g., t-tests, ANOVA) are available. The main advantages of univariate methods are easy to understand and support for very flexible experimental designs.
Multivariate statistics involves the simultaneous analysis of more than two statistical variables. Because metabolomic data usually contains hundreds of metabolite concentrations, multivariate data analysis is considered ideal for such data sets. The most widely used multivariate methods in metabolomics are probably principal component analysis (PCA) and partial least squares discriminant analysis (PLS-DA). Both of them are capable of projecting high-dimensional data into two or three dimensions that can be conveniently visualized for pattern discovery. PCA is an unsupervised method, suitable to see if natural clusters form or if data separates well.
Fig. 2
illustrates a PCA result which forms three natural clusters. PLS-DA is a supervised method that uses group information to help improve the class separation and is often used when PCA shows little separation.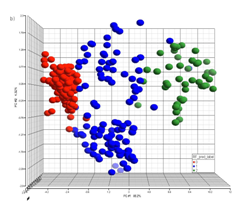 Figure 2.
PCA visualization of natural clustering pattern.

Is there an overall significant difference between the metabolomic profiles?

For univariate analysis such as t-tests, researchers can judge whether a given metabolite is significant based on its p-value. For multivariate approaches, calculating a p-value is difficult as we do not know the characteristics of the underlying distribution. However, we can calculate an empirical p-value using a non-parametric approach such as a permutation test. This approach involves randomly reassigning the class labels and performing the analysis on the newly labeled data set. The process is repeated hundreds or thousands of times and the performance measures are plotted on a histogram for visual assessment. From the resulting histogram it is possible to determine if the of the original class assignment is significantly different from or a part of the distribution based on the permuted class assignments. The empirical p-value is calculated as the proportion of times that the permuted data yielded a better result than the one using the original labels. For example, if none of the permuted classes is better than the observed one in 2000 permutations, the p-value is reported as p<0.0005 (less than 1/2000). With more permutations, the empirical p-value will be very close to the real p-value. The process is illustrated in
Fig. 3
.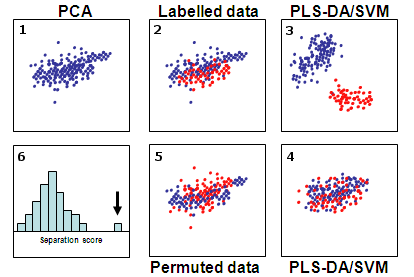 Figure 3.
Permutation tests to evaluate the significance of separation. Panel 1 shows the overview by principal component analysis (PCA). Panel 2 shows the same PCA result colored by group labels. Only slight separation can be seen between the two groups. Panel 3 shows the supervised methods PLS-DA/SVM (partial least squares-discriminant analysis/support vector machines) on the same dataset with much better separation. Panels 4 and 5 shows the separations using the permuted datasets. The histogram in Panel 6 shows the comparison between the results using permuted datasets and the one using original data (indicated by a black arrow). In this case, the separation is clearly significant.


Conclusions

Metabolomics is a recent addition to the omics family. There are certain advantages to being the last to arrive. Many of the statistical and computational methods are borrowed from other omics platforms and adapted to the specific needs of metabolomic data, allowing metabolomics to quickly catch up to its more mature cousins. Another important source of concepts grew from the field of chemometrics such as the use of PCA and PLS-DA. Most of the approaches discussed here are freely available online through the MetaboAnalyst (
http://www.metaboanalyst.ca
) web application.