.
Metabolomics: Do we really know how many unknowns there are in a data set? (and how to find out)


Feature article contributed by Felice de Jong1, Chris Beecher1, Alexander Raskind1, Casey Chamberlain2, Joy Guingab2, Tim Garrett2

Affiliations: 1. IROA Technologies LLC, Bolton, MA USA 01740; 2. University of Florida, Gainesville, FL USA

Summary


The inability to distinguish between noise and true biological data is still a major challenge to metabolomics researchers although there are many more tools becoming available to deconvolute sets of peaks or metabolite features (mass-to-charge, chromatographic retention time, isotopic pattern, fragmentation).
The goal here was to construct a specific study using IROA1,2 generated samples and perform an in-depth LC-MS analysis of the peaks in these samples to determine how many unknowns were in the dataset.
The number of unknown (unnamed) compounds in a metabolomics dataset is generally two or three times more than the number of known (named) compounds. How can it be that there are so many unknowns when biochemistry is such a mature science? Years of observations have given us several clues. We often see the same compound more than once. We know this is in defiance of the principles of chromatography and is therefore dismissed as an artifact of the "look-it-up-in-a-database" method of naming things that is the basis of most non-targeted platforms; however, many of these features are structures unique to their molecular formula and we know that metabolites can ionize as several adducts. Sometimes we see visible patterns of peaks in a 2-D overview and we know that chromatography isn't perfect, so these features are most likely all real. There are also too many unknowns with masses that do not easily translate to molecular formula, and these we tend to dismiss because they are not believable. Using accurate mass databases to identify metabolites is common but unless retention time and isotopic pattern information are considered, specific compound identification is improbable. The interpretation of fragmentation data adds a level of time-consuming complexity if standards are not available.
This study adopted an experimental design in which: 1) all molecules of biological origin may be distinguished from molecules not of biological origin (see
Figure 1
); 2) due to the nature of the IROA signature, the number of carbons and the formula of any molecule could be determined; and 3) four metabolite features (mass-to-charge, chromatographic retention time, isotopic pattern, and fragmentation) were combined to achieve accurate identification.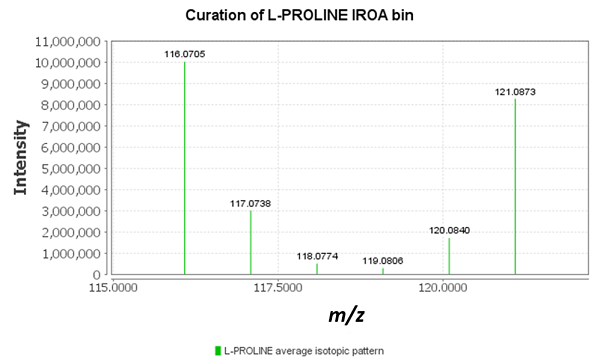 Figure 1.
The IROA pattern for L-proline is that of a five-carbon molecule with a C12 base mass at 116.0705. Note the spacing of peaks is exactly a neutron mass apart, and the peaks are symmetrical.
Complex IROA Internal Standards were generated by growing yeast until fully labeled in media whereby all carbon sources were labeled with either 5%- or 95% -U
13
C. Equal aliquots of cells were pooled, extracted and subjected to LC-MS to yield perfect mirror-image patterns (
Figure 1
). The resulting "IROA-Matrix" material, in which every molecule was specifically isotopically labeled, was analyzed in triplicate. Standardized peak picking was performed to determine how many peaks would be found in a "normal" metabolomic dataset. This was followed by a deep annotation of all the IROA peaks using IROA ClusterFinder™ software. The experiment was repeated on multiple instruments. Since all biological peaks were labeled, we knew that all unlabeled peaks were non-biological.
A standard peak-picking process, using mzMine, found 3,200 peaks on average, in each of the "IROA-Matrix" files when analyzed with a minimum peak height of 100,000. The ClusterFinder program at the same setting (minimum = 100,000) found only 781 IROA peaks. Since all the biological peaks yielded an IROA pattern, of the 3,200 peak picked peaks, 2,419 (74%) were artifacts (
Figure 2
).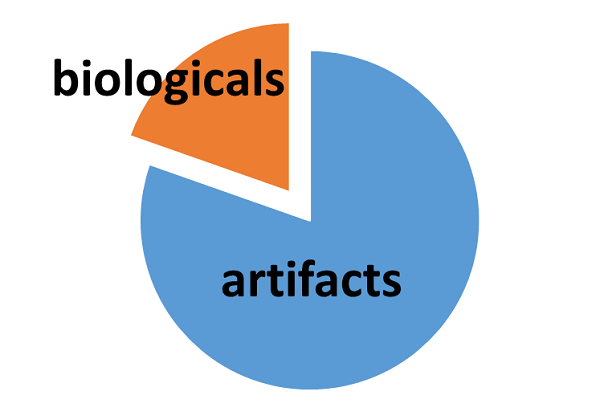 Figure 2.
Peak-picking yielded peaks of biological (Orange), and non-biological (Blue) origin. Only 24% of the peaks had isotopic signatures and originated from the sample analyzed; the remainder were natural abundance.
Among the peaks of biological origin, there were still a lot of unknown peaks. To see if these could be in-source, or instrument-induced fragmentation, we created a software package that allowed us to select any peak and find all highly correlated peaks (i.e., fragments, adducts and polymeric derivatives) (
Figure 3
). For any selected peak, correlated peaks were identified and a matrixed table was generated in which the degree of correlation was below the diagonal, and the mass differences were above the diagonal (
Figure 4A
). From this table and the IROA-derived data, it was generally possible to determine the exact fragmentation sequence (
Figure 4B
), and once it became obvious that there was a tremendous amount of post-LC fragmentation, it became easy to recognize it as columns of peaks in a 2-D representation of the peaks (
Figure 4C
).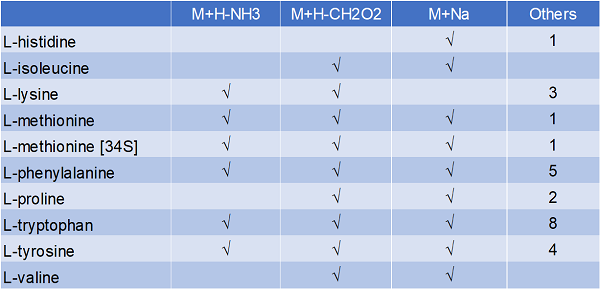 Figure 3.
The positive-mode fragmentation of a few of the amino acids illustrate how many fragments, adducts, or polymerics may be seen for some molecules. The peaks in this table are all in addition to the normal M+H.
4A


Click on the thumbnail below to view a larger version of the image

4B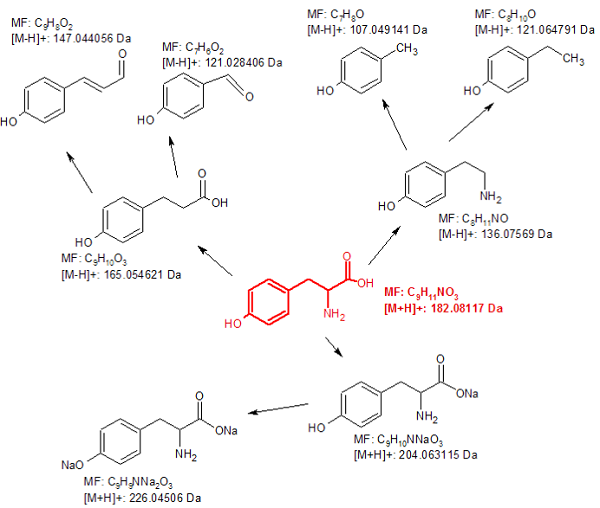 4C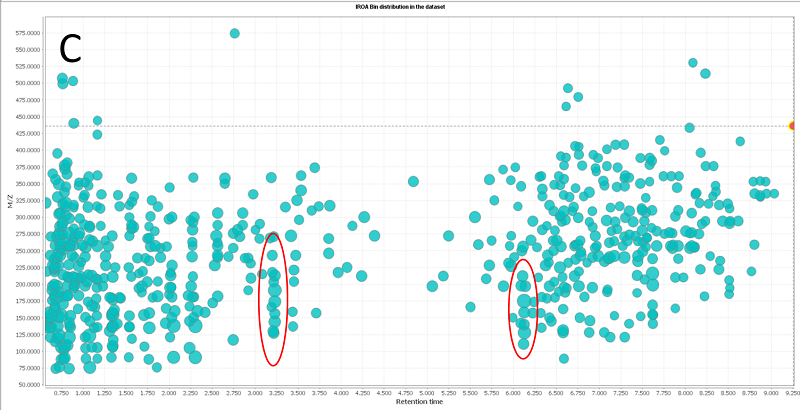 Figure 4.
The correlation table exhibits the mass difference between any two correlated peaks above the diagonal. The fragmentation sequence may be read from the connections seen here.
Conclusion


It was easily determined that a large percentage of peaks found in a basic peak picking routine were artifacts was since these peaks did not exhibit IROA patterning. Of the IROA-patterned peaks, a chemical formula was accurately determined and many compounds were identified by comparison to authentic standards from the MSMLS
3
. Compounds for which standards were not available were identified tentatively by reference to the Clusterfinder™ embedded databases, and formulae calculations were attempted for all others. Among the biologically derived peaks were 1) known authenticated, and tentatively known compounds; and 2) unknowns either with or without formulae. Many compounds occurred multiple times.
Highlights

Many of the compounds occurring multiple times are common fragments of named compounds. They made chemical sense when correlated peaks were identified using algorithms and the fragmentation path was examined.
Most of the unknowns examined to date are either fragments, adducts, or polymerics. The formulae calculated from their IROA parameters are generally correct. They are often "named by lookup" and not recognized as a fragment, for instance, indoline will show up for all tryptophan-related compounds.
A very limited number of the IROA peaks found could not be either identified directly or assigned relative to another known peak. These are likely the only true unknown compounds of biological origin.
The IROA-Matrix has been developed into a Workflow Kit which includes Standards and software. Further information can be freely found here and the Kit User Manual obtained from the primary author of this article.
References

de Jong F, Beecher C. Addressing the current bottlenecks of metabolomics: Isotopic Ratio Outlier Analysis (IROA®), an isotopic-labeling technique for accurate biochemical profiling. Bioanalysis 2012, 4(18), 2303-14.
Stupp GS, Clendinen CS, Ajredini R, Szewc MA, Garrett T, Menger RF, Yost RA, Beecher C, Edison AS. Isotopic Ratio Outlier Analysis Global Metabolomics of Caenorhabditis elegans. Analytical Chemistry 2013 85(24), 11858-11865. doi: 10.1021/ac4025413.
Mass Spectrometry Metabolite Library of Standards.
Please note:
If you know of any metabolomics research programs, software, databases, statistical methods, meetings, workshops, or training sessions that we should feature in future issues of this newsletter, please email Ian Forsythe at metabolomics.innovation@gmail.com.


PhD Student, Wishart Research Group, University of Alberta, Edmonton, Canada






Biography



Seyed Ali obtained his BSc degree in Animal Science from the College of Agriculture & Natural Resources, University of Tehran, I.R. Iran, and his MSc in Nutritional Immunology from the University of Alberta. He is currently conducting research in an interdisciplinary field looking into the identification of predictive biomarkers of sheep feed efficiency, carcass merit, pregnancy and litter size using different "omics" technologies, with a main focus on metabolomics.

SAG: It seems that in general, research funding around the globe has declined in recent years. However, more and more are becoming interested in performing and funding metabolomics research. This won't last long if metabolomics researchers do not make a difference for the industries and governments supporting them by saving them money or increasing their profitability.