.
Workflow4Metabolomics 2.0: New workflows for LC-HRMS, GC-MS, and NMR data processing, statistical analysis, and annotation

Étienne A. Thévenot1, Marie Tremblay-Franco1, Misharl Monsoor2, Marion Landi1, Yann Guitton3, Gildas Le Corguillé2, Mélanie Pétéra1, Christophe Duperier1, Jean-François Martin1, Pierrick Roger1, Franck Giacomoni1, Christophe Caron2

1. MetaboHUB: The French infrastructure for metabolomics and fluxomics
2. IFB: French Bioinformatics Institute
3. CNRS IRISA/LINA

contact@workflow4metabolomics.org

What is W4M?
W4M is an online resource for computational metabolomics built upon the Galaxy environment (Giacomoni et al., 2015). W4M currently contains 28 modules for pre-processing, statistical analysis, and annotation of data from LC-HRMS, GC-MS, and NMR instruments (Figure 1). The high-performance computing environment of W4M (600 cores, 100 TB) enables to analyze datasets of more than several hundreds of samples in a few hours while requiring only 1% of the resources. Via the homepage users can open a private account and access the infrastructure. More than 130 user accounts have been opened in less than one year. W4M is a collaborative project: it is currently developed and maintained by a core team of bioinformaticians from the French Bioinformatics Institute (IFB) and the French infrastructure for metabolomics and fluxomics (MetaboHUB; see the Sep. 2014 MetaboNews Interview).


| | |
| --- | --- |
| | |

Figure 1. Available modules and datasets in W4M. Left: The 28 modules cover all the steps from data conversion and pre-processing, through normalization and statistics, to annotation. Right: Some modules are specific to one technology (e.g., for pre-processing and annotation) while others are common (e.g., for statistical analysis).

W4M for Users
W4M provides all the tools to build a comprehensive LC-HRMS workflow starting with format conversion, continuing with data processing, followed by normalization and quality control, performing univariate and multivariate statistical analyses, and ending with annotation (Figure 2). Tutorials, shared workflows, and histories allow beginners to learn how to conduct their analyzes. Furthermore, the help desk (
support@workflow4metabolomics.org
) from the Core Team provides support regarding all functionalities of W4M.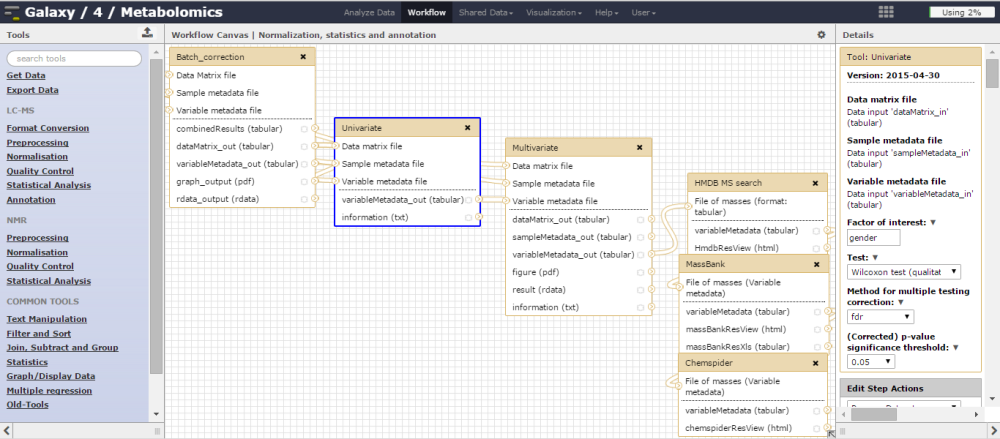 Figure 2.
Creating a workflow for data processing, statistical analysis, and annotation is straightforward.
W4M for Developers
Building a Galaxy module
from a script (whatever the programming language and the operating system) is straightforward, requiring only a configuration file (.xml) and a wrapper to integrate the tool into the Galaxy interface and handle the inputs/outputs. W4M 1.0 is available for download as a
virtual machine
. Developers can therefore install the instance locally and test the integration of their own modules. In addition, a toolshed will be available soon to share the modules individually. W4M is therefore a collaborative VRE and new contributors are welcome.
What's New in Version 2.0?
The new release (June 1
st
, 2015;
Figure 3
) provides advanced modules for LC-MS analysis in addition to new tools for GC-MS and NMR pre-processing.
Figure 3.
Summary of some of the available tools for LC-MS, GC-MS, and NMR data analysis.
Left:
New modules (or modules with major updates) are in green.
Right:
The 2.0 release contains advanced functionalities for LC-HRMS, in addition to specific pre-processing modules for NMR and GC-MS.
NMR preprocessing modules
include bucketing (
Figure 4
) and normalization (e.g., Probabilistic Quotient Normalization).

Figure 4.
NMR spectra bucketing and normalization. Files resulting from upstream pre-processing with the TopSpin software (
left
) can be imported into W4M for bucketing and integration (
NMR bucketing
module;
right
), followed by normalization (
NMR normalization
module), and subsequently analyzed with the statistical modules.
Advanced LC-MS functionalities
(24 modules) include signal drift and batch-effect correction (
Figure 5
), quality control of samples and variables (Hotelling's T2, intensity quantiles), N-way ANOVA, (O)PLS(-DA), and annotation with in-house or public databases.
Figure 5.
Advanced MS tools for signal drift correction and quality control.
Left:
The signal drift observed on the raw data can be corrected with the
Batch Correction
module.
Right:
The presence of sample outliers can be then assessed with the
Quality Metrics
module.
What's Next?
The
W4M course 2015
(21-25 September 2015, Roscoff, France) will teach experimenters about W4M features and allow them to practice with their own data. (Note: for this first session, presentations will be in French but slides will be in English.) W4M will continue to be enriched with new modules. Future development will include new functionalities for MS
2
analysis and NMR annotation, in addition to pathway annotation through a connection to
MetExplore
, and raw data export to the
MetaboLights
repository.
Acknowledgment:
W4M is supported by the grants from MetaboHUB [ANR-11-INBS-0010], IFB [ANR-11-INBS-0013], Biogenouest®, Lifegrid (Auvergne), and by the IDEALG project [ANR-10-BTBR-04].

Please note:
If you know of any metabolomics research programs, software, databases, statistical methods, meetings, workshops, or training sessions that we should feature in future issues of this newsletter, please email Ian Forsythe at metabolomics.innovation@gmail.com.
Associate Professor in the Department of Medical Biochemistry and Biophysics at the Karolinska Institute, Sweden






Biography


Craig Wheelock performed his doctoral work with Dr. Bruce Hammock at UC Davis in Agricultural and Environmental Chemistry. Following a postdoctoral stint in the Hammock laboratory, he moved to Kyoto Japan in 2004, where he performed postdoctoral studies at the Bioinformatics Center in the Institute for Chemical Research at Kyoto University. In 2006, he moved to the Karolinska Institute in Sweden, where he currently heads the Integrative Molecular Phenotyping laboratory (

http://www.metabolomics.se

). Research in the Wheelock laboratory is focused on the use of mass spectrometry-based approaches to perform molecular phenotyping at the population level. The interests of the group are centered on understanding the pathophysiology of inflammatory respiratory diseases, particularly asthma. An emphasis of the group is the targeted analysis of lipid mediators (e.g., eicosanoids, sphingolipids) and investigating their role in the etiology of inflammatory disease. As part of our molecular phenotyping efforts, we develop the analytical, statistical and informatics methods necessary to concatenate and interrogate 'omics-based data structures.