Advancing Personalized Medicine Through Metabolomics

Feature article contributed by Tracy Shafizadeh, Associate Director, Lipomics Services, A Division of Metabolon, Inc., West Sacramento, California, USA

Utilizing Metabolomics for Personalized Medicine
Metabolic disease, including type 2 diabetes (T2D), is a rapidly expanding health care concern. Existing drugs for treatment of hyperglycemia in T2D may fall short of achieving accepted treatment goals
.
The need for future therapies and earlier intervention, including pharmaceutical, nutritional, and lifestyle approaches to achieve greater glycemic control, mitigate cardiovascular risk, and attenuate microvascular complications, is constant. In addition to the pursuit of finding new drug treatments for diabetes, more sensitive health management tools are being sought that identify patients at risk of developing the disease and measure the effectiveness of treatment response in patients.
Personalized medicine is an approach to health management that recognizes that each individual is on a personal health continuum, represented by their physiologic status and how that status changes in response to stressors or intervention. Currently, clinicians utilize clinical chemistry panels, which include a number of biomarkers (such as glucose and cholesterol) whose levels provide an assessment of organ function. These measures can convey powerful information regarding a handful of diseases. However, our recent understanding of the complexity of human physiology in health and disease has revealed that the management of complex diseases will require expanding the scope of metabolic assessment.
Using mass spectrometry-based analysis for the rapid measurement of hundreds of metabolites from a small volume of blood or urine, metabolomics provides the opportunity to revolutionize personalized medicine by expanding the menu of assays in the clinical laboratory and aiding health care providers to advance metabolic disease prevention and management (
Figure 1
).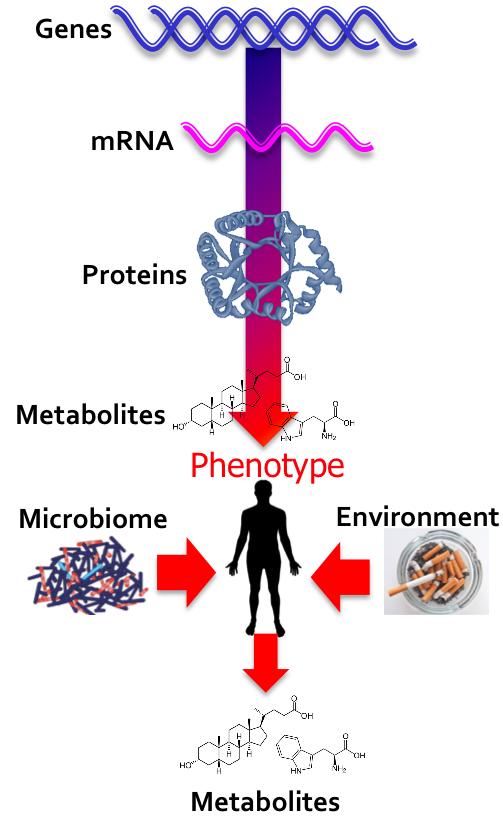 Figure 1. A Surrogate for Physiology.
Metabolomics is based on the concept that metabolites represent a distillation of molecular biology and external factors that contribute to the phenotype of a system.
Metabolic Biomarkers for Complex Diseases
Biomarker discovery and the search for the mechanism of complex diseases are critical for fulfilling the promise of personalized medicine and the design and deployment of therapies of the future. Metabolic disease disrupts normal metabolism, resulting in altered systemic physiology. A challenge posed by metabolic diseases is that they are often present for years prior to becoming clinically apparent. For example, insulin resistance is an early marker of risk of T2D and can precede overt changes in plasma glucose by a decade or more.
Metabolomics is uniquely poised to inform on metabolic disturbances and identify biomarkers that are predictive of complex disease or response to therapeutic and nutritional intervention. A comprehensive metabolite assessment adds resolution and sensitivity at the pathway level, not just at the individual biochemical level, to better understand changes in metabolic regulation. Furthermore, subtle but relevant metabolic changes are easily detected with a broad survey (untargeted or global biochemical analysis) approach to metabolomics, offering the opportunity to identify meaningful clinical events that may be important for smaller patient sub-populations.
Putting Metabolomics into Clinical Practice
Complex diseases are often multifaceted and require unique ensembles of biochemical markers that integrate different pathophysiological manifestations of complex disease, rather than being defined by a very limited menu of markers (such as fasting plasma glucose and hemoglobin A1c in diabetes). Using metabolomics to unveil biochemical ensembles often begins with a discovery phase, utilizing an untargeted look at the metabolome to identify novel metabolite biomarkers. This can be a daunting task to capture this data stream (thousands of ion features in mass spectrometer) and reduce it confidently and effectively into meaningful, interpretable biochemical assignments (requires informatics horsepower and know-how). Following the discovery phase, focused panel assays can be used to measure sets of metabolically-related compounds, allowing valuable insight into pathway regulation, underlying disease biology, and biomarker verification. Finally, targeted assays are utilized that focus on a subset of biomarkers and allow for validation of the metabolite biomarker (
Figure 2
).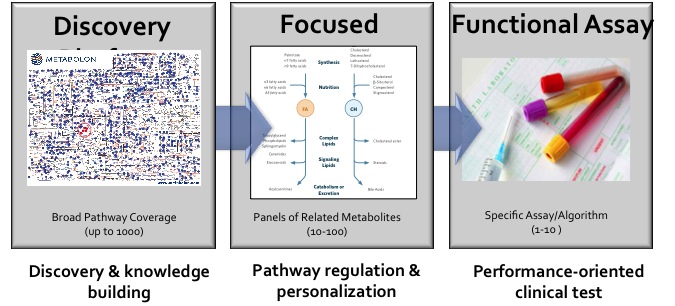 Figure 2.
Using metabolomics to unveil biochemical ensembles involves three basic phases: 1. Discovery phase, 2. Focused Panel Assay phase, and 3. Functional Assay phase.
An example of this process, of combining metabolites to elucidate precision in managing metabolic disease, is a recently described diagnostic test for insulin resistance. Utilizing a discovery metabolomics approach allowed for rapid discovery and successful R&D progression for Quantose™, Metabolon's blood test for assessing pre-diabetes, which measures levels of insulin along with select metabolites. The findings from the outcomes studies were recently published [
1,2
].
Of the three biochemicals measured in the Quantose™ panel, it is thought that these compounds may provide a measure of beta cell function, hepatic lipogenesis, fatty acid oxidation, and the systemic loss of antioxidant capacity, although more research is needed to determine this definitively. Not only do these analytes correlate with an individual's extent of insulin resistance, but these analytes are also responsive to therapeutic interventions, including bariatric surgery and treatment with insulin sensitizers. Quantose™ has proven to be clinically useful to segregate insulin sensitivities and differentiate responders versus non-responders to ACTOS
®
in a 2 year diabetes prevention study of >400 individuals. Interestingly, the most common diabetes diagnostic test, hemoglobin A1c, remained unchanged among those being treated.
This last finding suggests that emerging assays may be used as surrogate endpoints in clinical drug development and post-market surveillance studies, possibly obviating the need for expensive, intrusive, or poorly tolerated tests (such as the euglycemic clamp or oral glucose tolerance test).
Impact of Metabolomics on the Future of Personalized Medicine
Metabolomic approaches detect subtle but relevant biochemical changes, and can be essential to detecting meaningful clinical events that may be important for smaller sub-populations, thus providing the insight necessary to advance effective personalized treatments. Consequently, metabolomics is poised to revolutionize laboratory medicine by expanding the scope and utility of the clinical reference laboratory. In particular, an untargeted metabolomics approach has proven to be effective and complementary to targeted approaches for biomarker discovery. Emerging, metabolomics-derived tests are expected to play a significant role in patient management and hold the promise of significantly advancing the field of personalized medicine.
References

Cobb J, Gall W, Adam KP, Nakhle P, Button E, Hathorn J, Lawton K, Milburn M, Perichon R, Mitchell M, Natali A, Ferrannini E. A novel fasting blood test for insulin resistance and prediabetes. J Diabetes Sci Technol. 2013 Jan 1;7(1):100-10. [PMID: 23439165]
Ferrannini E, Natali A, Camastra S, Nannipieri M, Mari A, Adam KP, Milburn MV, Kastenmüller G, Adamski J, Tuomi T, Lyssenko V, Groop L, Gall WE. Early metabolic markers of the development of dysglycemia and type 2 diabetes and their physiological significance. Diabetes. 2013 May;62(5):1730-7. doi: 10.2337/db12-0707. Epub 2012 Nov 16. [PMID: 23160532]

Please note:
If you know of any metabolomics research programs, software, databases, statistical methods, meetings, workshops, or training sessions that we should feature in future issues of this newsletter, please email Ian Forsythe at metabolomics.innovation@gmail.com.
MetaboInterviews features interviews with prominent researchers in the field of metabolomics. The aim of these interviews is to shed light on metabolomics researchers around the world and give them an opportunity to share their metabolomics story. In this issue, we feature an interview with Josh Rabinowitz
.


Professor, Chemistry and Integrative Genomics, Princeton University, Princeton, NJ, USA





Biography



Joshua Rabinowitz grew up in Chapel Hill, North Carolina. In 1994, he earned B.A. degrees in Mathematics and Chemistry from the University of North Carolina. From there, he moved west to Stanford, where he earned his Ph.D. in Biophysics in 1999, followed by his M.D. in 2001. In 2000, he co-founded Alexza Pharmaceuticals leading R&D efforts there for four years. In 2004, Joshua returned to academia, joining the faculty of Princeton University where he is currently Professor of Chemistry and Integrative Genomics. His lab focuses on understanding cellular metabolism, its normal regulation, and its dysregulation in disease. He is the author of more than 100 papers and the inventor of over 100 patents that include the FDA-approved Adasuve inhaler.


http://www.princeton.edu/genomics/rabinowitz/research/